Kentucky Basketball: Are the Wildcats the Favorites in the SEC This Season?
August 9, 2011
Kevin C. Cox/Getty Images
Think of what this team is returning this year. Three stars returning that will one day play in the NBA. A coach that wins every year no matter who is on his roster. A top recruiting class loaded at nearly every position. An incredible home court edge. And they are a consensus top 10 team heading into next season. This team has to be the favorite to win the SEC next year, right?
OK, some of you probably already know where this is going, but does your opinion change when I tell you that I just described Vanderbilt? Admit it, it does.
And that's why I'm not 100 percent sold on just giving the SEC title to the Kentucky Wildcats this year like everyone else under the sun has done. Believe it or not, but the SEC is no joke this year and there are several teams that could upset Kentucky for the conference crown this season.
That being said, of course Kentucky will be the favorites heading into next year. I have yet to see anyone that doesn't have Kentucky in their preseason top two in the nation, so almost by default they are the SEC favorite. Here though, are a couple of teams that could provide Kentucky with a stiff challenge next year, and who just might end up upsetting Kentucky for the league crown.
Vanderbilt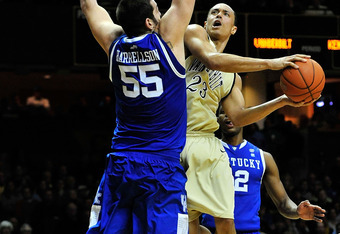 Grant Halverson/Getty Images
As I stated earlier, Vanderbilt is no joke next year. In fact, even though Vandy has been a formidable conference foe for the past four or five years in the SEC, next year should be the best Vanderbilt team of the last 20 plus years.
Last season's SEC leading scorer Josh Jenkins returns along with the conferences best returning big man in Festus Ezeli. In addition, Vanderbilt returns dynamic wing player Jeff Taylor, veteran point guard Brad Tinsley and forward Lance Gouldbourne.
This veteran team also brings in a fantastic recruiting class and years of experience in tournament play. (Granted not all of it good, but it's still an experienced team) Vanderbilt has been one of the top teams in the SEC for some time now, and next season could be Vanderbilt's best chance ever to not only win the SEC, but possibly get to the Final Four for the first time in school history.
Alabama
The Crimson Tide surprised almost everyone last season winning the SEC West and becoming one of the last teams left out of the NCAA Tournament. And many folks thought Alabama should have been in the tournament, me included.
Still, the disappointment from last year shouldn't last long because Alabama will not only make the tournament next year, but will likely be in the top 25 for most of the year. I love the core guys coming back next year, led by none other than All-SEC performer JaMychal Green.
Alabama also adds ESPN's 13th ranked recruiting class and brings back one of the nation's best young coaches in Anthony Grant. It should be a good year for the Tide, and I for one wouldn't be surprised to see Alabama cruise through the SEC West and steal the regular season title from Kentucky.
OK, that's nice, but bottom line this for me...
All that being said though, Kentucky still has to be the overwhelming favorite to win the SEC. For starters, it's Kentucky and if there is one thing that Kentucky has shown over the history of the SEC it is that they are the favorite until someone knocks them off. And that has only been amplified under John Calipari.
Kentucky won't have as much experience as Vanderbilt, but this will be Kentucky's most experienced team under John Calipari and this team will again be far more talented than the Commodores. Less talented and less experienced teams than this year have been better than Vanderbilt has been, so I don't think this year will be any different.
As for Alabama, I actually think there chances of winning the SEC are greater than Vanderbilt's odds, even though I don't think the Tide are as good. But the SEC West should be brutal next year and I could easily see Alabama winning 13 games in the SEC next year. And with Kentucky possibly suffering some upsets in a much tougher SEC East the Crimson Tide just might have a chance.
But if you are putting money on it, you had better pick the Cats to come out on top in the SEC. Kentucky is by far the most talented team in the league and they have the best coach in John Calipari. The Wildcats also bring in another number one rated recruiting class to go along with the return of stars such as Terrence Jones, Doron Lamb and Darius Miller.
Since Cal has been in Lexington the Wildcats have won both SEC Tournament titles and one of two regular season titles. They will add one more of each this year.
Follow Eric on Twitter.