Kendall Fletcher's Honduras Adventure: Sharing Her Faith and Sport
August 9, 2011
For most athletes, the offseason is a time for resting, relaxing, unwinding and seeing family and friends.  For Sky Blue FC defender Kendall Fletcher, the 2010 offseason served a different purpose.  From October 2-9, Fletcher and eleven other women's soccer players headed to Catacamas, Honduras for a mission trip.
Through a league-wide Bible study, Fletcher was contacted by Joey Potter and Adrienne Saxon who work with Fellowship of Christian Athletes (FCA) in Atlanta.  Saxon had also worked with the Atlanta Beat during the season.  Fletcher was interested immediately.
And so her offseason adventure began, entwining her faith and sport together.
While soccer was a main focus during the week, the group did a variety of things for the Catacamas village they were visiting.
"Basically, we went down there in partnership with a healthcare clinic called Predisan and they do a lot of healthcare in Catacamas, Honduras," Fletcher explained.  "We went down there and we did a lot of different things throughout the week but our main focus was running clinics for the women down there and helping them start a women's soccer league down there.  So we would run three clinics throughout the day and then we would also go back to the village and see some of the things that Predisan was doing.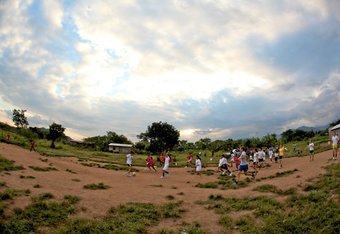 "We went to a rehabilitation center and we also went to a village where they were helping them build sanitation outhouses to help them sanitize their community.  We went out there and saw it and while we were out there, we saw this soccer field that was just like dirt and had goals that were made of like tree branches.  It was the coolest thing. 
"So we decided to go back and we had the first ever women's soccer game in the village and we brought all the women to the church and we gave them jerseys.  We thought we were just going to do the little girls but all these older women started showing up and they wanted to play so we had 60-year-olds playing with six-year-olds.  It was amazing.
"And then we went back one more time to the village and just brought them a bunch of flour and diapers and just different cleaning stuff that they could use for the houses.  Then we brought that back to all the families that were involved in the church.  So yeah, we kind of did a variety of things but reaching out to that village and running the clinics for girls that were in the soccer league were the main things that we did. 
"We were sharing our testimonies—each day one girl would share a testimony.  It was an amazing trip.  It was a mix between some WPS players and some college players."
There was an aspect of the trip that gave it a unique quality.  All twelve of the players who made the trip—four WPS players and eight collegians—were women's soccer players.  The focus in Catacamas was mainly on the girls and women.  The impact was tremendous.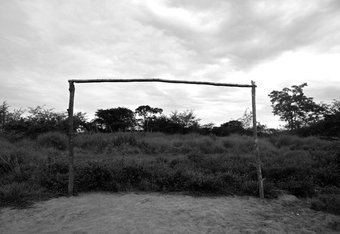 "The cool thing about when we went to the village was all the men wanted to play and we were like, 'No, it's just for the women and we'll come back and play again for you guys.'  It really focused on them and one of the coolest parts of the trip was at the end of the week, one of the girls was telling us how much it meant for us to be there and do what we did," Fletcher said.
One comment in particular stood out for the Sky Blue FC defender.
"She was like, 'I can't believe you came for us, no one ever just comes for us women.'  That was pretty cool for me to see the impact that that had and the uniqueness of the trip.  It really encouraged me to want to do it again."
Fletcher has been involved in other Christian organizations and Bible studies while in high school and college, but the Honduras trip was her first mission trip.  It was also her first involvement with FCA.
"Yeah I've been involved with different Bible studies that work with my faith and sport but I worked a little bit with AIA (Athletes In Action) when I was in college," she recalled.  "I never really got involved in FCA though it's always been an organization that's been around in high school and in college.  I never really got hooked into it until this Bible study that they ran through the league with this first trip."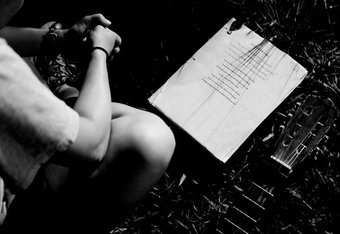 It was an opportunity to tie two of the most important aspects of her life together.
"It was the first major thing that I had done faith-based and soccer-based and like I said, it was really cool that I was able to do that because my faith is probably the most important thing to me in my life and soccer is right up there as well.  It was really cool that those two things could come together like that and have such an impact on me."
Faith and sport came together for both sides, despite one of the biggest barriers of all—communication.  But, as Fletcher explains, there was a common language: soccer.
"One of the coolest things that I took away from the trip was that it was amazing how soccer could give us a common playing ground just to start from and to meet people and to have a common understanding," she explained.
"I didn't speak Spanish, a lot of them didn't speak English. Some of the girls who went on the trip spoke pretty good Spanish but we were just there to play soccer with these girls and it wasn't like we were coming down there to give them something they didn't have.  They gave us just as much as we gave them and it was just a really amazing opportunity to share soccer and share my faith." 
It wasn't just the people of Catacamas that her group visited that impacted the former Tar Heel.  It was also those whom she traveled to Honduras with that made an impact on her.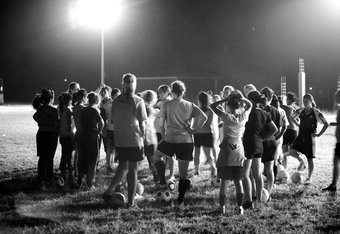 "And also the girls that I went down there with, just getting to know them and just seeing the fellowship that we had.  It was a pretty cool trip just to see how the soccer can bring all of that together in such different worlds and yet we had a common bond and a common passion and how that really does transcend so much."
Fletcher is already planning to visit Costa Rica after Sky Blue FC's season ends.  She would love to go back to Honduras in the future as well.
Sky Blue FC takes on the Boston Breakers on Sunday, August 14, 2011 as both teams fight for the 4th and final place in the 2011 WPS Playoffs.  Follow @SkyBlueFC and @BostonBreakers for match updates.
Learn more about Atlanta FCA Missions trips 
All photo credits go to Robert Madrid Photography