New York Yankees: Make Up Your Mind with Young Pitchers
August 9, 2011
Elsa/Getty Images
It's the bottom of the 10th, tense, rubber game against arch-rival Boston. Joe Girardi still has relievers at his disposal in the pen and a day off to follow. Not quite the dire situation necessitating the use of weekend emergency reliever Phil Hughes.
That's a guy who's just back from a three-month absence due to dead arm and was just starting to gain some consistency as a starter. Hughes' season ERA is 7.11 but he has given up two or less runs in four of his five starts since returning from the DL.
The Yankees' problem is they have too many cooks in the kitchen—too many arms they want to put in the rotation. So it's Hughes and rookie Ivan Nova who are being yanked around, unable to gain rhythm or confidence.
Nova earned the fifth spot in the rotation in spring training and became a solid option, continually improving. In eight starts since June 3, he has six quality ones and six wins, raising his record to 10-4. But the Hughes injury ultimately proved costly to the rookie Nova, as Freddy Garcia moved from pen to penciled in every fifth day and returned to his Cy Young-caliber form of a decade earlier.
With the revivals of Garcia and Bartolo Colon, the Yankees are now in a pickle met with a month of indecision. From the outside, it seems that they just do not know what to do with their options. Nova was sent down to allow for the return of Hughes but returned last Saturday when the Yankees needed another starter for the doubleheader with the Orioles.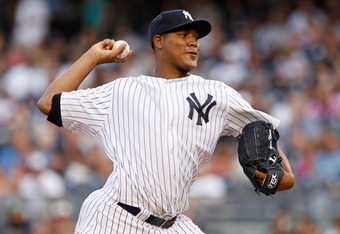 Mike Stobe/Getty Images
He pitched well in that start and then had his best big league outing yet, striking out 10 in 7.2 innings against the White Sox.
So now, the Yankees are waffling. Nova was good before the decision to demote him and he's pitching even better since his return. Colon and Garcia both have low ERAs in the threes. You can't move either of them. A.J. Burnett is struggling but he's making $16.5 million this season. He's not going anywhere either.
That means it comes down to Hughes and Nova—a decision the Yankees already made, right or wrong, a little more than a month ago when Hughes took Nova's spot in the rotation.
What has changed?
Nothing. Hughes has not pitched poorly, especially for a guy coming back from injury. Nova is still dealing well.
The Yankees need to make up their mind and stick to it. The indecision with Hughes has been an issue that has plagued his career since the start. He's been a starter, a reliever, then a starter again. Now this weekend, he's suddenly available as an emergency relief option. What are the Yankees doing?
Hughes is being pulled around like a piece of putty, and eventually when you mess with it too much, it's gonna rip in half. It has already proven detrimental in the career of Joba Chamberlain, a dominant reliever who the team tried to turn into a starter and ended up rendering a less effective pitcher than before.
There have been plenty of guys who have been moved from relief to starting and been successful. Alexi Ogando of the Rangers is the latest example. David Price with the 2009 Rays was a future starter who was used as a valuable postseason reliever, but then rightly put in the rotation and allowed to carve his niche there.
The Yankees waffle with their young pitchers and in turn have to be killing their confidence. Hughes was just beginning to look solid again, set to make another start Tuesday against the Los Angeles Angels, but for some reason he becomes an emergency long-relief option from the bullpen. That led to him being thrown into the fire of an extra inning, tied game at Fenway even though he hasn't relieved since the 2009 postseason.
Hughes won 18 games and finished with a 4.19 ERA last season. That's pretty good for a guy in his first full season as a starter. The Rays wouldn't throw Price in the bullpen as an "emergency reliever" if he was coming back from injury. The Yankees shouldn't be doing the same with Hughes.
Whether it's going to a six-man rotation or sending Nova or Hughes down, a decision needs to be made once and for all. With other talented young arms like Manny Banuelos and Dellin Betances waiting in the wings, the Yankees need to learn from their mistakes and properly develop them. Mismanagement is not an option in bringing more championships to the Bronx.