What Role Will Each St Louis Rams Wide Receiver Fill?
August 9, 2011
Dilip Vishwanat/Getty Images
Last season the St Louis Rams most glaring weakness was wide receiver. They had lost their two best receivers, Donnie Avery and Mark Clayton, almost immediately due to injury and were left with a viciously-spinning carousel of names to try and get by.
While the lack of depth did allow for the signing and emergence of Danario Alexander, an un-drafted free agent out of Missouri, it also ultimately led to the Rams' dismantling towards the end of the season.  Players struggled to get open, consistently catch the ball, and stretch the field all season long, and heading into the 2011 season it was an obvious area of improvement.
So how did the Rams attack this area of need? They went out and drafted receivers Austin Pettis of Boise State and Greg Salas of Hawaii and then proceeded to sign highly-regarded free agent Mike Sims-Walker, formerly of the Jacksonville Jaguars. Add that to Donnie Avery seemingly being recovered from a torn ACL, and the Rams appear to be in a much better position than they were a few months ago.
So where exactly does each receiver on the roster fit in?  Let's take a look at the lot:

Donnie Avery
Recovered from a knee injury he suffered against the New England Patriots in the 2010 preseason, Avery appears ready to go in 2011. His 40 time is back in the low 4.0s and he has shown some flash so far in training camp. 
Dilip Vishwanat/Getty Images
While his skill set would make him a deadly slot-receiver, expect Avery to be the Rams' starting flanker due to the lack of depth. He has shown the ability to make impressive catches in traffic, and his speed will give him an advantage regardless of what position he fills.
Danny Amendola
Amendola was the most pleasant of surprises last season for the St Louis Rams. In 2011 he will continue his role as the team's most valuable slot receiver, and likely the favorite target of quarterback Sam Bradford. His reliable hands, shiftiness and habit of getting open gives Bradford a consistent target, a rarity for this group of receivers. 
With the talent level from last season to this season improving, however, expect pressure to be taken off of Amendola, giving him plenty more breathing room than he saw last year. 

Brandon Gibson
Early reports coming from training camp are saying that Gibson has gone into absolute beast mode so far. He's making leaping catches, diving catches, one-handed catches—apparently doing it all. While Gibson still has plenty of fighting left to do for playing time, expect him to be either the third or fourth split-end receiver.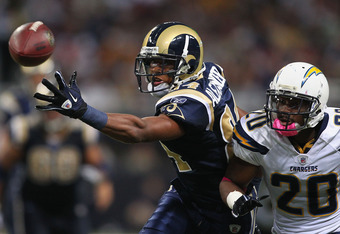 Dilip Vishwanat/Getty Images
Avery, Sims-Walker, and possibly Clayton (should they re-sign him) will all be ahead of Gibson on the depth chart, with Danario Alexander being another candidate to take playing timeaway from the receiver. 

Danario Alexander
Alexander burst onto the scene in 2010 with a big game in a win against the San Diego Chargers. An undrafted free agent out of Missouri, Alexander was signed mainly because the Rams so badly lacked depth at receiver, but the Rams have to be glad he has fallen into their hands. 
With elite size, capable hands and above-average speed, Alexander has all the tools to be a special receiver. Hindered by injuries for the last couple years however, it is yet to be seen if Alexander will ever be able to fully reach his potential. 
You never like to use the phrase "made of glass," but Alexander at times appears to fit the phrase perfectly.  If he stays healthy, expect him to be the team's third or fourth split-end receiver, fighting with Brandon Gibson for playing time.

Dominique Curry
Should Curry make this team, it will be as a special teams contributor. After making the team last year as undrafted free agent, Curry suited up for two games, only recording two tackles in the process. There is a fairly small shot he makes the team as a receiver, but you never want to count guys out this early.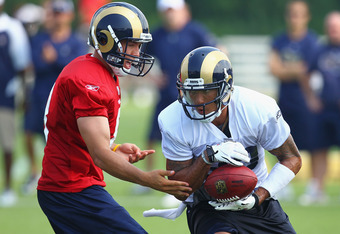 Dilip Vishwanat/Getty Images

Austin Pettis

Pettis has all the tools of a slot receiver. His playing style is similar to that of Danny Amendola's, and he should nicely benefit the Rams in his rookie season. He doesn't have great speed, but he has enough of it. He isn't incredibly athletic, but he can hold his own. 
What he does possess is hands capable of making impressive catches and blocking just about everything. Pettis could be the team's second or third slot receiver heading into the season, unless the Rams decide to move someone such as Avery into the position. 

Greg Salas
The Rams' fourth-round draft selection, Salas could turn out to be the best offensive weapon selected by the Rams in this draft class. Salas will be slotted in at the split-end position and he has all the tools to succeed at the position. 
He'll never find himself having a significant size advantage at 6'1", but he possesses impressive athleticism and hands that allow him to make plays all over the field. In Hawaii's spread offense that utilizes numerous receivers, Salas was the standout. He has the necessary tools to be a threat in the open field, and he could quickly develop into a dangerous target for Bradford. 

Mike Sims-Walker

This was a move a lot of people wanted the Rams to make heading into the offseason.  Sims-Walker was a receiver who needed a fresh start and a place to prove himself while the Rams needed a veteran presence who could give an immediate upgrade to their group of receivers. 
Sims-Walker has good size, tools and has shown the ability to be a big-play receiver in the past with Jacksonville. He has seven touchdown receptions in each of the last two seasons, and in 2009 he had a career high 869 receiving yards on 63 receptions.
Expect Sims-Walker to take over the role of flanker from time to time, but sticking at split-end for the most part. If he can find a way to reignite his career in St Louis, he could be the Rams' most valuable free agent acquisition this season.
Mardy Gilyard
Heading into his second season in the NFL, Gilyard will struggle to find many people who are still high on him.  After getting out to a late start his rookie season due to school policy, Gilyard never really seemed to catch up and frequently struggled throughout the year.  The Rams had high hopes that Gilyard could be their return-man of the future, but he struggled to hang on to the ball and make an impact, ultimately losing the job to Danny Amendola.  They also predicted he'd be a serviceable slot-receiver, but he struggled to learn the playbook and create separation against NFL-level secondary players.  He certainly has a lot to prove heading into this season and should he make this team, it will likely be as a bottom of the rotation slot-receiver.  Don't expect too much playing time unless the insertion of McDaniels' spread offense sparks Gilyard. 
Greg Mathews
Mathews is certainly a long shot at making the team, but crazier things have happened.  He could make the 53-man roster as a special teams player, but as far as making it as a receiver the position just appears too crowded at the moment. 
Joe West
West hasn't been anymore than a practice squad player since joining the Rams last season, and it doesn't appear that will change heading into 2011.  Like Mathews, he could make it on as a special teams' player, but the receiver position is far too crowded.  Should injuries hit the Rams hard for a second straight season, West will likely be one of the first candidates to be added to the 53-man roster however. 


What's Going On With Mark Clayton?
Many Rams fans and NFL fans alike are wondering why the Rams are yet to re-sign Mark Clayton after all the interest he has expressed in returning to St Louis. Well, there is speculation that the Rams are waiting for him to completely heal from a torn ACL that ended his 2010 season before agreeing to a contract with him. 
There has been some talk for what it's worth, but it has been very quiet and on the down-low.  Neither side has come out and revealed much about the situation, however, so it's still a mystery as to what jersey Clayton will be wearing this season.
My money is on Clayton eventually re-signing with the Rams, but should other events unfold, don't be too surprised.