Aaron Murray: Georgia Football QB Will Outplay Kellen Moore, Boise State
August 10, 2011
Kevin C. Cox/Getty Images
Aaron Murray is going to outplay Kellen Moore on September 3rd in the Georgia Dome, when the Georgia Bulldogs take on the Boise State Broncos. Kellen Moore is a Heisman Trophy candidate, a proven leader and may ultimately become college football's leader in career victories. But, in a mere 24 days he is going to be outplayed by Georgia's sophomore gunslinger.
While size, speed, talent and strength of schedule have been hot-button issues heavily debated all offseason, the general consensus has been that the Bulldogs may be more talented, but Boise State does more with its talent regardless of the level of competition.
The key for the Bulldogs to win, many would argue, is Mark Richt's ability to prepare and focus his athletes, while the glue holding the Broncos together is senior leader Kellen Moore.
Both teams will enter the game without their two leading receivers from the previous season, and both Murray and Moore will be looking to get the ball to a number of targets. Murray's receivers may have a slightly easier time adjusting, however, as the Broncos must replace two starters in the secondary (Jeron Johnson and Brandyn Thompson). Georgia lost only one starting defensive back (Vance Cuff) and has four players who have started in the secondary returning this season.
In 2010 both the Boise State and Georgia football programs fielded two of the nation's premier pass defenses; the Broncos ranked fourth while the Dawgs came in at 17th. However, Moore never faced a defense as stout as his own. In fact, the top-rated passing defense Boise State faced last season was in the opening game against Virginia Tech (ranked 40th in the nation in pass defense).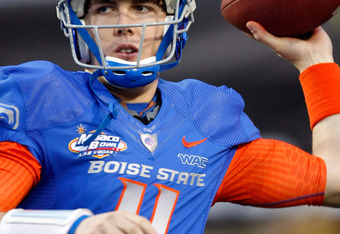 Ethan Miller/Getty Images
Meanwhile, Murray faced off against four top-40 pass defenses: Arkansas (20th), Kentucky (14th), Florida (12th) and Georgia Tech (34th).
Not only does Murray have significantly more experience against top-ranked pass defenses, but he also performed better than Moore did against such teams in 2010. In Kellen's one qualifying game, the junior completed 23-of-38 passes for 215 yards, three touchdowns and a QB rating of 134.1. Statistically this game was easily his worst of the season.
In four games against top passing defenses, Murray completed 57-of-95 attempts for 950 yards, seven touchdowns and four interceptions. He had a rating of 159.89 for those four games.
For the entirety of the 2010 season, Kellen Moore had a quarterback rating of 182.6. Against top-40 pass defenses, he underachieved that average by 48.5 points. Aaron Murray, on the other hand, played his best football against good defenses. His passer rating against top-40 pass defenses was 5.39 points better than his season average.
Against Virginia Tech the Broncos averaged a mere 5.66 yards per attempt. In Murray's four qualifying games, the Bulldogs garnered 10 yards per pass attempt. In the season opener, I expect the Bulldogs to be able to move the ball, and for the Broncos to be stunted.
I believe there are several factors that will contribute to a Bulldogs victory in the season opener, not the least of which is Murray. Mark Richt's squad goes into the game with a quarterback, whose play rises to the occasion against top defenses. Kellen Moore's game disappears.