SEC Expansion: Clemson, You Don't Want to Leave the ACC
August 13, 2011
Kevin C. Cox/Getty Images
That's a laugher...a big fat laugher.
Does Clemson really want to do that? They are a mediocre ACC team; a mid-tier team in a mid-tier conference. 
I just don't understand the thinking that the Tigers would improve in any way by jumping to the SEC. 
Don't give me the historical data of South Carolina versus Clemson—I know it, and this isn't about the rivalry. If you think it puts the two in-state teams on an even playing field, it won't. 
It will only hurt Clemson. 
South Carolina struggles at the end of the year, no doubt. One reason is for that is because the Gamecocks have never (until recently, anyway) established enough team depth to sustain a high level of excellence throughout the gauntlet that is the SEC schedule. 
Injuries pile up, emotions get drained, losing streaks occur (historically during that Orange Crush period) and momentum wanes—all before that meaningless South Carolina versus Clemson rivalry game. 
South Carolina is usually riding a wave of negativity before the game, while Clemson is fighting for its eighth win in a weak conference.
If you don't think that has something to do with the Clemson dominance—especially in the 1990s when SC first entered the SEC unprepared to handle the competition—then you are truly looking through Orange-tinted glasses. 
Now, take away that advantage. Throw Clemson into an average SEC schedule.
Would they be favored against Georgia? No. 
Florida? No. 
ANY of the West teams? No. 
South Carolina? No.
Clemson, like it or not, would be a 3-6 win SEC school, every year. 
Clemson fans may say, "Well, it would help with recruiting!"
Does Clemson need help? The Tigers have ranked in the Top 10 every year. Recruiting isn't the problem—coaching is...and the administration is.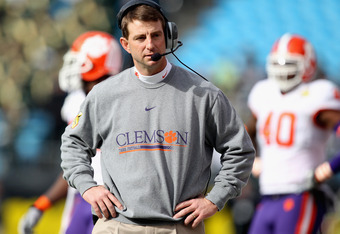 Streeter Lecka/Getty Images
That doesn't change with a conference switch, that just becomes even more obvious and magnetized. 
South Carolina needs the opportunity to gain momentum in the rivalry. They are set up for their own decade of dominance, and the score will be a whole lot closer between the two teams.
However, if Clemson comes to the SEC, that becomes much easier and thus, less meaningful. 
South Carolina needs Clemson to be strong, just like Clemson needs South Carolina to be strong; it's like the yin and the yang (color depending on your preference). 
Clemson to the SEC will weaken the Tigers, not strengthen them.  
It's great to be a Gamecock! (Not so much a Tiger.)
Keep up to date of my Carolina articles and other random bits of South Carolina Gamecock goodness on my new Facebook page.