Vancouver Canucks: Power, Speed and Depth in 2011-12
August 15, 2011
Harry How/Getty Images
After a record-setting regular season and a stellar run to the Stanley Cup Final that ended in disappointment, Mike Gillis and his minions have simply tweaked their rock-solid lineup this summer.
The year after aggressively adding Keith Ballard, Dan Hamhuis, Manny Malhotra and Raffi Torres to insert some much-needed grit while changing the make-up of the third line, Gillis has sifted through the scrap heap and thrown a life-line to a bunch of guys who, for various reasons, are on the NHL bubble.
As we know, the Canucks already have speed up and down their lineup, and they got more physical with last year's acquisitions. But in the end, what they still lacked was the size and power to be bullies when the occasion called for it. And the series against Boston most definitely called for it.
So far this offseason, Gillis has retained most of his key free agents and signed a bunch of physical wingers who collectively give Alain Vigneault and his staff a lot of options.
Steve Pinizzotto and Mike Duco are agitators who can chip in offensively.
Byron Bitz is a 6'5" beast with some untapped skill. Like Bitz, Mark Mancari is a hulking right winger; and like Pinizzotto, Mancari's been a scorer at the AHL level.
Marco Sturm is a seven-time 20-goal scorer looking to get his productive career back on track after suffering a series of injuries over the past few years.
And then there's Owen Nolan, giving it one last kick at the can, and Todd Fedoruk, the one legitimate heavyweight Vancouver figures to have at training camp.
As for the players Gillis was able to re-sign, Kevin Bieksa, Sami Salo, Jannik Hansen, Chris Higgins and Maxim Lapierre were all key guys to bring back. The loss of Ehrhoff, Torres and Glass, on the other hand, is surmountable.
It goes without saying that Ehrhoff is the biggest loss. Not many defensemen can put up 50 points in a season. But with the emergence of Chris Tanev, based on the success he had with Keith Ballard, those two figure to be the fifth and sixth defensemen.
Ballard, you'd have to think, will have a bounce-back year. He has the skill and speed to carry the puck and join the rush, so he could pick up some of the offensive slack in Ehrhoff's absence.
Last year, much was made of Ballard's rocky season; but the notion that Alain Vigneault was impatient with him is nonsense. Ditto for Cody Hodgson.
Neither were in the proverbial doghouse.
They just didn't earn larger roles for themselves. Injuries, circumstance, and their level of play conspired against them. But with Ehrhoff in Buffalo and Kesler's prognosis murky, opportunity knocks.
So there are the returnees who may have new opportunities to take on bigger roles, and then there are the ragtag gang of bruisers, agitators and veterans that Gillis has added.
After being manhandled by Chicago in the 2009 and 2010 playoffs, and by Boston in 2011, Vancouver's forward corps will be bigger and nastier.
But two questions remain:
1. Is a trade forthcoming (possibly just prior to or during training camp) that will bring in the second-line power forward that Canucks fans and management so desperately want?
2. Among the many big-bodied wingers now in the Canucks system, can any of them seize the second-line power forward role?
However you answer these questions, the Canucks may well start the season with last year's entire second line (Raymond-Kesler-Samuelsson) on injured reserve.
For many teams, starting the year without three of your top six forwards would be crippling. But not for Vancouver.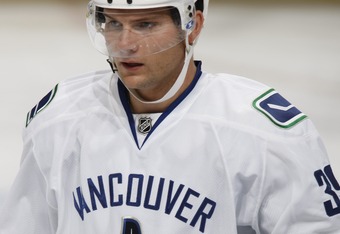 Dale MacMillan/Getty Images
Last year, Kesler carried the line. Sure, Samuelsson is a smart, reliable veteran and Raymond has incredible wheels and creates a lot of chances. But their time in Vancouver may be drawing to a close. Both are in the last year of their contracts, and with the Sedins and Burrows anchoring the first line, Kesler's line could be a dominant line if only he had more size, tenacity and finish on his wings.
So aren't the injuries a blessing in disguise?
There's no reason to rush Kesler, especially with the way he plays. Cody Hodgson should start the year centering the second line, while the wing positions will be battlegrounds.
With Jannik Hansen a lock to play right wing on the third line, the second-line and fourth-line right wingers could come down to Mark Mancari, Steve Pinizzotto, Victor Oreskovich, Byron Bitz and Owen Nolan.
In my mind, Bitz and Oreskovich are fourth-line material for the time being.
As for Mancari and Pinizzotto, on the other hand, I think they have a real shot at taking the second-line job—or at least getting a trial.
And as for Nolan, who knows? He's one of many wild cards the Canucks will have at camp.
As for the left wing, all three lines are wide open.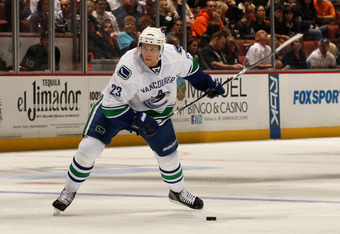 Stephen Dunn/Getty Images
My suspicion is that when Kesler returns to the lineup, Cody Hodgson will see some time centering the third line. Malhotra would then move to the left wing and continue to take the key draws.
But like the right wing, Gillis' offseason additions have provided the Canucks coaching staff with some intriguing options. Of course there's Mason Raymond, who will return at some point—and we all know he brings speed, penalty-killing, creativity and a pair of hands that leaves a lot to be desired.
But with Raymond on IR when the season opens on October 6 against the Pittsburgh Penguins, my money's on seeing Chris Higgins on the second line, Marco Sturm on the third line and Mike Duco on the fourth line. Aaron Volpatti will also be in the mix, while Todd Fedoruk could get lucky if they don't like what they get from Duco and Volpatti in training camp.
As for prospects with a shot at cracking the roster, my money would be on Bill Sweatt and Darren Archibald making the strongest push to make the team.
For the record, here is my prognostication for the Canucks' Opening Night roster:
Left Wing: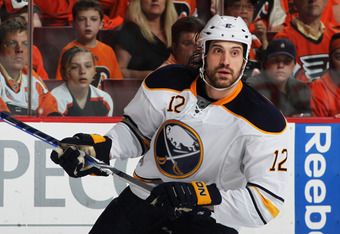 Bruce Bennett/Getty Images
Daniel Sedin             
Chris Higgins             
Marco Sturm              
Mike Duco                
Centre:
Henrik Sedin       
Cody Hodgson
Manny Malhotra  
Maxim Lapierre
Right Wing:
Alex Burrows
Mark Mancari
Jannik Hansen
Steve Pinizzotto
As for the Canucks defense and goaltending, the issue is a little more straightforward.
Once again, the Canucks will be deep and talented with the shutdown pair, Kevin Bieksa and Dan Hamhuis anchoring the defensive core. The second pair will be Sami Salo and Alex Edler.
Edler, incidentally, is the guy who will be relied upon to fill Ehrhoff's shoes; he should be the first-unit power play quarterback and he'll need to rush the puck a little more and continue to jump into the play as a trailer on the counterattack.
And then you've got Chris Tanev and Keith Ballard as the third pair.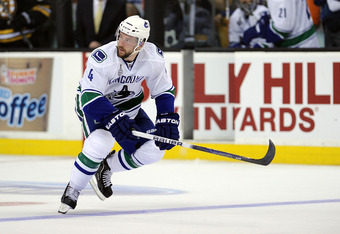 Harry How/Getty Images
All in all, this grouping provides nice balance, as there is a right-handed shot in each pairing (Bieksa, Salo and Tanev), meaning no one will need to play their off side. Aaron Rome, Andrew Alberts and Alexander Sulzer will compete for time when injuries or inconsistencies plague the primary guys.
Left Defense:                  

Dan Hamhuis                   
Alex Edler                        
Keith Ballard                
Right Defense:
Kevin Bieksa
Sami Salo
Chris Tanev
Finally, we get to the tenders—and we would be wise to keep in mind what Mike Gillis had to say in the aftermath of their loss to the Bruins.
When asked about Schneider as offseason trade bait, Gillis told the Vancouver Sun:
I really like Cory Schneider. I like having him on our team and I would be more than happy to have Cory Schneider on our team for the next five or six years. If something comes our way, that's going to help us improve, of course we're going to look at it. If it doesn't, Cory Schneider is going to be on this team next year.
Jeff Gross/Getty Images
So, short of Ryan Clowe, Ryan Malone, Jarome Iginla or someone else of that ilk becoming available on a team with a goaltending liability, Schneider will likely be in Vancouver challenging Luongo for the No. 1 job.
It should be interesting to see how that plays itself out. My guess is that Schneider will start at least 35 games, and Luongo will have to earn his starts.
As for who the playoff starter will be, well, that's another story altogether.
Roberto Luongo
Cory Schneider
Healthy Scratches:
Victor Oreskovich
Aaron Rome
Andrew Alberts
Injured Reserve:

Ryan Kesler (hip surgery)
Mason Raymond (fractured vertebrae)
Mikael Samuelsson (sports hernia surgery)
Potential Call-Ups:
Alexander Sulzer
Aaron Volpatti
Bill Sweatt
Darren Archibald
Yann Sauvé
Eddie Lack