Nashville's Shea Weber Saga: Why It's Good for the League
August 18, 2011
Frederick Breedon/Getty Images
Last week, an arbitrator put the ongoing Shea Weber saga to bed, awarding the stellar 26-year-old defenseman $7.5 million for the upcoming season. This makes Weber the highest defensive cap hit in the NHL for the 2011–2012 season, a reality that has made many teams squirm in fear.
Let's be honest. Yes, this decision has a decided impact on the rest of the NHL, especially for those teams negotiating or planning to begin negotiations soon with their young stud defenseman. Los Angeles Kings star Drew Doughty sent the arbitrator a nice fruit basket. Winnipeg Jets shutdown man Zach Bogosian bought himself an extra jacket for the frigid winter. Buffalo Sabres tower Tyler Myers picked up the chicken wing bill for the team. 
Bogosian and Doughty are currently negotiating with their respective teams and, despite the rumors flying around stating otherwise, both will stay put in Winnipeg and LA, respectively. Myers is in the last year of his entry-level contract. Despite a slow start to his sophomore campaign last year, he ended the year as he did in his rookie season: one of the best young defenseman in the NHL. 
Bogosian is now likely to earn something in the $4 million range for a four- to five-year deal. Doughty and Myers are likely to earn something in the $6–$6.5 million range for a four- to five-year deal. Meanwhile, Shea Weber sits in his Nashville pad playing Monopoly with his real money.
With all of this said, many writers and fans have decried the arbitrators decision saying that Weber is not only not worth that kind of cash, but the fact that he went to arbitration demanding $8.5 million was "not very captain-like" of him and set a bad precedent for other Nashville stars Ryan Suter and Pekka Rinne. Some have even called for Weber to be traded.
Again, let's be honest. Nashville elected arbitration for Weber. This was not a player-elected ordeal. Nashville made this play, likely to keep him from receiving an offer sheet, but regardless, they knew what could come of the process. Weber merely brought a number to the table. 
But, hey whatever, please send the message to your other young stars that asking for the money you feel you deserve is not OK and trade Weber. Good luck then, Nashville. Do any one of you truly believe that losing Shea Weber, who, by the way, plays with your beloved Ryan Suter, will be good for your team?
Pekka Rinne is only as good as the players in front of him. It's no coincidence that having a Weber/Suter pairing playing against the other team's best lines keeps Rinne's goals against average down. Suter is only as good as the player skating next to him, and Weber's pretty damn good. 
How good? As of this moment, he is in the discussion as the top defenseman in the NHL. I, personally, believe he was robbed of the Norris Trophy by the spectacular, but sentimental, season of Nick Lidstrom. He is tougher than Zdeno Chara, and never mind how much better of a skater he is. The Doughty's and Myers' of the league are a few years away from that conversation.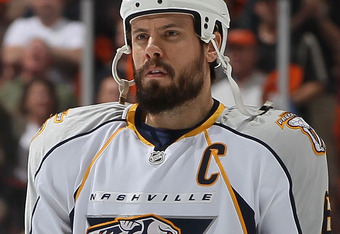 Jeff Gross/Getty Images
For those who think getting rid of Shea is still a good idea, let's go back a few years to the two years following the lockout. The Buffalo Sabres were one of—if not—the most dynamic team at the time. Young, fast, well coached and backed by a spectacular goaltender, but a small market none the less. Sounds familiar right, Nashville fans? So after runs to two consecutive Eastern Conference finals, the ownership balked at the price tags attached to their co-captains Danny Briere and Chris Drury. Both left in free agency following the 2006–2007 season.
What happened? The Sabres missed the playoffs three years in a row and were sent back to the drawing board. It took an other wordly year from Ryan Miller to get them back to the playoffs, and they still couldn't get out of the first round. 
Nashville, you are the new Buffalo Sabres. Barry Trotz is an excellent coach. You have enough young talent to make you a competitive team for years to come, especially on the defensive side with players like Ryan Ellis and Jon Blum waiting to take on bigger roles. What do you still have that the Sabres lost though? The veteran leadership that just so happens to be the best player on your team. 
And this is why this ruling is be great for the NHL. It not only gave an amazing player what he deserves in terms of compensation (Nashville fans I dare you to find a fan of any of the other 29 NHL teams who wouldn't love to have Weber's $7.5 million hit for the year), it gave Nashville the ability to step up and keep a young, talented team's leader. 
And, yes, while the young defenseman waiting for deals may benefit financially from this, the NHL also benefits because it's placing an onus on these teams to keep their young talent. Stamkos stayed in Tampa Bay, Parise is still in New Jersey (for now). This trend needs to continue because it gives each team its own beacon of hope moving forward.
Trading Shea Weber would be probably the dumbest thing Nashville could do. I don't care who they got back in return. Nashville needs to step up to the plate and ensure Weber is headlining their defensive corps next season. Otherwise they can basically throw the season out the door, and possibly others in the future, if Suter and Rinne don't feel like sticking around.
Plus, did you see that beard?