Nebraska Huskers Football: An Internal Debate Written Out
August 16, 2011
Eric Francis/Getty Images
As football season approaches and my internal kickoff clock chants wildly like a drunken frat boy counting down to his sloppy New Year's Kiss (Author's note: 18 days. . .18 days. . .!) I'm faced with a familiar problem.  As a rabid fan, at this time of the season, I'm always forced to try to balance my heart-pounding, sky-diving levels of adrenaline and my higher hopes than a 9-year-old first laying down on Christmas Eve with the realities of trying to be pragmatic.
Let's get one thing clear, I want Nebraska to win a National Championship every year.  Hell, I want them to win two every year.  I know that's not possible, but such is my level of irrationality when it comes to fandom.  This passion, this steel-mill-heat of fiery fanhood is what makes sports so great and, in the same moment, makes die-hards like myself look ridiculous sometimes.
I'm very nearly two people when it comes to trying to get a feel for the upcoming season.  I'm Dr. Hatchyll: the rational (*Author's note: semi-rational, anyway), pragmatist who tries to not see the glass as half full or half empty, but as just a glass.  And I'm Mr. Fan: a maniacal, Bones throwing, football degenerate who sees the glass half full. . .then tops it off with cheap beer, pounds it down and slaps anyone within a five yard radius on the back a little too hard.
Here's how this inner monologue between my two halves has played out this year.
The Move to the Big Ten Means New Matchups
 - Mr. Fan: Which. . .is. . .awesome.  I was tired of smoking Kansas like a Cuban stogey and blazing through Baylor like Seth Rogen with some Afghan Kush.  Michigan will be a great rivalry.  I've hated them with Blood/Crip level of passion since they pansied their way into a National Title split in 1997.  The Legends division will give us a chance to establish dominance and prove that we are the King Kong-sized silverbacks in the Big 10.  In the words of a clearly roid-raging Bart Scott: "Can't wait!"
- Dr. Hatchyll:  Which means new challenges.  The Big 10 may not have the national frontrunners this year like the Big 12 did, a la Oklahoma etc. but the league is deep and presents the challenges that come along with unfamiliar territory. 
Much has been made about the "style of play" in the Big Ten but, as Bo has demonstrated throughout his tenure, our defense can adapt and evolve as needed (*Author's note: see: the development of the Peso position last season) and I'm
confident that Pelini Bros Inc. will have the defense ready.  As for the offense?  Could it suck much more than it did against Washington in the Holiday Bowl?  Doubtful.  It can't get much worse than it was during the lean times last year and in Zac Lee's tenure.  10-3 scores here we come.
The Huskers Return Several Key Players
-  Mr. Fan: Jared Crick is a whiter, easier-to-pronounce version of Ndamukong Suh.  Okay, that's not even close to true.  But he's really freakin' good.  I think he's primed for a breakout year.  An astounding, breathtaking Escape from Alcatraz kind of breakout.  Behind him is LaVonte David and Alfonzo Dennard.
Dennard will be shackling up more people than a Medieval French prison and David, whose size has been unfairly questioned in my mind, will continue to pile up Barrett Ruud-esque tackle numbers.
On offense we have a new gameplan in place.  That game plan has one name and one name only: P-90Rex.  Burkhead's ready to finally get the lion's share of carries and I expect him to run the Wildcat effectively as well. 
Sophomore Taylor Martinez needs to step his game up, but hopefully he'll get help from Kyler Reed and that his chemistry with Brandon Kinnie gets downright Periodic Table this year.
- Dr. Hatchyll: While the security blanket of three potential All-Americans on the defensive side of the ball is comforting, there are still a lot of holes to fill.  In truth, the defense will probably be okay.  Pelini seems to have a way of filling in players, and when that doesn't work, scheming around his teams' deficiencies.  The D-Line looks like it could really be a strong suit for us but the secondary, and in particular the safety position, leaves us with some questions.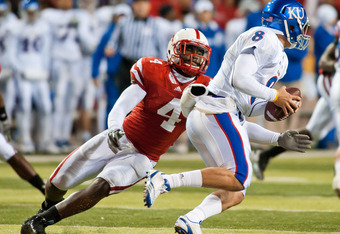 Eric Francis/Getty Images
Gone is Prince Amukamara.  It's unequivocally Dennard's time to shine.  Can he live up to the pressure?  Can LaVonte really fight off the blocks of 330 lb. Big Ten lineman?  Potentially, yes.  But we'll have to see how the defense develops early.  The learning curve will be steep, as we have a challenging matchup with Wisconsin awaiting us for our very first conference game.
As for the offense?  I find it terrifying.  Martinez regressed substantially, injury or not, at the end of last season and despite the coaching staff's vehement claims to the contrary, his ankle sprain is still a concern to many.  The receiving corps is unproven, but not without significant potential, and dynamic playmaker Jamal Turner's progression can't come soon enough for fans.
The O-line is 1,500 pounds of question marks at this point.  We have enough offensive line coaches to start a choir and they'll have to show us some kind of harmony to make the whole thing work.
The Schedule Looks Pretty Tough
- Mr. Fan: But the games are all winnable.  No teams on our schedule, save potentially Wisconsin, jump out at me as juggernauts.  No teams are so overpowering on paper at this point in the season that they make me nervous.  Could Russell Wilson help them pick up right where they left off last season, namely a Rose Bowl berth and ridiculously high-scoring offense?  Sure.  I just think, as it stands right now, it's too early to anoint them.
And that. . .is. . .awesome.
Because let's break it down: we'll win all of our first four games no problem.  I could see us looking to shock a highly-ranked, overconfident team.  Bo Pelini has a penchant for making much-hyped QBs look foolish.  Then we get Ohio State at home.  If there was ever a year to play Ohio State since 2000, this is that year. 
Michigan's rebuilding, Michigan State and Mark Dantonio got dan-lucky-o all of last year, Penn State's led by a "coach" who's more of a figurehead than the Queen of England and whose hips and pelvis seem to be in about as good a shape as the American economy (*Author's note: Jo-Pa apparently got freight-trained by one of his players while standing on the sidelines and his Bilbo Baggins-aged bones snapped like a couple of Rolds Golds.  He was undoubtedly pacing myopically while waiting for the flood that his pants have been prepared for since 1978).
Now's the time to join the Big Ten.  The traditional powers are down.  There's blood in the water and we're about to have our own months-long "Shark Week"-styled feeding frenzy.  It's natural selection at its finest and we'll be picking off the does and the injured calves left and right.
- Dr. Hatchyll: It just seems ludicrous to say that we'll win all of our games this year.  The problem is, even with such a tough schedule there's no games that I feel like I can immediately pencil in as a loss.  It's what gives Mr. Fan so much ground to work with.  The fact is, we'll probably lose two games.  But ask me which two we'll lose and I'll begin to waffle.  Well, you see, umm. . .well there's maybe a loss at Wisconsin.  And then. . .then there's some other game.  A Texas A&M type game lurking, or a Holiday Bowl rematch where Bo simply doesn't care about the game enough to lead us to victory.
We simply have too many offensive question marks for us not to fall short a few times.
Sometimes being rational sucks.
Taylor Martinez Has Been Named a Finalist for the Manning Award
- Dr. Hatchyll: Hahaha.
- Mr. Fan: Hahaha.
FIN