Seattle Mariners Trade News: Chance Ruffin Acquired from Detriot Tigers as PTBNL
August 17, 2011
Chance Ruffin. He sounds like he should be a notorious privateer or bank robber from the 19th century. In reality, he'll only be stealing your at-bats with a wicked slider.
Ruffin is the player to be named later from the trade the Seattle Mariners and Detriot Tigers executed back on July 30 just before the deadline. Mariners RHP Doug Fister and David Pauley went to the Tigers in exchange for OF Casper Wells, 3B Francisco Martinez and LHP Charlie Furbush.
Since coming to Seattle, Casper Wells has hit .341/.420/.682 with five home runs and 12 RBI in 12 games. His superb performance coupled with Mike Carp's equally dazzling tear have given some much-needed life to the Mariners offense.
Charlie Furbush is currently listed as one Seattle's five starting pitchers. In three starts and one relief appearance, he's worked for a 2-1 record and a 4.76 ERA, numbers decent enough for a No. 5 starter. Furbush most likely has the same role in the rotation at least until next season when Danny Hultzen tries out for the job.
Hultzen, the Mariners' first-round draft pick from the 2011 draft, is old enough and developed enough to pitch in the majors next year. GM Jack Zduriencik has said that Hultzen will join the team in Peoria, AZ next February for spring training.
Francisco Martinez is with the Double-A Jackson Generals for now, hitting .276/.300/.414 with a home run in 15 games. We probably won't see Martinez playing at third base for the Mariners for a little while since he's in line behind both Kyle Seager and Alex Liddi. He's only 20 though and will flourish with some time to develop in the minors.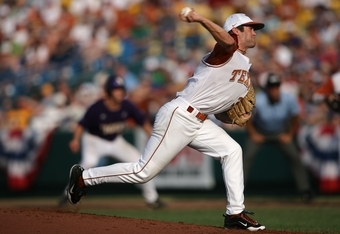 Elsa/Getty Images
So, where will Ruffin fit into Jack Z's grand scheme?
Through 44 appearances, Ruffin has compiled a 2.03 ERA, an 11.1 SO/9 ratio and a 2.73 SO/BB ratio. He powered through Detriot's minor league system, and a major league call-up was in the near future.
He'll be on the Mariners' 25-man roster, eligible to pitch in tonight's game against the Toronto Blue Jays. It's likely that Ruffin will pitch in the bullpen regularly as early as next season.
Reliever Aaron Laffey was designated for assignment to make room for Ruffin. Laffey hasn't been as consistent enough to earn a spot in the Mariners' constantly shifting bullpen. Several others (Tom Wilhelmsen, Jeff Gray, Josh Lueke) have also been unreliable lately and have put themselves in a position to be replaced.
Ruffin, along with Mauricio Robles, Charlie Furbush and Dan Cortes will be the replacements. Robles has been struggling a little this year in Tacoma, but he has a great changeup, strong fastball and curveball in his arsenal. Furbush would head to the pen as a long reliever in the event of Hultzen earning a starting spot. Cortes has looked solid in six appearances with the Mariners this year.
It's nice to see such a strong player come through in the final part of the Fister trade. It is clear that Jack Z is actively addressing the team's needs.
The 2012 season should be an exciting venture for the young ballclub Zduriencik has pieced together: new power, new pitching and a whole lot of potential.