The Best and Worst of Jim Hendry
August 19, 2011
With the Jim Hendry Era (July 2002-August 2011) of Chicago Cubs baseball coming to a close, it is time to reflect on the positives and negatives of his tenure. After all, the guy did last nine years in the organization. 
Top Five Transactions
1.  Cubs send 2B Bobby Hill and SS Jose Hernandez to the Pittsburgh Pirates for CF Kenny Lofton and 3B Aramis Ramirez, July 2003
This may go down as one of the most lopsided deals of all-time. Not only did Lofton and Ramirez provide an offensive boost down the stretch (Ramirez: 63 G, .259 AVG, 15 HR, 39 RBI Lofton: 56 G, .327 AVG, 12 SB) which ultimately led to the NL Central title, but it gave the Cubs a mainstay at third base for the next eight-plus years in Ramirez. For what they were giving up, if any deal could define a GM, Hendry would choose this one.
2. Cubs send C Todd Hundley to the Dodgers for 1B Eric Karros and 2B Mark Grudzielanek, July 2002
The Dodgers at the time were looking to clear $15.5 million from their 2003 payroll and give them the flexibility to pursue a player like Jeff Kent or Cliff Floyd (both players signed elsewhere) and took on Todd Hundley's $12.5 million for the next two-years instead.
Hundley came to the Cubs with great fanfare. Son of former Cub Randy Hundley, two All-Star teams, record for most home runs in a season for a catcher. However, he fell out of favor with Cubs fans, hitting around .200 for most of the two years he was with the team and hitting only 28 home runs over that time. The poor performance, along with his sour relationship with the fans led to him being benched for a good portion of the 2002 season.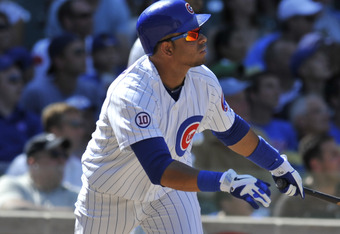 On the flip side, Karros and Grudzielanek played large roles in the Cubs 2003 playoff run, providing veteran leadership and above-average performances. In 114 games in 2003, Karros hit .286 with 12 home runs, including a game-winner at Wrigley to reject Roger Clemens of win 300. In 121 games, Grudzielanek hit .314 and solidified second base.
3. Cubs send 1B Hee Seop Choi to the Marlins for 1B Derreck Lee, November 2003.
If you can't beat them, trade for them. Looking to cut costs following their World Series win, the Marlins traded Lee for Cubs 1B Hee Seop Choi, one of their top prospects.Choi struggled with injuries over the course of the rest of his career failing to top 15 home runs in a season. Lee on the other hand spent the next six seasons with the Cubs making two All Star teams, winning a Silver Slugger and two Gold Gloves.
4. Cubs sign manager Lou Piniella, 2007
With manager Dusty Baker falling out of favor in Chicago, the Cubs made the change and hired former two-time Manager of the Year and World Series Champion Lou Piniella. Despite falling out of favor toward the end of 2010, Piniella still led the Cubs to back-to-back division titles and won NL Manager of the Year.
5. Cubs Trade OF Sammy Sosa to the Orioles for SS Jerry Hairston Jr, 2B Mike Fontenot and RHP Dave Crouthers.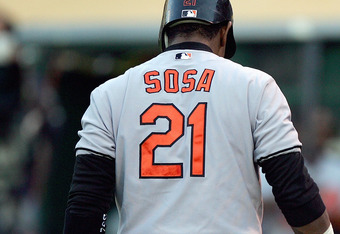 Sosa needed to be moved following a season in which he suffered mysterious injuries (toenail, sneeze), was found to be corking his bat and fell out of favor with the fans who had come to love him.
Getting anything in return was a win.
Worst Five Transactions
1. Cubs sign OF Milton Bradley, January 2009
I initially applauded the move, but a three-year $30 million deal for a player that chased down radio host Ryan Lefebvre for unfair comments he had made during a broadcast..What was I thinking? Most Cubs fans would agree, and Bradley's blimp of a contract has weighed down possible personnel moves over the last three years.
2. Cubs sign OF Kosuke Fukodome, March 2008
Don't get me wrong, Fukodome is a decent player. However, he is not worth the four-year $48 million dollar deal that Hendry gave him.
3. Cubs sign OF Alfonso Soriano, March 2007
As it was said with Fukodome, it isn't so much that Soriano is not a good player (offensively at least). It's that his eight-year $136 million dollar contract is not worth the production he puts up.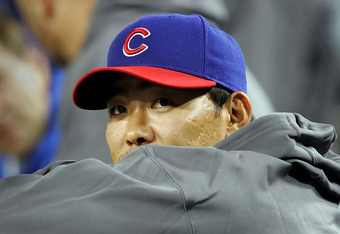 4. Cubs sign SP Carlos Zambrano, March 2007
Hendry continued his spending spree inking the mentally unstable Zambrano to a five-year, $91.5 million dollar contract. Zambrano has underperformed since, has spent time on the disabled list, disqualified list, suspension list and whatever else list the Cubs make up.
5. Cubs trade SP Julian Tavarez, SP Jose Cueto, C Ryan Jorgensen and SP Dontrelle Willis to the Marlins for SP Matt Clement and C Antonio Alfonseca, March 2002.
This deal may go down as being a wash, though at the time, Willis ended up winning Rookie of the Year. Don't get me wrong, Clement was a quality starter over his tenure with the Cubs. Alfonseca on the other hand was a complete bust.
Review 
It's pretty obvious that Hendry's downfall is due to giving large, long contracts to players who should not be receiving them. Hendry was great on making deadline deals, and signing quality veteran backups. When it boils down to it though, anybody can write a number on a check. Hopefully, the Cubs next GM will be smarter in making those kind of decisions.