View from the Blues, Volume 24: A Long, Difficult Season Comes to an End for LA
August 20, 2011

Charlie Naimo's Los Angeles Blues, fresh off a couple of scoreless draws against the Richmond Kickers, were hopeful that they would see increased production on Friday when they traveled to the Skyline Sports Complex in Harrisburg, Pa. to take on the Harrisburg City Islanders in the USL PRO Playoffs.
"I'm fairly pleased because the guys got their first clean sheet in a long time," Naimo told LABluesProSoccer.com's Gunnar Berndt on Sunday against Richmond. "Our Achilles heel has been defending on set plays, so we've spent a lot of time focusing on that.
"Tonight, the guys took it personally and did well against a great set-piece side. Richmond being one of the best teams in the league, I'm more happy that we got a clean sheet than I'm unhappy we didn't score. We usually find a way to get a goal, so it's smart for us to work on keeping other teams off the board."
"I think we had a good performance," said Blues captain Josh Tudela. "The guys went in and fought hard. Attacking-wise we should have been better, but the main focus heading into the playoffs was being solid defensively, because we had been giving up too many goals.
"I'm very happy that we haven't been giving up goals on set plays lately. Now that we have that down, hopefully we can return to scoring in the playoffs."
"The focus has been on doing better on both sides of the ball," said the Blues' Nelson Akwari. "I'm sure we'll create scoring chances when Jon comes back into the lineup, but the big thing for us in the playoffs is knowing we can't give up goals on set pieces.
"After doing a good job with that in the first game, we now have one more game to try and find our attack and hopefully figure out how to threaten the goal more."
"With all the games we've played lately, there has really been very little training," Naimo added. "I even gave the guys a day off at some point so they could get away from each other. Since the schedule makes it difficult to actually work on things, a lot of what we've been focusing on is attitude stuff. We've created more of a warrior mentality and it has helped our defending on set plays.
"Our defense has finally adapted to dropping a bit farther back, which we've been trying to accomplish for a while. As a result, we haven't given up a breakaway in a long time, which was an Achilles heel for us before. If we had played that way in the first half of the season, I'm convinced we'd have a significantly better record. Who knows, maybe we could have won the division."
Naimo believed that his boys could pull off a huge upset on the road against Harrisburg.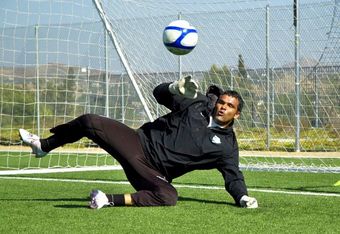 "I'm confident in the boys in the playoffs and we're not scared of playing in Harrisburg," Naimo concluded. "I love these road trips, because it's the only time we get to be together for an extended period of time. Until recently, we had only one loss on the road.
"The ones we suffered about two weeks ago came in difficult circumstances, after a lot of travel. I really like how this group has performed in away games. We're a closer unit on the road."
"In the playoffs, we have to have eleven guys that are going to fight and put in the work that it takes to win," Tudela added. "Sometimes it's not going to be pretty. You just have to battle and hope that luck will be on your side. All the teams in the postseason are good and it's just about who has more heart."
After battling to a 2-2 draw at halftime, the Blues' season came to an end when Brian Ombiji scored in the 52nd minute to give Harrisburg a 3-2 victory over the Blues.
With the defeat, the Blues conclude what has been a year that has seen some solid performances at times along with a strong start to their maiden campaign.
Ultimately, the inconsistency on the road combined with an inability to win at Titan Stadium precipitated by Argentinean international Walter Gaitan walking out on his contract has doomed this club to an early playoff exit.
One can hope that the View from the Blues will be stronger and clearer,  brimming with optimism next season.
The View from the Blues adjourns for the 2011 USL PRO season and will return in spring 2012.