Green Bay Packers 53-Man Roster: As Close as You Can Get Without Being Inside
August 22, 2011
Quarterback (3)

1. Aaron Rodgers 2. Matt Flynn 3. Graham Harrell
The Green Bay Packers are the envy of the rest of the NFL at the quarterback position.  They have Rodgers who is an elite-level starter, Flynn who is arguably the league's top backup, and Harrell who has shown a lot of promise as a future strong No. 2 when he's been given a shot in the preseason this year.  Think about this: in the second preseason game against the Cardinals, Rodgers posted the third best passer rating of the trio at 126.0, Harrell 141.2, and Flynn 158.3 which is perfect.  Now I know it's the preseason but I say that to say this, there is no way the Packers don't keep all three quarterbacks on the 53-man roster heading into the 2011 opener.  If the Packers' brass really felt good about Harrell maybe they would entertain trading Flynn, but I find that highly unlikely given Rodgers' concussion history, Flynn's outstanding play, and Harrell's inexperience.  The only unfortunate thing about it is the Packers will not be able to keep only two quarterbacks on the 53-man roster as they have preferred to do in past seasons, meaning one less roster spot to use on another position where the Packers are deep like wide receiver, running back, tight end, or cornerback.  
Running Back (5)
1. Ryan Grant 2. James Starks 3. Alex Green 4. John Kuhn 5. Quinn Johnson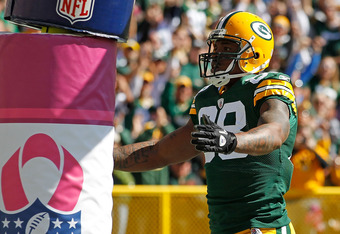 Coming back from injury and entering his contract year, expect Grant to have a great year.  I don't know if he'll get back to the 1200 yard mark but he'll surely post 1000 and somewhere around 10 touchdowns.  Starks will take some carries away from Grant and should have an even better season than he did during an injury-riddled rookie campaign.  Expect the Packers to have their best rushing attack since Ahman Green was in his prime.  Rookie 3rd round draft pick Alex Green looks to have the skill set to more than adequately replace Brandon Jackson as the third down back.  Fullbacks John Kuhn, unbelievably versatile, and the bruising Quinn Johnson will round out the running back position where the Packers keep just five players, the least they have kept since they kept five in 2008.  Kuhn doubles as the top fullback and the fourth halfback.  
Outside Looking In: 1. Dimitri Nance 2. Brandon Saine
Although Nance served admirably in 2010 when the position was decimated by injury and has had a good preseason, he and surprisingly good undrafted rookie Saine out of Ohio State fall victim to the numbers crunch at other positions.  Saine is a strong candidate for the practice squad.
Tight End (4)

1. Jermichael Finley 2. Andrew Quarless 3. D.J. Williams 4. Ryan Taylor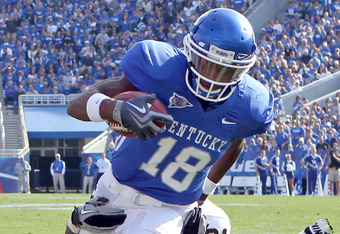 Finley is back after a knee injury ended his season in week 5 last year; he seems hungry to complete a full season and revolutionize the position.  He looked smooth in his first action of the preseason against the Cardinals.  Quarless is a poor man's Finley at this point in his career, and having both of them on the field provides the Packers with two players who are matchup nightmares for opposing defenses.  They are far too fast for linebackers to cover and too big for safeties to handle, Quarless ran a slant from the slot against a safety in the Cardinals game, and he looked like a receiver easily beating the defender for an 11-yard gain.  We haven't seen much of Williams or Taylor yet, but what they have shown leads me to believe that both will be players in this league.  Both Williams and Taylor have value as H-backs which allows the Packers to keep just 5 running backs.
Outside Looking In: 1. Tom Crabtree 2. Spencer Havner
Like Nacne and Saine, Crabtree and Havner are the victims of the numbers crunch, and they will probably catch on with another team and become contributors.  Crabtree became expendable despite being the team's best blocker at the position as Taylor has shown the ability to be as good or better as Crabtree as an inline blocker. 
Wide Receiver (5)
1.Greg Jennings 2. Donald Driver 3. James Jones 4. Jordy Nelson 5. Randall Cobb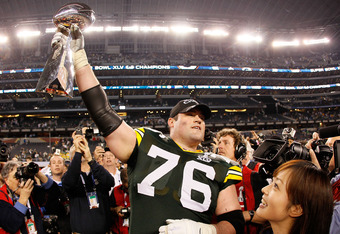 Wide receiver is very likely the Packers' deepest position, and an argument can be made that the Packers have 8, maybe 9 players at the position worthy of the 53-man roster.  The top five are locks, leaving no room for anyone else on the 2011 roster.  Jennings is the silky smooth deep threat, Driver the ageless veteran, Jones the strong possession receiver, Nelson the tall receiver with a knack for catching the over the shoulder deep ball, and Cobb the slot guy who will double as the return man that brings the Packers' return game back from the dead.  The big five is back, although the Packers did line up with five receivers on occasion last year with Swain as the fifth. Not since 2007 have they had a true five wide set in which each receiver is just as dangerous as the next.  That year they lined up Jennings, Driver, Jones, Ruevell Martin, and Koren Robinson and gave defenses fits with the quick passing game to cover for a struggling rushing attack for most of the season.  The 2011 version of the big five will be even better although Finley will likely be one of those split out wide more often than you will see five actual wide receivers in the game.  
Outside Looking In: 1. Chastin West 2. Brett Swain 3. Tory Gurley 4. Diondre Borel
You could make a strong case for each of these four players as the Packers 6th receiver, but unfortunately there is no room to keep a 6th on the 53 man roster.  West had a great game against Arizona hauling in a 97-yard scoring strike on an adjustment against the blitz and press coverage.  While Swain has been injured this preseason, in 2010 he was a key contributor on special teams while showing he is improving as a receiver now 2 years removed from ACL surgery.  And I'm sure the Packers hope they can sneak the 6'-4" Gurley or the former Utah State quarterback Borel onto the practice squad.  It's very possible that the Packers could trade one of these players for a late 2012 draft choice.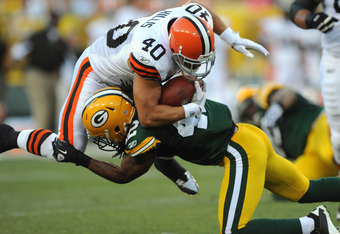 Offensive Line (9)

1. Chad Clifton 2. Josh Sitton 3. Scott Wells 4. Bryan Bulaga 5. T.J. Lang 6. Derek Sherrod 7. Marshall Newhouse 8. Nick McDonald 9. Evan Dietrich-Smith 
After two preseason games, it looks like the Packers' starting line from left to right will be Clifton, Lang, Wells, Sitton, and Bulaga.  First round pick Sherrod will be the top backup with 2nd year pro Newhouse the second man up.  Sherrod can play either tackle or guard spot, and Newhouse can play any position along the line; this versatility is an important quality for backup offensive linemen as the Packers, like most NFL teams, generally only activate 7 offensive lineman on the 46-man game day roster. McDonald has the ability to play center or either guard as does Dietrich-Smith, also providing valuable versatility along the line.  If Dietrich-Smith can win the long snapper job that would enable the Packers an extra spot on the 53 man roster.  
Outside Looking In: 1. Chris Campbell 2. Ray Dominguez
Campbell, who spent 2010 on the practice squad after being undrafted, has looked strong in camp but there just isn't room for a 10th offensive lineman on the 2011 team.  Dominguez went undrafted out of Arkansas State this year and had offers from 15 teams before deciding to sign with Green Bay.  If he's not added to another team's 53 man roster, look for the Packers to add him to their practice squad.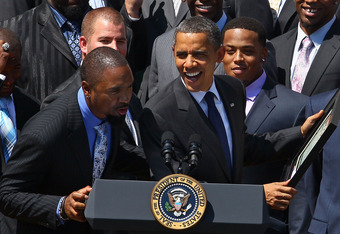 Safety (4)

1. Nick Collins 2. Morgan Burnett 3. Charlie Peprah 4. Anthony Levine
Collins, the starter at free safety, is a Pro Bowler who should make the leap to All Pro this season.  Burnett is back from an ACL injury that cut his promising rookie season short, and he looks like he is well on his way to becoming the player the Packers thought he was when they traded up for him in the third round of the 2010 draft.  Burnett will start at strong safety while Peprah, who came in for the injured Burnett during the Packers' Super Bowl run, is entrenched as the top backup.  2010 undrafted free agent Levine will hold down the 4th safety spot. Although Levine is somewhat raw on defense, he possesses something you can't learn: 4.3 speed which should allow him to excel on special teams.  It is possible the Packers keep Jarrett Bush as the 4th safety allowing them to keep another cornerback.  Or they could use Bush as the 4th safety and 6th cornerback allowing them to use the extra roster spot at another position, for example wide receiver.
Outside Looking In: 1. M.D. Jennings
The undrafted rookie looks worthy of a practice squad spot, as at this point he is a bit thin to stand up to the rigors of an NFL season at safety.  At 6'-0", 187 lbs, he could use a year to hone his skills and hit the weight room.  He could be in the mix for the 4th safety spot in 2012.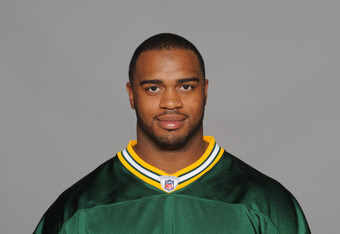 Cornerback (6)

1. Charles Woodson 2. Tramon Williams 3. Sam Shields 4. Josh Gordy 5. Davon House 6. Jarett Bush
Cornerback is arguably the Packers' deepest position.  Woodson has recovered from the broken collar bone that sidelined him during the Super Bowl and looks stronger than ever after doing more pool work than usual and taking up boxing as part of his offseason workout program.  While Woodson is the best overall cornerback in the league, Tramon Williams is able to play at all three levels of the defense with supreme effectiveness.  Williams has become the Packers' best cover corner, with opposing quarterbacks deciding more often than not to throw away from him.  In his second season expect nickelback Shields to become more consistent and make more big plays as he becomes more comfortable at a position he is relatively new to, having only played corner during his final season at Miami.  Gordy is a former practice squad player who contributed on special teams in 2010 during the Super Bowl run.  He has flashed great coverage skills and playmaking ability during this preseason.  House, a rookie 4th round pick, was looking to be the Packers dimeback with his size, speed and aggressive, physical style of play but he has been slowed by a hamstring injury.  Expect him to push the other corners for playing time once he gets healthy.  Bush is a very good special teams player and a versatile player on defense who can play corner or safety in a pinch.  If these are the six cornerbacks the Packers keep, it is ironic to think that four of the six went undrafted.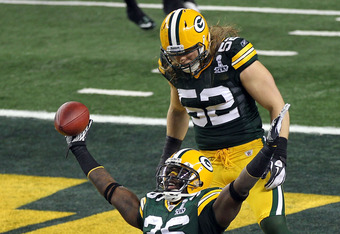 Outside Looking In: 1. Pat Lee 2. Brandon Ross
Lee, the former 2nd round pick, has never really panned out as the Packers had hoped.  He has been slowed by injuries and inconsistent play.  He is a good special teams player and can play the slot or outside, but it looks as though his time in Green Bay is about to run out.  If Bush is kept as the 4th safety over Levine, either Lee or undrafted rookie free agent Ross could be the benefactors.  Ross has shown good awareness and a knack for being around the ball during the preseason.  He is a strong candidate for the practice squad.  
Defensive Line (6)

1. B.J. Raji 2. Mike Neal 3. Ryan Pickett 4. Howard Green 5. C.J. Wilson 6. Lawrence Guy
The Packers need Mike Neal to stay healthy as he showed last season that he has strong pass rush ability from the end spot and the ability to move inside on passing downs, where departed Cullen Jenkins really wreaked havoc.  Raji should improve upon his 6.5 sacks in 2010 and he, Pickett, and Green will once again form a formidable front line on early downs as they did toward the end of the 2010 season and throughout the playoffs.  Second year pro Wilson is stout against the run, and the Packers think he has the skill set to improve as a pass rusher in year two.  Rookie 7th round pick Guy has yet to play in the preseason due to a concussion, but head coach Mike McCarthy has already singled him out as a player who had a strong camp and who they expect to get some pass rush out of during the regular season.   
Outside looking In: 1. Jarius Wynn
Although Wynn has performed well during the preseason, he loses out to the immense potential of Lawrence Guy.  If Guy can stay healthy, he simply has much better size for the end position in the Packers 3-4 at 6'-4", 305 lbs compared to Wynn's undersized stature at 6'-3" and just 277 lbs.
Linebacker (8)
1. Clay Matthews 2. Frank Zombo 3. A.J. Hawk 4. Desmond Bishop 5. Erik Walden 6. Brad Jones 7. D.J. Smith 8. Ricky Elmore 
Matthews should only be better in this his third NFL season; expect him to once again lead the team in sacks and challenge for the league lead.  It looks like Zombo will start opposite Matthews and will be backed up by Erik Walden.  Matthews will be backed up by Jones who has really fallen off the radar after becoming a starter in 2009 as a rookie 7th round draft pick.  The steady Hawk and playmaking Bishop will start on the inside.  Rookie 5th round draft picks Smith and Elmore will fill the final two spots at linebacker.  Elmore has been quiet during camp but outside linebackers coach Kevin Greene really likes him.  And Smith, although a bit short at 5'-10", looks like a player on the inside who will serve as the top backup to both Hawk and Bishop.  

Outside Looking In: 1. Robert Francois
Francois played well during the 2010 season both on special teams and from scrimmage when he was elevated from the practice squad because of injuries at inside linebacker. However, he is not good enough to beat out any of the top 8 linebackers and thus he will be cut.  

Special Teams (3)

1. Mason Crosby 2. Tim Masthay 3. Brett Goode
Crosby is now one of the league's highest paid place kickers at roughly 3 million per year.  The new kickoff rules should allow Crosby to put his kickoffs deep into or out of the end zone eliminating the opponent's return game, but he needs to improve his accuracy on field goals.  If he could get up to the 80% threshold he will be worth the money he's getting.  Masthay has continued were he left off last season, punting even better so far than he did last season into the playoffs through the Super Bowl.  Goode is a very good long snapper, but I just wish Dietrich-Smith could unseat him, as using a roster spot on a player who only plays maybe 10 plays a game seems like such a waste of a spot on a team so deep at every other position.  The Packers will be cutting players who will contribute on other teams, and they would have to release one less if a position player could take Goode's job.  One interesting note, I believe Masthay is serving as the holder for field goals, something former quarterback Randall Cobb did at Kentucky.  If I were the coaches, I would use Cobb as the holder in order to make the rare occasion of a fake field goal much more effective with a former college quarterback who is also a threat to run the ball taking the snap.