Houston vs. New Orleans: Arian Foster, Ben Tate Gash Saints Defense
August 21, 2011
All the talk following the Saints' win over the 49ers a week ago centered around a defense doing its best 2009 impression. 
But the talk following their 27-14 loss to the Texans on Saturday will center around a defense repeating the same mistakes from 2010.
The Saints were consistently shredded by Arian Foster, Matt Schaub and seemingly any other Texan that found the ball in his hands.
Second-year running back Ben Tate led all rushers with 95 yards on just nine carries.  He also scored a touchdown to go along with Foster's pair.
Both rushers went untouched several times as they picked up huge gains or slashed their way to the end zone.
"It was just far too many inconsistencies for our liking," Saints head coach Sean Payton told the Associated Press. "I thought we weren't as ready maybe as I thought we were the last week we played. I thought we were sluggish and I thought they looked sharp."
The Saints would have had an easier time slowing down Houston's offense had they actually made some tackles.
Will Smith, Jabari Greer and backup safety Paul Oliver were all guilty of whiffing as Texans ball carriers flew by.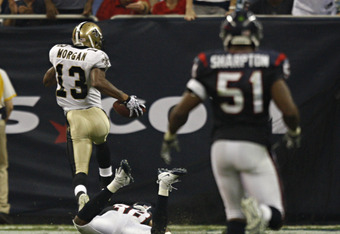 Meanwhile, the Saints offense showed some signs of improvement from last week.
On the first series, it made its way inside Houston's 5-yard line only to lose the possession on a Drew Brees fumble.  Two series later, Brees hit receiver Robert Meachem on a 43-yard bomb that set up the Saints at the Texans' 8-yard line. 
Rookie running back Mark Ingram capped of the drive with a fourth-down plunge from the goal line.
The offensive line played well for most of the first half.  It allowed backup quarterback Chase Daniel to hit wide-open rookie Joseph Morgan on a 56-yard touchdown throw before halftime.
But like Brees, Daniel killed two drives when he lost a fumble and threw a bad pick in the third quarter. 
Besides the the turnovers, the Saints offense looked pretty sharp.  The receivers made some tough catches while up-and-comers Jimmy Graham and Ingram continue to impress. 
The Saints defense will once again be tested in a week when New Orleans visits Darren McFadden and the Oakland Raiders.