Plaxico Burress Is Back: Why the Jets Will Dominate the AFC This Season
August 22, 2011
The New York Jets defeated the Cincinnati Bengals Sunday night, 27-7.
Mark Sanchez threw for 173 yards on 20 attempts with two touchdowns and no interceptions. Ladainian Tomlinson started for the injured Shonn Greene and looked like the age is finally catching up to him with 26 yards on 10 touches. Former Cleveland Brown running back Chris Jennings made a huge impression, running for 81 yards on four attempts—69 yards coming from just one of those carries. Dustin Keller had four receptions for 73 yards, and running back Joe McKnight added a touchdown following a reception from backup quarterback Greg McElroy. The defense looked solid, causing three turnovers, while the lone sack was made by the former Buffalo Bills bust Aaron Maybin.
And Plaxico Burress returned to the field for the first time since 2008.
He had three receptions for 66 yards and a spectacular over the shoulder 26 yard touchdown in the second quarter.
Many people speculated that Burress wouldn't be able to come back from his long absence, and be a force like he once was. Well, I'm here to tell you that he will.
You can't teach height. Because of his 6'5" height, he towers over cornerbacks and can pull in the ball easily.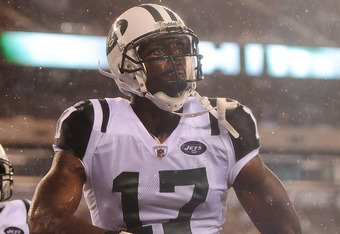 He also is great with his hands and is a good route runner.
He doesn't look like he's lost much speed, but even if he does in the following years, the Jets would be wise to lock him up for years to come.
A 34 year old wide receiver? Why would you lock him up long term?
He doesn't have as much wear and tear as other 34-year-old receivers. Because he doesn't rely on speed—he relies on his height and his great hands—he could be a big force for the Jets into his late thirties, possibly early forties.
The Jets have a developing quarterback who could end up being one of the better QB's in the league. They also have a running game, a tight end and a great offensive line. At wide receiver, Santonio Holmes is one of the most underrated but well known wide receivers in the league. Plaxico Burress will only complement this offense and make Mark Sanchez look even better than he already is.
Not to mention that they have an offensive coordinator who helped Peyton Manning develop into a lock for the Hall of Fame.
I haven't even talked about defense yet.
Rex Ryan is a defensive-minded coach, that's no secret. He's pretty good at it too, having all of his defenses of the last six years (as defensive coordinator) ranking in the top 10 (only one year he had below top 3).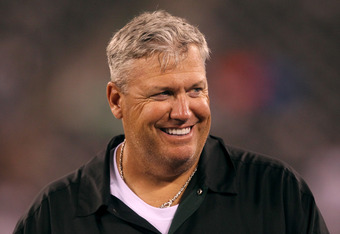 The Jets defensive line is underrated, yet looks as good (on paper and depth-wise) as just about any other d-line in the league, with Mike DeVito, Trevor Pryce, rookie Muhammad Wilkerson, fellow rookie Kenrick Ellis and Sione Pouha. They have the depth to continuously rotate and have fresh guys on the line.
At linebacker, they have three great players in David Harris, Calvin Pace and Bart Scott. Not to mention, Aaron Maybin, who may be able to revive his career with the Jets.
The cornerback group could develop into one of the best in the league (I'm not just talking about the two starters). They have one of the best corner duos in Antonio Cromartie and Darrelle Revis. Kyle Wilson looks to improve and make an impact for the stout defense. While the safeties need to improve, they're solid players... Who needs great safeties when you have two of the best corners, and possibly another one developing into a great player?
As you can see, the New York Jets aren't as "weak" as some people think they are. Just looking over the team quickly, you can mistake it for a weak offense, and a pretty good defense. But when you really get in depth (literally) and see the starters, as well as the backup veterans, the Jets are a great team and are going to be one for a long time...
Rex Ryan is going to go down as one of the best head coaches ever. Hopefully his promises for a Super Bowl don't undervalue what he's done on his resume at the end of his career, though.