2011 San Francisco 49ers: Who Will Be the Starting Cornerbacks in Week 1?
August 23, 2011
The cornerback position is one of the most coveted and sought after positions on defense in the NFL. It is not the easiest position to find in the world. In some scenarios, it could be argued that great cornerbacks are more difficult to find than great quarterbacks.
The 49ers have especially had major problems at the position in recent year. The consistency just has not been there from the starters. 
It's evident by all the changes that the front office has made over the past month, or so, that they are trying to change the dynamics and thinking of this team. While there has been moves to address this position not only through the draft, but free agency as well, the future is unclear.
With that said, below I have listed each one of the cornerbacks that should make the team. After that, I have listed other options moving forward.
Roster Options 2011:
Carlos Rogers - Rogers is coming over from the Washington Redskins and did quite well over there. He typically locked down opposing teams number one wide receivers freeing up DeAngelo Hall to make plays on the other side. His stats were not eye-popping but they were enough that 49ers fans can feel more comfortable with a guy like this over a guy like Nate Clements as the number one corner.
Shawntae Spencer - Consistency and Shawntae Spencer's career certainly have not gone hand in hand. While he had a pretty amazing 2009 campaign, his play fell off the cliff in 2010. He has been anchored by a hamstring injury this entire offseason and it's still up in the air as to when he will be back exactly.
Tramaine Brock - Tramaine Brock has been one of the most consistent corners in camp based on reports out of Santa Clara, CA. He has played relatively well in the two preseason games up to this point. He has probably a 50-50 shot at starting. There is little doubt he will be on the roster.
Chris Culliver - Cully has been quite promising up to this point for a rookie. In practice he's been doing very well against players like Braylon Edwards and Ted Ginn, among others. Culliver was thought to have had special team ability but we have yet to see any of that from him in the games really. Culliver may have a chance to get on the field in different packages that utilize and maximize his talents.
Tarrel Brown - Brown has not ever quite elevated his game to where the 49ers had originally hoped. He has shown the ability to come in and be a solid back up though. He will make plays from time to time and has the ability to pick off the ball when he is in position. But that is key, he is not always in position and makes more mental errors than you would hope for out of a starting cornerback in the NFL.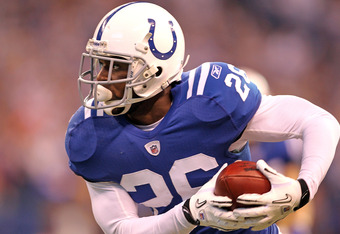 Free Agent Options 2011:
Kelvin Hayden (UFA) - Hayden still has some tread on the tires at only 28 years old. He has had a very solid career up to this point with the Indianapolis Colts. Even though the Colts did not want to bring him back (as far as we know) it does not necessarily equal that he is bad. He may be the number one option to look at in terms of free agents that are still available.
Andre Dyson (UFA) - There's no question that Dyson has lost speed over the years. It happens when players age. At 32 years old, it's possible that Dyson still could have one or two years left in his legs before not being able to be effective at all. A one-year deal could be worth it to bring him in on passing situations.
Randall Gay (UFA) - Randall "Blue" Jerome Gay, Jr. has played on some very, very good teams. He has been a major contributor for those teams. He is only 29 years old which is not ancient for a corner, nor is it exactly a spring rooster. Gay could provide a nice stop-gap option until the 49ers are able to draft a guy for the future.
If the 49ers do not pursue another cornerback through free agency, then they may need to draft someone relatively high in next years draft.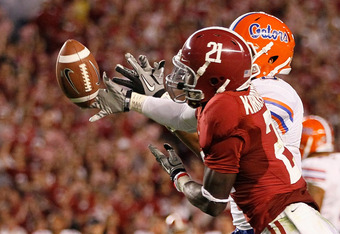 Top Five Options in the 2012 Draft:
Dre Kirkpatrick (Alabama)
Cliff Harris (Oregon)
Jayron Hosley (Virginia Tech)
Chase Minnifield (Virginia)
Stephon Gilmore (South Carolina)
Banking your future on a rookie is not always the best idea. Nor is it the worst idea. There are pros and cons to each part of the equation of drafting a rookie. For the long term it could be great. But there is a fairly steep learning curve at the position.
In any case, it would not shock me to see the 49ers draft at this position in the first or second rounds of next year's draft.