MLB 2011: The Pittsburgh Pirates Make Questionable Moves
August 24, 2011
Pittsburgh has made some minor moves over the past couple of days.
Why am I giving brief details and opinions on these "worthless" moves you ask? 
One of them could be the difference maker next season, as a part of a big trade, or a playoff contending team.
The "first" (defined as first of the recent) move came when the Texas Rangers acquired the Pirates Triple A closer Tim Wood, who owned an ERA under 3 for the Indianapolis Indians (Triple A affiliate of the Pittsburgh Pirates).  The Bucs will receive a player to be named later, or cash.  It has not yet been revealed what exactly they will receive.
Pittsburgh already had a solid bullpen with Evan Meek, Joel Hanrahan, and Daniel McCutchen, so no worries there. 
If they do get the cash, it can help them buy once again in the offseason, like they did with Derrek Lee (though that has not planned out so great thus far).
The next move came with signing Aaron Heilman, the 32 year old reliever who has been especially great in strikeout numbers. 
Although has allowed too many home runs; eight of them in 35.1 innings.  If he can find a way to keep the balls in the ballpark, he can be a great addition to the already solid pen.  He could provide much depth.  You can never have enough pitching.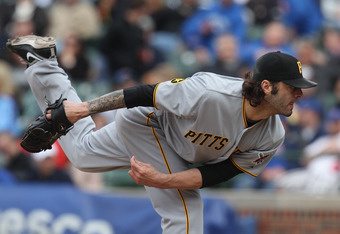 A day after the Heilman acquisition, Kevin Correia was officially put on the 15 day disabled list with a strained left oblique, and Chris Leroux was called in to take his place on the roster. 
Leroux is a 27 year old pitcher with limited Major League experience, so it can't hurt for the team to let him gain some.
And just today, the Pirates made two moves: lefty Joe Beimel was designated for assignment, and they signed Nelson Figueroa. 
There is a good possibility that Beimel will draw interest from big market teams to be used as a lefty specialist, such as the New York Yankees and the Philadelphia Phillies. 
The Phillies are dominant as they can be right now, so an addition wouldn't seem to be necessary.  As for the Yankees, they recently added Aaron Laffey to their organization, so they don't seem to be looking for a southpaw as well lately. 
But the most important fact of this is that Beimel can still bring in some value, if he can be traded.
Figueroa has posted an ERA over 8 with Houston this year, and over 6 with their Triple A club, which explained why he was released.  Why was he signed by Pittsburgh?  That still remains a mystery.