Seattle Seahawks: Why We Don't Have a Quarterback Controversy
August 24, 2011
Preseason games usually have little meaning to anyone outside of players fighting for a roster spot. They are not the most effective way to judge who should be the starter for a particular position. The Seattle Seahawks are seeing a great example of this with Tarvaris Jackson versus Charlie Whitehurst.
No one is claiming that Jackson is the answer, except maybe Pete Carroll, and he has done little to prove he can run the offense during the first two preseason games. Contrast that with the efficient work of Whitehurst, and one could assume there is a quarterback controversy brewing in Seattle.
The problem is that the personnel each quarterback played against varied drastically. While Jackson faced a first-team Vikings defense, Whitehurst faced mostly backups, so the mess that is the offensive line wasn't nearly as glaring of a hole in the second half as it was the first. As expected, Whitehurst had more time and was able to make good decisions in the pocket.
Jackson was mostly only able to display his ability to move out of the pocket that hardly existed in the first place. The offensive line, while moving in the right direction, was also missing starting left tackle Russell Okung due to injury and is starting two rookies.
While starting rookies is always going to present more of a challenge, one has to especially take that into account with the lockout-shortened offseason. The players that suffer the most from that are rookies and new free agents trying to learn the system.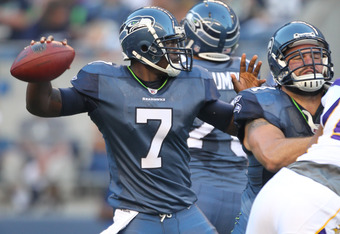 So while we can't throw Jackson under the bus for his two preseason games, it also doesn't mean we can completely discount what Charlie has been able to do. He has done well in the situations presented and is looking much more confident and comfortable compared to this time last year. 
The only accurate way to get a feel for how Whitehurst would do facing first-team defenses would be to start him and put Tarvaris in against the backups.
In theory we would see a flip-flop in performances, and we would all be raving about how Tarvaris is efficiently running the offense. We as fans won't get a chance to see that, however, as the only people whose opinion really matters are already comfortable with Jackson starting, and Whitehurst would be getting drilled in just the same manner if he were given the start.
What Whitehurst's performance should do is tell us he is making strides in this offense and would be more productive should he be thrown into the starting role this year.
The fact that he is not given the opportunity to start should, however, give us an idea that Carroll simply does not see him as the quarterback of the future. That doesn't mean Jackson is either, but he is being given a chance to start and run away with the job.