Chicago Bears Positional Breakdown: Defensive Ends
August 25, 2011
"Defense wins championships." It is one of the oldest sayings in the book. 
When you go back and look at one of the greatest teams in NFL history, the 1985 Chicago Bears, their stellar defense was led by the pressure of four men up front. William "Refrigerator" Perry, Steve McMichael and Hall-of-Famers Richard Dent and Dan Hampton.  Arguably one of the most feared front four in the history of football, the monsters of the midway destroyed every team in their path. 
In order for the 2011 Chicago Bears to get back to the playoffs and to the Super Bowl they need a great front four and it starts with the ends. 
Last offseason the Bears got the prize free agent in Julius Peppers.  In Peppers first year as a Bear, he had eight sacks, nine pass deflections, two interceptions and three forced fumbles. Although Peppers' sack numbers were down, his impact was felt throughout the defensive line.  Peppers is the type of player that offenses need to game plan for. Because of his incredible speed and athleticism there are few tackles that can match his abilities. 
Often times Peppers is double teamed by the tackle and guard, or chipped by a running back going out on a route.  One of the biggest strengths of Peppers' game is how he makes others around him better.
Enter Israel Idonije. 
In Idonije's first six seasons with the Bears they saw him move from the defensive tackle position inside to the end position on the outside. In those first six seasons Idonije was able to account for eight total sacks.  With the release of Alex Brown in the offseason last year, Idonije was given the starting end position opposite of Peppers.  In his first full season as a starter, Idonije emerged to tie Peppers with eight sacks of his own. 
Idonije is not a guy that has one great attribute to his game, but he has a high motor and a tendency to get to the ball.  Idonije is again expected to hold down the starting defensive end position opposite Peppers.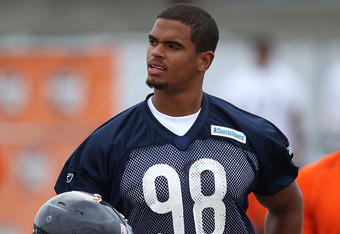 The third man set to be in the rotation at the defensive end position is second-year player Corey Wootton. 
So far in his career, Wootton is best known for being the guy who ended (possibly) Brett Favre's career.  Despite Wootton's injury in the preseason opener he is expected back by the start of the regular season.  Coming out of college Wootton was looked at as a liability given his health issues in the past.  If he can come back from his current knee injury quickly, look for him to take over reps as the third defensive end.  Wootton does not possess the great speed or burst, but has long arms, and can cause trouble by tipping passes.
As for a fourth defensive end, the Bears options seem a bit limited. 
They brought in former first-round pick of the New York Jets, Vernon Gholston.  Gholston was primarily used as a rushing linebacker in the Jets 3-4 scheme, but never quite got the hang of it.  The Bears' hope was that once they were able to put Gholston's hand back on the ground and use him at his natural position of a 4-3 defensive end, that he would be able to put up the sort of numbers he did while in college. 
This training camp Gholston has looked the part, coming into camp in great shape, but the football has not caught up to his appearance.  As of now, it looks as though Gholston could have a tough time making the roster.
One player to keep an eye on is undrafted rookie Mario Addison out of Troy.  Addison has good speed and size at 6'3", but is a little light at just 245 pounds.
Addison has begun to take second team reps because of the injury to Corey Wootton.  Bears coaches have not said much, more than likely in an attempt to keep the young man's head from getting too big, but they have been impressed with his ability in both camp and preseason games to make an impact. 
Without much depth behind Wootton, look for the Bears to keep an eye on any training camp cuts by other teams, specifically those who are seen as speed rushers and can get up field quickly.