NFL Season Preview: Dallas Cowboys Projected Team Roster for 2011, Version 2
August 26, 2011
The preseason may not be important when you base it on score or outcome, but a lot of lesser known players are fighting for their jobs. The bottom of the roster, while never settled, can change week to week based on standout performances by backups or third-team players.
This is an attempt to predict the final Dallas Cowboys roster on a week-to-week basis until the final cuts are held after the fourth week of the preseason.
I have added a removed/added player list at the bottom for you to easily see the changes I have made.
After the second preseason game, the Cowboys team should look like this:
QB: Romo, Kitna, McGee
Romo had a terrible interception, a beautiful scrambling touchdown and was overall very good in his first bit of extended action.
RB: F. Jones, Choice, Murray, Tanner
Tanner is too good to try and sneak on to the practice squad, and should be locked up especially with Choice being a free agent next year. Don't be surprised to see Choice moved to free up Tanner's roster spot.
FB: None
I'd rather keep Tanner than a fullback right now.
TE: Witten, Bennett, Phillips
As much as the Cowboys like Rucker, they need to make a spot for Tanner at running back. A potential surprise cut or trade of Martellus Bennett isn't out of the picture
WR: Austin, D. Bryant, Ogletree, Harris, Radway
Manuel Johnson had a nice over-the-shoulder catch and will get some consideration for the roster.
OL: Free, Koiser, Gurode, Arkin, Smith, Costa, Nagy, Parnell, Young
Offensive line looked solid again against the Chargers. If I had to get rid of one it would be Holland.
DL: Hatcher, Spears, Ratliff, Coleman, Lissemore, Brent
Olshansky looked bad against second-string offensive lineman and will be too expensive to keep.
LB: Ware, Brooking, Lee, James, Carter, Spencer, Butler, Albright
Albright had a good game in both preseason games, and will stick with the team until Bruce Carter is healthy.
CB: Newman, Jenkins, Scandrick, McCann, Ball, Thomas
Scandrick was given an extension (five years, $27 million) and will be a big part of the team's plans going forward. McCann, Ball and Thomas might hear footsteps from Butler if he continues to play well. 
S: Elam, Sensabaugh, Owusu-Ansah, McCray, Church
Akwasi Owusu-Ansah better show up and fast. Barry Church looked like a future starting safety in the league and Gerald Sensabaugh made some nice plays.
K: Graham
The Cowboys signed Shayne Graham, a kicker with an impressive 86 percent field goal percentage, in order to help the inconsistent kicking game .
P: McBriar
One of the best punters in the league. Still.
LS: Ladouceur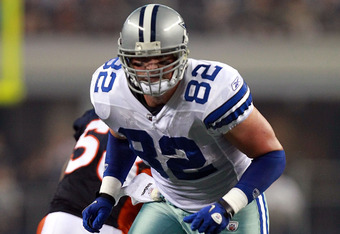 Added since last week: Thomas, Graham, Albright, Tanner
Removed since last week: Bailey, Sendejo, Rucker, Holland
After two preseason games, this is the roster that I feel will give the Dallas Cowboys the best chance to return to the playoffs and be competitive in the future. This can and will change when the Cowboys have their dress rehearsal against the Minnesota Vikings Saturday night, so be on the lookout for updates.
If you feel that some players are more deserving of others, let me know in the comments section.