Tiger Woods on the Presidents Cup Team: Fred Couples Has Some Explaining to Do
August 26, 2011
Tiger Woods has been named by American captain Fred Couples to represent the USA against the International squad this November at the Presidents Cup in Australia.
Captain Couples, you have some explaining to do. 
But not necessarily to the public.
No, what Couples needs to do, and hopefully already is doing, is to call every potential member of the American side and lay out his reasoning for taking Woods.
We can argue all day about whether it was right for Couples to take Woods.
Did Freddie do it for friendship? Did he do it for ratings? Was he pressured? Does he really believe his "Tiger was the best player in the world for 12 years, so he has to picked," line?
Realistically, all those questions are more or less irrelevant because the pick has been made.
But the way this thing has played out, has to leave you wondering. Here is a quick breakdown:
Couples said he would take Tiger no matter what
Then he suggested Tiger would have to play some events after the PGA championship
Then he said Tiger should play at least one event before the Australian Open
Then Woods suggested on his own website that he wouldn't do that
Then finally Freddie said, essentially, "forget it, I ain't waiting until Sept. 26, Tiger is on the team."
But the only people for whom it is really important to understand the reasoning for the decision, and more importantly feel good about it, are going to be the 11 guys other than Tiger who tee off Down Under come November.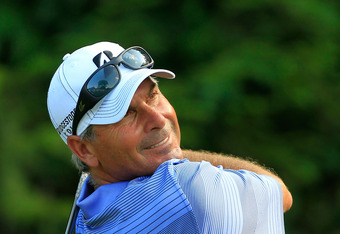 There are going to be some hurt feelings among guys who will inevitably be left out because of Tiger. But so be it.
What ultimately will matter once the competition gets rolling are, first, how Tiger plans to justify the pick; second, how the other members of the team react to the pick.
That's where Couples will prove his real worth as a captain. Will Freddie, despite the possible tension and even resentment of a Woods pick, be able to foster the loosey-goosey, relaxed team atmosphere that we would expect from a Couples-led team?
Because having a relaxed, confident team ready to go is going to be key in facing off against what will be a fairly stacked International squad.
Freddie has made his choice. Now he has to justify the faith put in him as captain and make it work.