2011 Fantasy Football Outlook: Hidden Running Back Gems
August 28, 2011
Late last season, LeGarrette Blount, best known for "Mike Tysoning" a Boise State player while at Oregon, came out of nowhere for the Tampa Bay Buccaneers to be an elite back come fantasy playoff time.
I believe these types of unexpected, late-season finds are called "gems".
Now I can vouch that Blount came out of nowhere last season because in my fantasy league, at least three other Buccaneers running backs (Cadillac Williams, Ernest Graham and Kareem Huggins) were either drafted or picked up during the season prior to Blount landing on anyone's radar.
After producing only 102 rushing yards in the season's first seven weeks, Blount would produce at least 90 yards rushing in a game five times over the last nine weeks. If you were lucky enough to have him come fantasy playoff time, you struck gold. He produced two 100-yard games, including 164 yards rushing in Week 16 (i.e. your title game).
Pickups like that create championships. That's why we looked ahead to find out which running backs have the best shot to come off the deep end of the bench this season to lead your fantasy team to a title.
Here's five for you.
It's simple, what's one thing Jahvid Best has been good at since the beginning of his senior year of college? Getting hurt and missing time.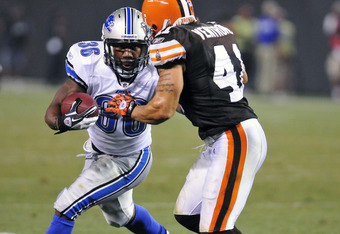 Clearly the Lions knew this and had some concerns since they drafted Mikel Leshoure.
However, with Leshoure out for the season, this leaves just Maurice Morris as the Lions' No. 2 back. Now don't get us wrong, Morris is a smart, safe back. He'll deliver the tough yards, but he doesn't really have the breakaway ability.
On the flip side, Jerome Harrison was a star for about three minutes for the Cleveland Browns when he ended the 2009 season with 561 yards rushing in the final three games.
Yet, he hasn't done anything since then. Could those three games really be that much of a fluke?
If Best continues his injury ways, Harrison might have the goods to overtake Morris for the majority of the carries in what should be a good Lions offense.
Beanie Wells is the clear-cut starter in Arizona now that Ryan Williams' season end a bit early. That doesn't mean he's going to hold on to it, though. After a decent rookie campaign, Wells was handed the starting job last year, but he collapsed.
Overall, nagging injuries have killed Wells' career up to this point, but even when he's played, he hasn't shown the pop of a NFL starting running back.
Behind him sits the speedy LaRod Stephens-Howling. So far Stephens-Howling has shown little in two seasons (128 rushing yards), stuck behind Wells and Tim Hightower. While he'll certainly get more playing time this season, Stephens-Howling is undersized (5'7", 185 lbs) for a full-time running back in this league. Instead, he should primarily be a third-down back (he has 26 receptions in his limited time on the field).
This leaves Alfonso Smith. Head coach Ken Whisenhunt has said Smith is a viable candidate as the second back. In fact, he actually leads the team in rushing during the preseason.
Now Smith, who spent most of last season on Arizona's practice squad, has a thin resume. He has zero pro carries and he only rushed for 700 yards in college for Kentucky. However, he got drafted because he has a running backs' body and ran a 4.38 40-yard dash at the combine.
I'll be honest, this one is very unlikely. Without a doubt, the Texans would never bench Foster. The man led the NFL in rushing last season. Instead, I'm sticking Tate on this list because if the starting back goes down, Tate could be the best third-string running back in the league.
Remember, until Tate got hurt early in the 2010 preseason, he was the projected starter for Houston. Behind him, no one knew for sure if Foster or Steve Slaton (whatever happened to him?) would be the backup.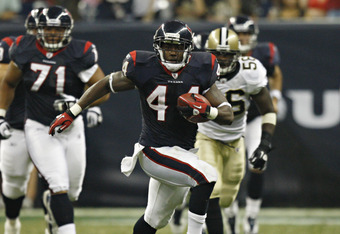 In Tate's one preseason game, he looked sharp. He ran for 95 yards on nine carries, scoring one touchdown.
According to Houston's depth chart, Derrick Ward is the No. 2 back. Don't count on that staying that way. Tate has so much more potential. In fact, I suspect he'll take about 8-10 carries away from Foster by midseason.
I know, I know, I'm obviously smoking something. First, the Patriots' backfield is filled with running backs and second, BenJarvus Green-Ellis is clearly the starter. However, hear me out.
First, if Green-Ellis was so damn good, why did Bill Belichick waste not one, but two early picks on running backs? If you're happy with your backfield, you don't spend a third and fourth round pick on two more.
Overall, Green-Ellis, who could have been on this list last year (if I bothered to write one), had a good season once he became a starter. He produced 1,000 yards and scored 13 touchdowns. However, was he simply a product of a great offense? If so, then there is room for improvement.
On top of that, Belichick is just one of those coaches that is cocky enough to make a sudden change at a position he clearly could care less about.
Now behind Green-Ellis sits Danny Woodhead.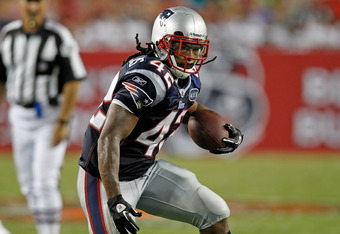 We all love Woodhead. Who doesn't love Woodhead? But he's not a starter, he's a change-of-pace back. You also have Kevin Faulk still there, but he's about 65-years-old, so I'm not sure how much gas is still left in the tank. This is why two rookie backs were brought in.
Now Shane Vereen was actually the first back drafted, but he has done very little in the preseason thanks to injuries. This has allowed Stevan Ridley to step up. Against the Buccaneers, he produced over 100 total yards, scoring three times.
I suspect by midseason Ridley will be a third of a three-headed monster at running back (along with Green-Ellis and Woodhead) for the Patriots.
This one may be a long shot. Chris Johnson is holding out (as of this writing). It is very doubtful he's going to hold out for the season. It's just not going to happen…but if it does, then everyone assumes Javon Ringer will be the man ready to step in. Me, I like to think outside the box.
First, Ringer is battling injuries. He first needs to get healthy. Second, has Ringer ever impressed anyone? Ringer is one of those all-or-nothing backs. He's always looking for that 50-yard run. However, in the NFL, sometimes the coach just wants four yards and a first down. Boom. Done.
If you looked at Ringer's six worst games rushing last season, they're bad. In his six worst games, he rushed the ball 16 times for 22 yards.
Jamie Harper is not that kind of back. He's the thunder to someone's lightning. He's a big bruiser, weighing in at around 235. He'll get those four yards for you.
LOVE THIS ARTICLE? HATE IT? EITHER WAY, CHECK OUT MORE AT FOOTBALLGEEKSUNITED.COM.