NHL Breaking News: Lee Stempniak Traded to the Calgary Flames in a Steal
August 29, 2011
Dave Sandford/Getty Images
The Calgary Flames have finally made their move.
It's been almost two months since the opening of the 2011 NHL free agency period, and, for Calgary, those past 59 days have been fairly quiet, to say the least.
The Flames have been the epitome of a team sitting on its hands this summer, much to the surprise of many. Indeed, for aging club that has missed the playoffs in back-to-back seasons, the lack of news coming out of Alberta has been a bit disturbing.
That is, until this day; the 60th of the offseason. Early Monday evening, Calgary GM Jay Feaster announced a deal with the Phoenix Coyotes that sent Daymond Langkow to the 'Yotes in exchange for Lee Stempniak.
After weeks and weeks of inactivity in which the Flames added a whopping total of two players—third-pairing defensemen Chris Butler and Scott Hannan—this news comes as a thrilling surprise to impatient Calgary fans. The advantage of the swap is tremendously tipped in Calgary's favor, and Stempniak should fill a much-needed role in the Flames' underrated offense.
Analysis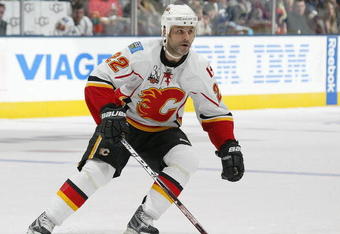 Claus Andersen/Getty Images
Why did the Flames get such a bigger slice of pizza in this transaction? Well, to start things off, they perfectly executed one of the most basic tricks in the book when it comes to dealing: the Flames traded surplus for need.
Daymond Langkow was the ultimate definition of the Flames roster: a strong leader, but one who was also aging, injury-prone and well over-the-hill.
The almost-35-year-old center missed 78 of the team's 82 games this past season due to a variety of severe injuries. He registered just one point—an assist—over the entire season.
This most recent campaign was just another step on Langkow's steady decline from the 30-goal scorer he was in his prime years. Since scoring a career-high 33 goals and 77 points in '06-'07, Langkow's production has dropped for four years in a row, hitting a new low for a full season with just 14 tallies and 37 total points in '09-'10.
Nonetheless, Langkow managed a string of consistently strong seasons in the years leading up the lockout, during a time when he was playing for, ironically, the Phoenix Coyotes. He missed just three total games over three seasons from '01 to '04 in the desert, and put up consecutive campaigns of 62, 52 and 52 points. This misleading consistency from Langkow was probably a major bargaining point on Calgary's end during the negotiation process.
But that's enough criticism of Langkow; on the other hand, what can Stempniak bring to the Flames?
Well, to put it simply, quite a lot. Although "risk" might be included among those, Stempniak also brings skill, chemistry, and boatloads of potential. Plus, he's is coming off a 19-goal, 19-assist complete 82-game season in the desert.
However, last season was simply a building block in Stempniak's quest to become a more reliable player. His real upside was only best shown during his '09-'10 season, when he registered 28 goals and 48 points.
After a trade deadline deal from Toronto to Phoenix near the end of that milestone season, the New York native went on an eye-opening hot streak as he scored 14 goals in 18 games for the 'Yotes, a 0.78 goals-per-game ratio that dropped some jaws around the NHL. If Stempniak can get back to that level, he has the chance to become a powerful top-line staple for the Flames.
It's not just an improvement in talent that comes with this trade, though. The Stempniak-for-Langkow exchange also benefits Calgary in several other categories—most notably age.
Stempniak is only 28 at this point, making him almost seven years younger than Langkow. For a Flames team that sported the second-oldest roster (in terms of average age of player) as of this morning, getting seven years younger in any impact player swap is something to appreciate.
The Flames' salary cap situation will also benefit from the trade. Both players have one year remaining on their contracts; Stempniak's, though, incredibly comes $2.6 million cheaper ($1.9 million, compared to $4.5 million for Langkow). Considering Calgary was facing some tight cap issues this summer, despite their relatively low-talent lineup, this strangely large cap in contract value is also nothing to take for granted.
"So, then," you ask, "where does Calgary not get the edge in this trade?"
To put it simply, there truly aren't many more angles to consider than the ones where the Flames have come out ahead. They lower their salary, get a much-needed movement back to prime-aged players underway, and, most importantly, add a more talented player than the one they're sacrificing in this deal.
And what's not to like about that?