San Diego Chargers Release David Binn, Longest Tenured Player in Team History
August 31, 2011
Robert B. Stanton/Getty Images
The San Diego Chargers made a very surprising cut on Tuesday that left the entire locker room and city in shock.
David Binn, 39, who played 17 seasons for the Bolts and also played in the franchise's first Super Bowl appearance, was cut from the roster August 30.
Binn, a California native, attended San Mateo High School in San Mateo, CA. He was a very successful football player, basketball player and golfer. As an overachiever in football, he was an All-Peninsula Athletic League honoree. 
Binn went on to the University California at Berkeley, where he played from 1991 to 1994 as a linebacker and as a long snapper (who knew?). Oh, and for the record, he also played 42 straight games in his college years.
The long-snapping iron man was an undrafted free agent who signed with the San Diego Chargers in 1994. That same year, the Chargers went all the way to Super Bowl XXIX, where they were beaten by the San Francisco 49ers—but we're not going into that.
Every single NFL weekend, David Binn was there. His first streak of 78 straight games played was broken in 1998, Week 15 against the Seattle Seahawks, where he was sidelined due to an injury. Although he was out for that one week, the long-snapping machine continued his career to play every game.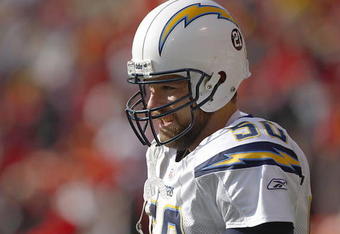 Jamie Squire/Getty Images
On November 19, 2006, Binn was honored as the third Charger to play in 200 games, the first two being Russ Washington and Junior Seau.
Binn was selected to the 2007 Pro Bowl as the 11th Charger to play in the game for the AFC. This would be Binn's only Pro Bowl.
In 2010, Binn suffered a hamstring injury in the season opener in Kansas City. He would later be placed in the injured reserve list for the rest of the season, thus ending his franchise record 179 consecutive games played.
After the 2010 season, the Chargers staff was worried about Binn's health issues, as well as aging issues, because he's not going to get any younger. Questions flared around the locker room like wildfires and came to a conclusion—Binn's release.
And so, after 17 seasons, 268 games and a career of just the utmost dedicated player in Charger history, the Chargers move on from the "David Binn Era."
The position will be taken over by second-year long snapper Mike Windt, who played in the last 11 games for the Chargers in 2010 as a rookie.
David Binn, a veteran, an iron man and a long-lasting spirit of the San Diego Chargers. 
He will be deeply and sorely missed.