Florida Gators Football: Week 1 Scouting Report
August 31, 2011
Mike Ehrmann/Getty Images
The Florida Gators' opening day opponent will be a good warmup for this young Gator team. The Florida Atlantic Owls enter the season opener 0-17 when visiting BCS opponents. Although the Owls do not have to travel far, the excitement in the Swamp on Saturday might be too much to expect an upset.
The Owls have had trouble holding on to the football in camp and have commented 11 turnovers in two scrimmages. The Gators could potentially start two freshmen in the secondary, so the Owls tendencies to give up the ball may build early confidence. Matt Elam and Pop Saunders seem to have a knack for moving on the ball, if Junior Graham Wilbert puts the ball up a lot, there should be plenty of opportunity for takeaways.  
The Owls will more than likely try to keep the game on the ground as much as possible with Alfred Morris getting most of the carries.  The offensive line is a veteran group and could provide the Gators front some real challenges. The Gators have more talent on the line, but the experience the Owls bring could make things interesting early on.
The Owls hope to stop the Gators using their new 3-4 scheme, which may not play to their strengths against the Gators. Charlie Weis will attempt to pound the running game as much as possible early on with his stable of quick running backs. If the Owls hesitate in their new scheme, Chris Rainey and Jeff Demps will be in the secondary and the end zone before they know it.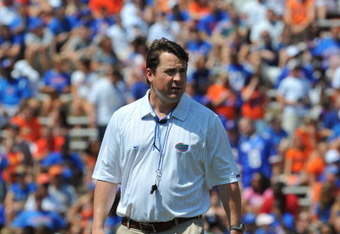 Al Messerschmidt/Getty Images
If the Gators running game takes off early, look for Johnny Brantley to start airing it out to different receivers, as the offense attempts to build early confidence. The Gators speed and strength should ultimately overpower the Owls.
However, the Gators sputtered in the 2010 opener and any hesitation could destroy confidence and excitement inside the Swamp. The Gators know they have to start fast and with Rainey and Demps in the backfield, they should light things up early.
Ridiculous Prediction:
Gators 48-17