Mark Martin: Will He Be the Designated Marker at Stewart-Haas Racing?
August 31, 2011
Darrell Ingham/Getty Images
Sometimes all the pieces just seem to fall into place, and that could well be the case for Mark Martin as he completes his contractual obligation to Hendrick Motorsports at the end of the 2011 season.
Martin, 52, has been somewhat obtuse about his racing future after his final year in the No. 5 Chevy with Kasey Kahne taking over the ride in 2012 at HMS.
What he has made clear is that he will stay in racing as long as it is fun for him and that he planned to be behind the wheel of a stock car in the coming season.
Voila! The perfect scenario opens up right before his eyes as Danica Patrick makes her move to NASCAR.
Patrick is planning to run full time for JR Motorsports behind the wheel of her GoDaddy.com No. 7 in the NASCAR Nationwide Series during 2012.
Patrick also plans a foray into Sprint Cup, racing for eight to 10 races in a car from Stewart-Haas Racing that will become the third team for that organization.
Tony Stewart, the owner, will of course want to keep his car in the top 35 of owner's points, so Patrick's car will have to be driven by someone during the rest of the Cup season.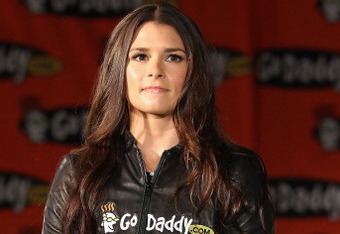 Christian Petersen/Getty Images
Owner's points guarantee the car will be included with a starting spot in upcoming races regardless of qualifying; it also means the top 35 in owner's points at the end of a year will be locked in for the first five races the following season.
Martin, the veteran racer, has 40 career wins in the top series of NASCAR. This year has hardly been the stellar one he hoped for during the final year at Hendrick Motorsports.
Currently, Martin is ranked 19th in the point standings with two top five and seven top 10 finishes this season in the Cup series.
Martin has also run some races in the NASCAR Nationwide Series and Camping World Truck Series this season. Since he has driven for Turner Motorsports this year, many expected him to do the same next year.
Running a third car for Stewart-Haas Racing in the Cup series would still allow him to race for some other owner in the lower series.
Driving for Stewart-Haas Racing will give Martin a chance to have a few more weeks off during the hectic racing season.
Some other perks to racing for Tony Stewart will be the opportunity for Martin to act as a mentor to Patrick, which is a role he enjoys, and also provide testing feedback to the SHR team members.
The logic of Martin going from behind the wheel of one Hendrick car to another also looks to be a good move. SHR is a satellite of Hendrick Motorsports that uses their engines, chassis and engineering expertise.
It still remains unknown exactly what races Patrick will run, what the car number will be, who the crew chief will be and certainly other issues relative to the start-up of a new team.
Martin is not a fan of the speculation that has surrounded him throughout his career and he likely won't announce his future plans until the end of the 2011 season, but don't discount his move to SHR in 2012.