The Fantasy Con Artist: I'm Gonna Get You Sucka
September 1, 2011
Mike Ehrmann/Getty Images
Every year when Fantasy Football season rolls around (and it's here by the way) our clear headed judgment gets a little cloudy.  We are all guilty, one in the same. 
Call it information overload.  And as a result we tend to put ourselves in predicaments.  Aside from putting our regular 9-to-5 jobs in jeopardy by spending too much time researching fantasy stats,  there is always a tendency to overvalue or undervalue certain guys for no apparent reason other than confusion.
Why do we do this?  Maybe it's the endless Internet hours of research, paying far too much attention to preseason games and/or twitter feeds.  Anyhow, let me be your compass to help rationalize the value of a few "key" names you'll have to ponder as we close in on the final week of fantasy drafts.  And for those of you who have already drafted, you can still pay attention and nod your head in agreement…or not.
For clarification it's important to note that my suggestions below aren't saying that under no circumstance should you draft "said" player.  Rather, the hope is that you don't overpay for "said" player and expect greatness, while receiving diminished returns.  If I asked you about a movie and you said it was average, I might go still see it, but at least I'd have lower expectations.  Bad example, but you get my point.
And now that I'm out of breath, here we go…
Reggie Bush, Dolphins – RB
Well, I'm about a week late here, because hopefully his value has come crashing back down to earth after a typical Bush-dashian like performance this past weekend.  However, there are some who still believe he can and will be not only a feature RB for the Dolphins this season, but always fantasy starter.  Not me and not for yours or my fantasy team for that matter.
Despite the fact that over the course of his career he's done very little to warrant any fantasy football respect, somebody in your league is pining themselves to be the genius that cashes in the Reggie Bush ticket this year. 
Come on now, you know somebody in your league has already talked themselves into the notion that the former El Presidente just needed a change of scenery and more touches.  And don't kid yourself based on his "uno" solid game against Carolina a few weeks back.  Just stop.
No doubt, Bush will get his fair share of chances and the Dolphins will try and utilize him in a variety of ways.  However, he's just not fantasy gold and he never will be.  If you're banking on him being a "potential" fill in based on a positive match-up, then your head is in the right place. 
Yet, if you're banking on him being a serviceable weekly starter for your squad then  good luck my friend.  If he couldn't do it in a loaded offense anchored by Drew Brees, than I'm not liking any change forthcoming with Chad Henne leading his offense.
He's a bench warmer/waiver wire watcher.
Dwayne Bowe, Kansas City Chiefs – WR
He's good, yes very good.  And he's certainly a recognizable WR that will come off the board much earlier than he should.  And you know why?  Of course, because somebody in your league will pay for him and those gaudy stats he produced last season and think they've got a legit "dominate" fantasy stud on their hands.  Oh, how they will be heartbroken.
The stars aligned just perfectly for Dwayne Bowe for a stretch of just about 7 games last season. 
Bowe ripped off an epic run to fantasy stardom that left many scratching their heads in shock and disbelief as to where that could've possibly come from.  The proud owner who either stashed Bowe on the bench or plucked him off the waiver wire from an unforgiving owner probably rode the wave of success to the playoffs.
Yet, that was last year and this is this year.  Please don't forget that.  And while we're at it, don't forget how Bowe erupted for 7 straight monster games and then proceeded to go silent in pretty much three straight games to the tune of only THREE total catches for 56 yards combined in weeks 13, 14 and 15. 
Those only happen to be the fantasy playoffs right?  Of course, if you survived that disaster chances are you gave up trust in Bowe only to be burned by his big Week 16 performance.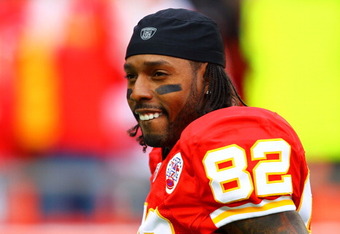 Dilip Vishwanat/Getty Images
You can't allow yourself to chase those same flashes of brilliance from Dwayne Bowe again this year.  There is a reason he hit somewhat of the proverbial wall down the stretch.  And that's certainly not to say he will be a bust this season, but temper those expectations soldier…you ain't getting a 72-1,100-15 line this season.  Let's be fair and say more like 65-1,000-7.
Tim Hightower, Washington Redskins, RB
And silence falls upon the crowd. 
Let me put a really big disclaimer and say that I really like Hightower this year.  I think he's a solid option and will certainly be a very strong matchup play and maybe ever a regular fantasy starter.  That said though, I like him much later than most people will reach for him.  This is still Tim Hightower we are talking about.
Yes, I know he's got very little competition in his way in Washington and he's looked like the perfect RB for the Mike Shanahan system.  However, what running back hasn't looked great in the Shanahan system?  And have you not forgotten what Mike Shanahan has done to fantasy owners for years and years now with his RB's?
Look if Timmy falls to me in say the 5th round or later…I'm cool. 
However, I'm not going out of my way to grab him in the 3rd or 4th round and get burned again.  It's just not worth the headache.  And the reality is, the more he shines in preseason and the more the whispers grow about his "sleeper-ability", the more likely he's moving on up every person's draft board.  That's just the way it happens with "so-called" sleepers.
And that's that.
Article was written by Sean Lalley at Football Geeks United. Do you want to read more, check him out at FANTASYGEEKSUNITED.COM.