Hawaii Warriors Football: Mike Edwards Plans to Capitalize on Second Chance
September 3, 2011
Honolulu, HI—Aloha. Sometimes it means hello, and sometimes it means goodbye, but for Mike Edwards and a few others that came before him, what aloha really means is a second chance at life and football.
It was almost two years ago on a cool Knoxville, Tennessee, morning that Edwards says he knew he was going to need a second chance. The 18-year-old freshman Tennessee Volunteer had just been arrested with two of his teammates for attempted aggravated robbery and knew the future was bleak.
"Am I going to ever be able to play football again?" Edwards said he wondered the moment he was arrested. "And here I am this Saturday getting ready to start in a big game in Hawaii, and it's one of the best feelings I ever had in my life."
The transition from a street corner in Tennessee to the sunshine in Hawaii that he's now basking in wasn't quite as quick or as easy as Edwards explained it this week (charges against Edwards were eventually dismissed), but it's easy to forgive him because right now he's as happy as a kid on Christmas morning about to unwrap his two favorite presents:
Family and football.
"Yes sir, (that's) my mom, my dad, my aunt, my uncle and my two cousins, from Cleveland, Ohio." Edwards said, gesturing toward the stands where his family was gathered. "It's a great feeling. It's always good to see my mom, that's my number one fan, she's been there from day one, and my dad also, so whenever I can have them in the environment, it makes me even more excited."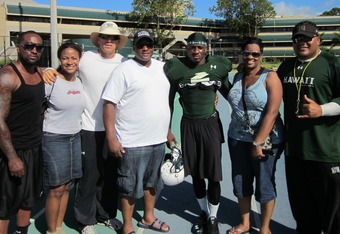 The excitement the 5'10", 190-pound sophomore cornerback is feeling wouldn't be possible without the people in Hawaii, head coach Greg McMackin says.
"We've had a lot of guys that we've given second chances to, and the people of Hawaii accept that. And they actually adopt them and make them better people, and I really believe that," McMackin said on Thursday. "I believe a guy has a chance in the state of Hawaii because we have such good people that are forgiving and have had tough times themselves. Our players could not be around better people."
Call it the "aloha spirit." And it has been instrumental in helping McMackin's football team develop a reputation as a second-chance destination for players like Edwards, who was dismissed from Tennessee after his arrest.
"We've had the Davone Besses, the Colt Brennans, and the Pisa Tinoisamoas," said associate head coach Rich Miano, referencing three other players who had been arrested before coming to Hawaii. "And they all seemed to turn out good, and got their degrees, and went on to bigger and better things... If you want a second chance, logistically, it's a great place to be because you can get away from the publicity, you can get away from maybe your friends, your environment.
"And this is a wonderful place because the people here... You will not change the people but the people will change you. And when you get here, you understand these people care and appreciate you as long as you appreciate them, and it's a different type of lifestyle... So I think Mike understands that, and I think it means so much to him that he's conscientious of doing the right thing on and off the field."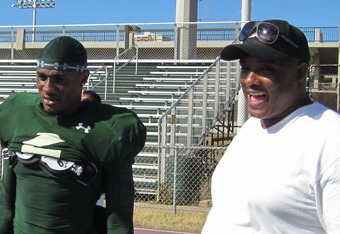 On the field, Miano—a former defensive back who starred at Hawaii in the 1980s before playing ten seasons with the New York Jets and Philadelphia Eagles—said Edwards has what you want in a cornerback with his tremendous physical talent and natural ability.
"It's pretty recognizable in terms of his talent, whether it's on film or when we first initially started to watch him move. He has what you're looking for physically in terms of hips, and quickness, and speed, I think what stands out about him is competitiveness... Also, I think he's done a good job, we really run a professional scheme, and we do a lot of different things back there. And he's really trying to learn the intricacies of what we do. So I've been really impressed with his approach."
Off the field, McMackin believes that Edwards has "outlived" the incident from two years ago at Tennessee and is convinced that he is a good person.
"Well, I knew he was a good kid, he was just in the wrong place at the wrong time. The charges were dismissed. I wouldn't bring a person here if they had charges on them... I think their coach was just trying to make a point to be a tough guy with the freshman, and whatever his deal was that's up to him.
"But if a guy's a good kid, and I met his family yesterday and talked to them a bunch when we were recruiting him. He's from a great family, he's a great person, he's a great football player, and we believe in giving guys second chances. We don't give third chances, but we give second chances, and he's turned out to just be an outstanding person."
Edwards visited Hawaii this past January, signed a letter of intent in February and arrived here in July. He said he's a "totally different person" now, and that his growth was achieved "not because of the situation I was in, but because (the situation) allowed me to grow as a person. As a man it allowed me to not let little things get to me, (because) things that can change your life, right then and there, made me make decisions (going forward) that I usually wouldn't have made when I was younger."
Edwards attended a community college in Kansas before choosing a scholarship from Hawaii instead of another mainland school for one reason. "I just wanted to be in open arms around peaceful people, nice people, and just start over again," he said.
Something he didn't think he could do back home.
Since his arrival, Edwards has fallen in love with the people in Hawaii, "Just because they allow me to be here. Allow me to have peace. Allow me to have freedom, and I love them for (that). And I love them for allowing me to go into Aloha Stadium and play my first game here this weekend."
A game he expects the Warriors to win (season opener versus Colorado on Saturday, 4:15 p.m. HST), and believes that Colorado will "give us an okay fight."
"But you gotta always be afraid," he warned.
"I was always taught there's a difference between being scared and afraid. You don't ever want to be scared of your opponent, but you always want to be afraid. You always want to be afraid of your assignments (and how) you're gonna do. You want to be afraid of getting beat, so you'll make sure you don't get beat; you want to be afraid of not catching the ball, so you'll make sure you do catch the ball.
"So I'm just going in here with a lot of confidence, and I'm just going to beat up on my opponent all day."
For Hawaii's coaches who gave him a second chance, Edwards is effusive in his appreciation and gratitude: "I have the utmost respect for Coach Mack first of all, and coach Miano, coach (Tony) Tuioti, coach (Dave) Aranda. Those were the main coaches who recruited me in this process, and man, just for them to give me a second chance at life and at football, it's a great feeling. Whatever they ask me to do, I'm going to do it the first time, it's just a great feeling to have people like that around you."
Coming to Hawaii "was very important for me and my family, and my two-year-old son back home that I got to set an example for. It was just a stride that I had to make, and I'm making it now, so it's a good feeling," Edwards said.
And for his parents, Mike Sr. and Tameeka, "It was a great feeling just to know that their son is back at it, and he's at peace around great people."
Now, "... I'm ready to take flight."