NHL History: Carolina/Hartford Franchise Has Continually Signed Aging Stars
September 2, 2011
When it comes to reaching the peak of stardom with a signature team and then moving on at the end of their career, hockey Hall of Fame players are hard to beat; they've simply all done it.
Wayne Gretzky is known for his records broken while with the Edmonton Oilers, but he spent all of his 30s with the Los Angeles Kings and a few other teams. Bobby Orr became famous with the Boston Bruins, yet was a Chicago Blackhawk at the time he retired. Guy Lafleur did it, too, as he left the Montreal Canadiens in his final years to play for the now-defunct Quebec Nordiques.
Yet, while none of those three household stars ended up with them, few franchises have grabbed more over-the-hill legends than the Hartford Whalers/Carolina Hurricanes club.
The list of these types that found themselves playing their final seasons in Connecticut or North Carolina is an impressive collection, but a few names stand out in particular.
Included among them is legendary Toronto Maple Leafs center Dave Keon. Over his entire career, Keon played 1,296 games in the NHL, scoring almost 400 goals and falling just short of 1,000 points. His time in Ontario's capital, though, amounted to 1,062 of those appearances and 365 (out of 396 total) of those goals.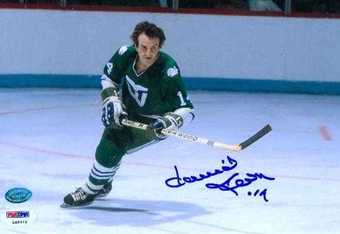 Unknown to many, however, is the fact that Keon actually spent his last three seasons playing for Hartford. Nonetheless, there is definitely a reason why that's such a little-known fact: Keon spent four full seasons in the WHA between his Toronto and Hartford stints and was far beyond his prime when he, along with the Whalers franchise, moved back to the National Hockey League.
Keon's legendary 15-season time with the Leafs included 12 different 50-plus point campaigns. He was unable to duplicate those results at ages 39, 40 and 41 with Hartford, as he never amounted more than 13 goals in any of his three seasons there and saw his final year—the '81-'82 season—conclude with only 19 points highlighting his stat line.
But Mr. Keon wasn't alone: seemingly-immortal defenseman Paul Coffey is another famous name to adorn the list.
Coffey may never have developed a trademark team, but during the height of his career, he did spend four or more seasons with the aforementioned Oilers, Pittsburgh Penguins and Detroit Red Wings. Hidden in that long list of seasons, conversely, is a minuscule 20-game stint with Hartford at age 35 and a 113-appearance visit with the newly-relocated Carolina Hurricanes at ages 38 and 39.
Being the epitome of an offensive defenseman that he was, Coffey accumulated stunning numbers over his entire NHL career. He averaged over a point per game for each of 1,409 appearances—1,531 points in all—generated an incredible plus-294 over his 20 professional seasons and set a league record for 'D'-men in '85-'86 with 48 scores.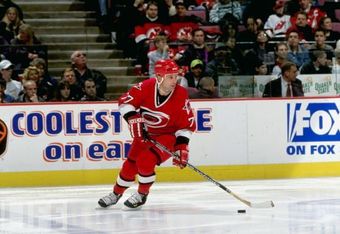 His three partial seasons in Hartford and Raleigh were significantly less notable, though. On the verge of retirement every time, Coffey eventually put up only 16 goals, 58 points and a minus-seven rating in 133 games with the franchise. Interestingly enough, Coffey never registered a lower combined plus/minus rating with any of the seven other teams he played for at some point.
If the names Dave Keon and Paul Coffey aren't renowned enough, Hartford boasts an even bigger star that tops them all: Gordie Howe.
Howe, well regarded as one of the top-10 players in NHL history, was a Whaler for the final season of his NHL career.
It's still true, he played a whopping 25 seasons with the Red Wings from 1947 to 1971. It's still true that he holds the all-time record for most games played with 1,767—1,687 of those coming in Hockeytown. It's also still true that he came pretty close to records in goals and points as well—801 and 1,850, respectively—and scored almost every single one of those while in Michigan.
Yet no matter what the Hall of Fame plaque says, Howe did retire a Whaler.
At the remarkable age of 51, Howe played an entire 80-game campaign for Hartford in the '79-'80 season, scoring an admirable 15 tallies and 41 points. Despite his legendary number already having been hung on rafters across Detroit, the ancient star did manage to make his mark in Hartford.
Indeed, as we claimed in the opening, few teams have landed more players on the brink of the end of their career than the Hartford/Carolina combination has. The group of stars who fit this description stretches even farther than just Keon, Coffey and Howe—other greats like Bobby Hull and Rick Ley also spent some time in their later years with the club.
The only question that remains now, however, is just simply how long the Hurricanes can continue the streak and keep landing these larger-than-life players. And our potential answer? Perhaps we'll be seeing Nicklas Lidstrom or Jarome Iginla in the red-and-white before each of their storied careers conclude.
Mark Jones is currently Bleacher Report's featured columnist and community leader for the NHL's Carolina Hurricanes. In his 35 months so far with the site, he has written over 305 articles and received more than 350,000 total reads.