San Francisco Giants Should Fire Bruce Bochy After the Season
September 4, 2011
Andy Lyons/Getty Images
Tonight's game was an excellent example of why the San Francisco Giants need a new manager.
Bruce Bochy showed once again that his judgement in flawed when it comes to when to leave pitchers in and when to take them out.
Early in Tim Lincecum's career, Bochy would pull Lincecum as soon as he got close to 100 pitches. I don't know, but I think Bochy thought Timmy's arm would fall off if he threw 101 times.
But since Lincecum has established himself as one of the true elite pitchers in the game, now Bochy doesn't seem to know when to take him out.  
And it's not just Lincecum he has a problem with removing at the right time. Tonight Bochy screwed up twice with his four pitchers and it may have just cost the Giants a crucial game. And losing too many games at this late point in the season will cost the Giants the slim chance they have of making the playoffs.
In the fifth inning, Lincecum seemed to suddenly lose his command. After two were out (one of them when Chris Stewart threw out Willie Bloomquist stealing after Bloomquist had singled) Lincecum walked two batters in a row. Paul Goldschmidt (quickly becoming Lincecum's kryptonite) singled and the Diamondbacks were ahead 3–1.

At that point, Bochy may have wanted to pull Lincecum with Guillermo Mota ready in the pen. We all know a two-run lead is a lot for this offense to overcome with Diamondbacks ace Ian Kennedy on the mound. Bochy opted to leave Lincecum in, and Lincecum responded by getting Chris Young to fly out to deep left.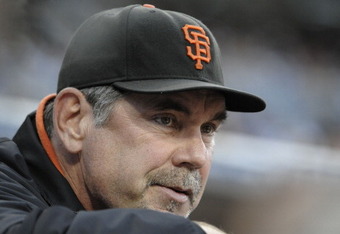 Denis Poroy/Getty Images
In the sixth, Ryan Roberts doubled. It was obvious to everyone watching that Lincecum had lost it. That's everyone but Bochy and Dave Righetti. They left him in the game and Gerardo Para promptly doubled to make the score 4-1. Bochy finally pulled Lincecum—once again, way too late. Kennedy bunted Para to third and Para eventually scored to make it 5-1.
If that wasn't bad enough, he left in a struggling Steve Edlefsen in the ninth, without anyone throwing behind him, and Edlefsen gave up two more runs to put the Giants completely out of the game.

First of all, you have to question the wisdom of even using the rookie Edlefsen in such an important game with the Giants still technically in it. Second, there is no way Bochy should have left Edlefsen in the game after he allowed two singles with only one out. With the Giants down by four, a comeback was still technically possible, although unlikely with this team and the way they hit.
But Bochy does this kind of thing over and over and over. If you watch the Giants every day, you realize that he just doesn't get it. He is loyal to the players to a fault and it costs him again and again.
Bruce Bochy has never been god's gift to managing. Sure he's good with the players, a real "players manager," and that is important. But the guy has always lacked the fire that I believe a manager should have. 

I'm not saying that everyone should be the reincarnation of Billy Martin, although I loved Billy's style. I witnessed it first hand when Martin managed the A's and I was a young reporter covering the team. Martin always got every ounce of talent out of every player he managed.

But there was a fatigue factor and after a while the teams had a worse hangover than Martin had after one of his binges. So there's a happy medium and he never reached it. Fire is important, even in today's game.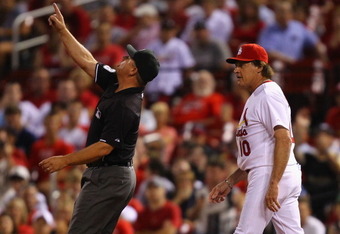 Dilip Vishwanat/Getty Images
But Bochy doesn't do enough to show the players he's fighting for them. At a time like this, that's important. He needs to get ejected from more games. He needs to argue more. He needs to chew guys out for not running balls out. He's just too passive. Sometimes you need to shake the guy to see if he's alive or not.
Tonight, for example, the plate umpire Hunter Wendelstedt was absolutely horrible, costing the Giants at-bat after at-bat. When Wendelstedt called a high and outside pitch on Aubrey Huff in the ninth inning a strike, instead of ball four, Bochy should have been livid. He should have been all over Wendelstedt. The camera shot of the dugout was classic Bochy, with that clueless blank look on his face. It made me want to be ill.
And Bochy has never been a guy who is strong in the strategy portion of the game. He stays with his veterans way too long. He's too loyal. I think he's too nice. As the great Leo (The Lip) Durocher once said, "Nice guys finish last." And Bochy doesn't play his young guys enough, unless he has to. He's just a very average manager and the Giants need to do better.
But you say, Bochy brought the Giants their first and only World Series championship in San Francisco, what about that? Well, here's my take on Bochy in 2010. For the first five months of the season Bochy did a very average job.

The Giants won on the strength of their pitching and a very gutty group led by some special youngsters like Buster Posey and high character vets like Aubrey Huff, Pat Burrell, Juan Uribe and Cody Ross. And you have to give a big assist to Brian Sabean for bringing those guys in. I think just about any manager could have done as good or a better job.

In September and October (and November), everything Bochy touched turned to gold. I don't know if he sold his soul to the devil on August 31, but whatever happened he was a better manager the rest of the way. This year he's the same old Bochy. Again, I'm not blaming him, but I think a change is in order.
My pick? The St. Louis Cardinals management team of Tony LaRussa and Dave Duncan. LaRussa is a genius. He's one of the best managers ever. And at the age of 66 he still has a passion for the game. No lack of fire on the part of this guy.

The Cardinals seem to be unwilling to give him a long-term commitment despite all he's done for their franchise. He can sign a three- or four-year deal in San Francisco and then turn it over to a competent bench coach (say Omar Vizquel, perhaps?). And since Tony still resides in the East Bay, it gives him the chance to end his career at home.

Follow me @BleacherBruce on Twitter.