2011 NFL Fantasy Football RB Rankings: Week 1
September 4, 2011
Dilip Vishwanat/Getty Images
Here are my Week 1 2001 fantasy football running back rankings.
1. Jamaal Charles vs. Buffalo: Buffalo was dreadful against the run last year. They don't have the horses to slow down Charles.
2. Darren McFadden @ Denver: John Fox will rebuild Denver's defense, but it's going to take some time. Run DMC goes off.
3. LeSean McCoy @ St. Louis: The Birds are going to lean on Shady this week to keep the pressure off of Vick.
4. Adrian Peterson @ San Diego: Expect a heavy dose of All Day.
5. Frank Gore vs. Seattle: Hopefully he's still hungry after getting paid.
6. Chris Johnson @ Jacksonville: Rusty? Maybe, but he's still CJ2K.
7. Peyton Hillis vs. Cincinnati: Madden Curse shouldn't start against the pathetic Bengals.
8. Maurice Jones-Drew vs. Tennessee: Mojo averaged 121.5 yards per game against Tennessee last year.
9. Ray Rice vs. Pittsburgh: Tough draw, but Rice will be active running and catching the ball.
10. Shonn Greene vs. Dallas: Let the breakout season begin.
Jim McIsaac/Getty Images
11. Ahmad Bradshaw @ Washington: Bradshaw's speed will be too much for Washington.
12. Rashard Mendenhall @ Baltimore: Averaged 75.5 yards and a score against Baltimore last year.
13. Matt Forte vs. Atlanta: Should be active in ground game and air attack.
14. Michael Turner @ Chicago: The Falcons are going to pass more, but there is still plenty of work for Turner to do.
15. LeGarrette Blount vs. Detroit: I like that he's playing at home (+31.6 ypg last year), but Detroit's defense looks tough.
16. Beanie Wells vs. Carolina: I'm giving Beanie another chance. I hope he doesn't let me down again.
17. Steven Jackson vs. Philadelphia: Jackson gets an early test against the new look Eagles.
18. Ben Tate vs. Indianapolis: I'm not sure Arian Foster will be ready to go or if Houston would want to take that risk this early.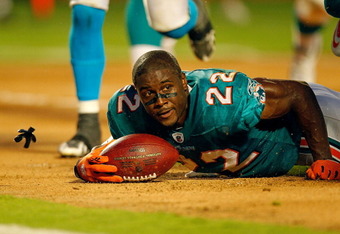 Mike Ehrmann/Getty Images
19. Mark Ingram @ Green Bay Packers: The rookie could struggle to accumulate yards, but a touchdown seems likely.
20. DeAngelo Williams @ Arizona: D-Will gets to start earning that big contract.
21. Tim Hightower vs. New York Giants: G-Men are banged up on defense.
22. Reggie Bush vs. New England: Gets his shot at redemption.
23. Knowshon Moreno vs. Oakland: Moreno better get going quickly or he could fall behind McGahee.
24. Joseph Addai @ Houston: Peyton won't be 100 percent so the Colts may have to lean on Addai a little more.
25. Felix Jones @ New York Jets: Tough Week 1 draw.
26. Cedric Benson @ Cleveland: From jail to the Dog Pound.
27. Fred Jackson @ Kansas City: Spiller will play a bigger role than last year, but Jackson is still a viable RB2.
28. Ryan Mathews vs. Minnesota: Should be a pretty even split with Tolbert.
29. Brandon Jacobs @ Washington: Has looked good this summer. Will it carry over into the regular season?
30. Jahvid Best @ Tampa Bay: I'm just not sure he can stay healthy.
Also check out: