BCS Championship in the Headlights of Les Miles' LSU Tigers
September 4, 2011
Ronald Martinez/Getty Images
I'd be the first to admit I have been a tough critic of Les Miles over the past few years. LSU's past issues of time management, pre-snap penalties, cold starts, and what appeared to be lack of motivation at times usually kept me frustrated, wishing we could see a Tiger team play to its potential.
Last night, against the very quick, talented Oregon Ducks, LSU played a wonderful game. Once Les Miles decided what side of the field to run to coming out of the gate, he had his team ready to play and they executed a great game plan.
Oregon is one of the few (if not only) non-SEC teams that has SEC quality. Last year's run to the title game was no fluke, and neither was this year's ranking. They have a multifaceted offense and a quick, aggressive defense. But that was not enough to compete with the LSU Tigers of 2011.   
LSU started cautiously, but played smart, error-free football (other than one quick snap) and then established a run game which should be successful throughout the season, with a stout offensive line. Watching Spencer Ware and Michael Ford rack up almost 100 yards each, reminded me of the Dalton - James gang of the early 1980s.
Jarrett Lee played a very good game, and without a few dropped passes and a phantom holding call, would have had around 200 yards passing without any interceptions and a TD. He also managed the clock well, running down the play clock before each snap once we extended the lead in the fourth quarter (this was a great improvement from the past two years).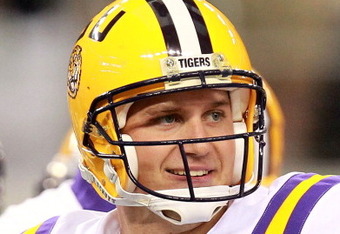 Ronald Martinez/Getty Images
What stands out more than anything, is the speed and tenacity of the defense. Against one of the best offenses in the nation, LSU stuffed the run then blanketed the passing game of Darron Thomas and the Ducks. Tyrann Mathieu continued his stellar play from last year and leads a crew of Tharold Simon, Eric Reid, Morris Claiborne and Craig Loston in what may become the best secondary crew in the FBS.
If special teams can stay solid with newcomers Brad Wing and Drew Alleman, in addition to the stacked offense and defense, Les Miles has a great shot to make this an incredible year for LSU football, making a run to another BCS championship.
My "hat" is off to Les Miles and the LSU Tigers!