Jerricho Cotchery, the Pittsburgh Steelers and 'the Steeler Way'
September 5, 2011
Al Bello/Getty Images
"My game is not pretty; it's not cute. My game is to get the job done, Whatever I have to do to help this team win the Super Bowl, I'm all for it."
Thus spake Jerricho Cotchery, days after signed with the Steelers. Cotchery was available because the New York Jets released him in early August, at his request.
Cotchery was drafted by the Jets in 2004 in the fourth round, 108th overall. He became a starter in 2006 and developed into an excellent receiver. But the Jets had been phasing him out of their offense in the past few years, and when they signed Plaxico Burress and went after Derrick Mason, Cotchery saw the handwriting on the wall.
He told Scott Brown, "Future-wise, I didn't really see myself fitting in (with the Jets)."  
So he went looking for another team, and felt that the Steelers were where he wanted to be. "I was talking to (free safety) Ryan Clark how I used to watch the interviews and I used to hear guys talk about, 'We do things a certain way over here.' And I always wondered what they were talking about." 
So what is this "certain way?" 
Part of the "Steeler Way," if you will, is the closeness among teammates that Cotchery noticed right away. As I detailed in an earlier article, "Pittsburgh Steelers' Culture of Cooperation Essential in 2011," the team members support and help each other, occasionally at the cost of their own job.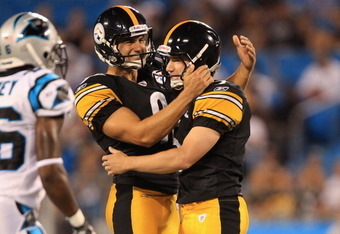 Streeter Lecka/Getty Images
I noted without surprise during the preseason games that the four men vying for two jobs, Daniel Sepulveda, Jeremy Kapinos, Shaun Suisham and Swayze Waters, were quick to support and congratulate one another. When Kapinos boomed a couple of huge punts in the Panthers game, no one looked happier for him than Sepulveda. 
That's the Steeler Way. 
One of the first things to greet Cotchery was the following tweet from Ryan Clark (h/t ESPN): "We welcome Jerricho Cotchery! Any man willing to put his hand in the pile is always welcome! Going to be a lot different from the Jets though!" 
Since Cotchery was looking for things to be different, presumably that will suit him just fine. 
Part of the Steeler Way is plain old hard work. As Cotchery said, "Nothing is given to you over here. You've got to come in, work your tail off and earn your stripes." 
It seems quite clear from various remarks that Mike Tomlin has made during press conferences that he has his finger on the pulse of each player. He knows who is coming in early and staying late. He knows who is looking for extra reps or hitting the gym at 6 a.m. He knows which players are coming in during their time off to watch game tape. And he certainly knew who showed up to camp in game shape.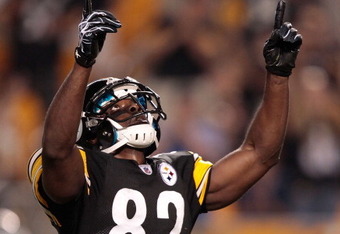 Jared Wickerham/Getty Images
Those players were rewarded with opportunities to show what they can bring to the team. 
Cotchery was given a chance during the preseason, and made an impact right away. In his first game with the team, vs. the Philadelphia Eagles, he had 49 yards on two catches, one of which was a 20-yard TD. 
Finally, the Steeler Way is that no one is bigger than the team. This attitude comes not just from the players and the coaching staff but from the ownership. 
When a newly signed or drafted player goes to training camp, one of the things that surprises many of them is that they may well find themselves sitting next to one of the owners in the cafeteria. There are no special gold-plated dining suites for the ownership. They eat with the men. 
But this goes beyond the players. One of my favorite stories about The Chief, Art Rooney Sr., is the time a visitor spotted him walking over to the facility at the end of a practice day. The visitor asked if he was coming to confer with the Director of Football Operations or with the head coach. 
No, said visitor was told. He had come to hang out with the groundskeepers—something he often did at the end of the day. The Rooneys believe in hiring good people, standing behind them, and not telling them how to do their job. In other words, they prefer to do what is best for the team. 
It is easy to see how successful this policy has been. As I detailed here, over the past 41 years the Steelers have had three head coaches. During that time they have won the most total games, the most division titles, have the best winning percentage and the most All-Pro nominations. They are tied with the Dolphins for regular-season wins and are second overall in playoff wins.
They have made it to the Super Bowl eight times, more than any team except the Cowboys, with whom they are tied. They have six Lombardi trophies, the most of any franchise. 
Jerricho Cotchery heard players talking about the certain way they did things in Pittsburgh, and he wondered what that was. He told Scott Brown after he signed his contract, "I came here on my visit, and I got it. Everyone's close here, and it's easy to work in, and you're going to get better." 
He is part of Steeler Nation now. We look forward to cheering him on this season. And I want him to know that he will never experience anything quite like the Super Bowl parade in downtown Pittsburgh next February if he helps the Steelers "get the job done."