Arsenal Takes Another Injury Hit: Per Mertesacker to Face Early Litmus Test
September 6, 2011
By now, the news has circulated and Arsenal fans are doing a collective "facepalm" following the announcement of Thomas Vermaelen's recent surgery, which will sideline the key defender for up to three months. 
"What," they must be asking, "did the Gunners do to deserve this perennial injury extravaganza?"  Year-in and year-out, the start of the Arsenal season is marred by injuries to key personnel, and, in a season where so much has already seemingly gone wrong, this latest blow is akin to kicking dirt in the face of someone that's just been worked over by a goon squad.
The real irony is that it's once again one of the key members of the squad, the vice-captain, and there is little doubt that he has been a shining beacon of hope for a team that has been engulfed in darkness. 
Vermaelen's absence was keenly felt during the slaughter at Old Trafford as the Arsenal defense was about as uncoordinated as three-year-olds playing blob-football on the pitch (and about as effective).  There is little doubt that that he would have helped mitigate some of the disaster, but the fact remains that he was out of the game and Arsenal fans endured one of the darkest days in recent memory.  Whatever chemistry that Djourou and Koscielny formed during the middle of last season has quickly turned volatile and exploded in Arsene Wenger's face, but, unlike the start of the season, he has someone to turn to.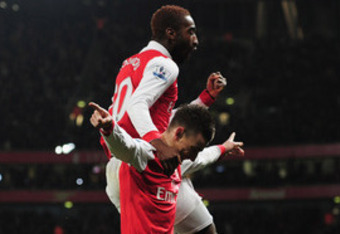 Enter new signing Per Mertesacker. 
At 6'6" (1.98m), the German international is a giant of a man with a reputation for clean play, a level head that can read and organize a defense and for possessing tremendous leadership quality.  While Werder Bremen did not impress in the Bundesliga last year, Mertesacker captained a side that finished third twice and runners-up once in the table. 
The CB has made 75 appearances for Die Mannschaft and 49 for Hannover 96/Werder Bremen in European continental cup competitions, providing big-game experience that most other members of a youthful Arsenal side can only dream of at this point in their careers.  That leadership and experience is now to be sorely tested. 
Expected to form a strong partnership with Thomas Vermaelen, Mertesacker will now likely make his Arsenal debut alongside Laurent Koscielny, a player who has made tremendous strides since arriving in North London last year, but is still raw and adapting to the Premiership. 
The other option would be Johann Djourou, another physically gifted individual who is also plagued by inconsistency and bouts of pure daftness that result in him being out of place and leaving the defense vulnerable.  There is no better evidence of this in recent matches than Anderson's chip to Danny Welbeck, who Djourou had left generally unmarked, for a simple header into the net to begin the mauling by Manchester United. 
Neither Koscielny nor Djouou are bad players, but their wonder-twin power of "awesome open-play defense" has morphed into "utter failure at the back," showcasing their need to be paired with a defensive general to guide their play and allow them to continue developing.  Mertesacker has the opportunity this week to show his mastery of the back as well as calm the rear line and organize a wall for Szczesny to sit behind. 
He will be deputized by the ever-present and reliable Bacary Sagna on the right and probably fellow newcomer Andre Santos on the left, both with significantly more experience than any other defensive options for the Gunners, and that should bode well for the German's first game in the Red and White. 
While the bench leaves a lot to be desired, Ignasi Miguel shows promise and Kieran Gibbs has shown the type of player he is capable of being.  I think it's better for his own safety for Sebastien Squillaci to stay as far away from Ashburton Grove as possible.
With Per's addition, Gooners should be able to rest assured that the back line is solid, even without Vermaelen, and that's something we simply haven't been able to say with any consistency over the last couple of years.  Per Mertesacker and his new charges face an uphill battle, but it's hard to imagine them going anywhere but up, and the match against Swansea may be just what the medic ordered to get the Gunners' rear echelon back on track.