Carolina Hurricanes: Eric Staal No Longer Needs to Be the Team's Best Forward
September 7, 2011
Bruce Bennett/Getty Images
If the Carolina Hurricanes want to rise from the lower levels of the Eastern Conference to not only reach playoff status, but maybe even conference contender level, there is one huge thing that would help them get there.
Eric Staal can no longer be the team's best forward.
Now, before we get all worked up and say wait a minute, Staal and goalie Cam Ward have been the backbones and stalwarts of the franchise since the Ron Francis's and Rod Brind'Amour's of the world have retired, let me say you're right.
Staal has been the core of Carolina's offense since the Stanley Cup run of 2005-2006. 
This isn't about Eric Staal not being a star, or even about him taking any steps backward. Carolina can't have that.
But there's a new young gun in Raleigh and if the Hurricanes want to take more than just a baby step in the playoff race, it may just be Jeff Skinner that takes them there.
Let's explore some numbers and consider how much Carolina may be able to improve with Staal no longer the number one man.
With Eric Staal, there is enough of a body of work at this point for us to pretty much know what Carolina gets from him.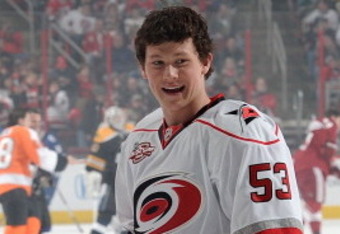 Harry How/Getty Images
A first line center and an NHL all-star, last season Staal put up numbers so eerily close to his career averages it was scary.
2010-11 Stats: 33G, 43A, 76 pts; 12 power play goals; 296 shots and an 11.1% shooting percentage
Career Averages: 32.3G, 39.7A, 72 pts; 7.2 power play goals; 284 shots, 11.4% shooting percentage
The guy is solid, consistent and very, very good. He's a roundabout top 10-20 or so scorer in the NHL year in and year out.
Add in eight game winning goals last year on a team that only won 40 games, a workhorse 21:56 per game average ice time, and a reasonable 48% face off percentage and you have a player who is certainly one of the top centers in the league.
Certainly, there are those who will say that it's really not fair to Skinner to compare him to Staal, that Staal is an established star in the league and the recognized leader of the Hurricanes. Plus, Skinner is just coming into his second season in the league and he needs to prove himself for another season or two before we place him in the star category.
But this isn't really about comparing Staal and Skinner. It's about considering what could happen with a known star in Staal being complemented, or even surpassed, by the current Calder Trophy winner.
In 2010-11, Skinner stepped right in for Carolina and scored 31 goals. Add in 32 assists, and the rookie contributed 63 points to the Hurricanes' cause.
He also took 215 shots and connected on a sparkling 14.4% of those shots.
As second line center, Skinner's ice time was quite a bit less than Staal's, as Skinner was on the ice an average of 16:43 per game.
So we're talking about a rookie who scored essentially the same number of goals as Eric Staal with 30% less ice time. And it was only one season, but Skinner also exhibited a far more accurate shot than Staal has in his career.
One of the reasons that Skinner couldn't be relied upon to be on the ice more was his anemic 36.9% face off percentage. This number is something that has to be raised if the Hurricanes are to do what they should desperately want to do and get Skinner more ice time.
To be sure, to get Skinner the significantly greater ice time that he'll need to grow into star status, it may take some time away from Staal. But it doesn't have to be a ton.
The Hurricanes need to find the balance that allows Staal to maintain the solid 30 goal, 40 assist, 70 point production that he has established is his level while allowing Skinner to blossom and move forward.
In Skinner, Carolina has a 19 year old 30 goal scorer. The other teams in the NHL would salivate over that. And all reports that you hear indicate that Skinner not only has a good head on his shoulders, but has the potential to quickly stake a claim as a team leader, amazing for a player so young.
Let's remember that as good as Staal has become, he had to head back down to the minors for a year of seasoning after his rookie NHL campaign.
This is something that Skinner will clearly not need.
Skinner clearly has the potential to break out and surpass Staal as the team's best forward.
Again, he has to shore up the face off and show that he is up to the challenge and responsibility of increased ice time. But with anywhere near 20:00 a game, this is a player that can easily be a point a game player with 35-40 goals a season. The sky really is the limit for Jeff Skinner.
And it is no disrespect to the skills of Eric Staal to say imagine what sort of firepower the Hurricanes will have on the ice when Staal's 30/40/70 is only second best on the team.
It's a prospect the Hurricanes have to hope will come true. Because if it does, this team could be primed for a huge step forward.