Arizona Cardinals: Dissecting the Week 1 Showdown vs. Carolina
September 7, 2011
Christian Petersen/Getty Images
The Arizona Cardinals have had an entire summer to reinvent themselves.
By simply getting rid of the dumpster fire known as Derek Anderson, and bringing in Kevin Kolb to play behind center, the tone of their season has changed before it even started. Pair Kolb with playing in a division the teams just don't seem to ever get better, and there are some serious expectations in the desert. Warranted or not, they are there.
But before anything can be achieved, they have to show they can win some games, especially the ones they are supposed to. If they want to be taken seriously, they need to start with beating the Carolina Panthers.
Not beating maybe the worst team in the league could be a sign of things to come. Bad things.
Lets dive into the week one match up.
For the Cardinals, this game will be won on defense.
The Panthers have a rookie quarterback leading them in Week 1, and judging by Cam Newton's preseason play, it could be a long season in Carolina.
Newton has some mind blowing athletic ability that has the Cardinals wary of his feet. Being able to extend plays and get the defense out of position is where the Cards' defense will be most vulnerable. Being able to keep Newton in the pocket and staying in the pass rushing lanes will be the key for the front seven.
The reason keeping Newton in the pocket is essential is because when it comes to throwing, he is about as accurate down the field as I am using my left hand. He had less than a 50% completion percentage in the preseason.
It is no secret that Coach Wiz is going to try and make Cam beat them with his arm, which is something few expect to actually happen at this stage in his career.
The Panthers only hope this season of throwing some W's up on the board will be to have a solid running game and play good defense. They have a tandem of DeAngelo Williams and Jonathan Stewart in the backfield who are looking to bounce back after a rough season last year. This aspect of the offense, not Cam Newton, is what the focus of the Cardinals' defense will be on.
But stopping is where it can get tricky. The Cardinals were 30th last season in rushing yards allowed per game. This will most likely be an issue this year, but for this game it may not be their undoing. Playing a team who has such an inexperienced quarterback will allow them to stack the box and win the battle up front without having to put as much focus on their downfield coverage. They should be able to mask a lot of their deficiencies up front this Sunday.
Perhaps the best storyline to keep your eyes on this week is how stud safety Adrian Wilson looks on the field. He is going to be playing the role of "Manliest Dude on Earth" by playing with a torn biceps tendon. If he is able to be close to 100%, which is a big if, it will make a huge difference for this defense and hopefully get them back to respectability.
Joe Robbins/Getty Images
On offense, things are a little bit more up in the air. The only thing anyone knows about the Cardinals offense going into the year is that they do not know anything at all.
There is not a whole lot that can be said about the Kevin Kolb situation that hasn't been said already. He is the great unknown. Lets just say all eyes are on him. He has more than a little bit of pressure on him, but at least he can't possibly be worse than Derek Anderson last year.
Lucky for him he has Larry Fitzgerald. Fitz threw up a huge under-the-radar season last year with Derek Anderson last year. If he can rack up 90 catches for almost 1200 yards with Anderson at QB, imagine what he can do with someone competent back there. Teamed with Kolb it is hard to see him not crushing this season and earning every cent of that monumental deal he signed this preseason.
However, seeing as though the Panthers had a solid pass defense last season, Zona might be forced to rush the ball more than they'd like.
The Cards have not had a solid running game since I can remember; this year should be no different. So chuckin' the ball around may be what we should end up seeing most of the time, especially with Ryan Williams on the shelf for the season.
The biggest potential issue in this game is the Cards' pass blocking. Last season they gave up 50 sacks, which was second in the league. The Panthers bring an elite pass rusher to town in Charles Johnson who may be able to cause some havoc on their weak O-line.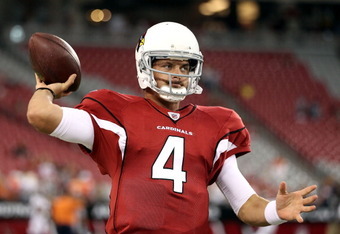 Christian Petersen/Getty Images
But a quick passing game and hopefully some success running the ball can help subside Johnson making too much of a difference. Johnson is definitely the player to pay attention to during this game.
This is an ideal matchup in Week 1 for a team who is in flux like the Cards are. Facing off against a team that wont be putting up a lot of points will give the Cards some time to gel and come together. It should also let them keep their game plan in tact if things get off to a rocky start.
I am assuming the Cardinals will be able to muster some sort of offense in this game. Under Coach Wiz, the Cards have usually played well at home. Playing a rookie quarterback who is making his debut on the road is just about as good of a set up the defense can ask for. Maybe they can make some plays and create some momentum going forward.
Cards 24 Panthers 10