Juiceboxing101: Brock Lesnar Returns, GSP Lucks Out, Jones Spies and More
September 7, 2011
Alexandra Wyman/Getty Images
Hello, fellow Juicers! Far too much has been happening in the wonderful world of MMA lately for me to ignore, so I figured I'd do you all a solid and throw all of my wacky opinions into one discombobulated article. Enjoy.
GSP Lucks Out
First off, anyone blaming Nick Diaz for not wanting to go freeze his ass off in Canada for a press conference is obviously forgetting the level of realism Nick operates on. 
The dude is a fighter, a REAL fighter. That's obvious. He'll fight you before, during and in the hospital after the fight. But asking him to sit there and cordially engage in pre-fight hype with someone he probably can't understand anyway is like trying to train a grizzly bear to read the tale of the tape before the fight.
Do I understand where Dana White is coming from? Not really. Nick backed out of a press conference, not the fight. I believe Dana was looking for an excuse to get Nick out of there anyway, and of course, he got it.
Plus, did any of us actually believe Dana would let someone he fired waltz back into the promotion and smash up his poster-boy? Please.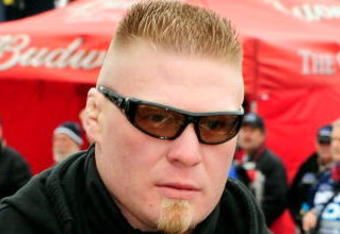 Sam Greenwood/Getty Images
Brock is Back
The good news is it won't be long until we see Brock Lesnar's face back on PPV. The bad news is, it's going to be smashed beyond recognition by the horsemeat-eating, world-beating juggernaut known as Alistair Overeem, who makes his promotion debut alongside Lesnar at UFC 141.
Don't get me wrong—I hope we get to see a competitive fight between these two beasts. But in no way do I expect this to go five rounds, and every inch of my gut instinct is saying that Brock is going to get annihilated in this one.
For the record, I'd like to see Brock take this one and remain at the top of the heavyweight division. That's good for everyone. But Alistair's a destroyer, and Brock tends to Cat Daddy when his opponent puts gloves on him. Expect this one to be short and brutal.
Diego Out, Koscheck In
Matt Hughes is one of the few fighters I've gotten the chance to talk to personally, and therefore will always have a special place in my heart.
That said, Koscheck needs a big win coming off his disastrous title shot against GSP, and with Diego Sanchez breaking his hand and opting out of the Hughes fight, opportunity has knocked loudly at his door.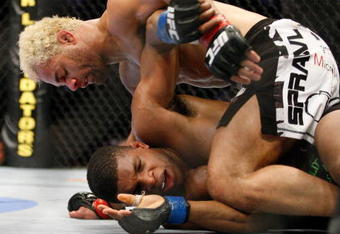 Richard Wolowicz/Getty Images
This is a fight I've been looking forward to since 2007, and although it holds a fraction of the significance that it would've back then, it's still an intriguing matchup between a Hall-of-Famer and one of the top welterweights in the world.
Most importantly, it proves that a replacement doesn't need to feel like one. Hughes-Kos is a bigger fight than Hughes-Sanchez.
Jon Jones is Spying on Rampage Jackson
I'll admit—I'm already getting sick of Jon Jones and his self-righteous, condescending approach to everything MMA. This SUCKS for me, because I'm going to be watching him beat the hell out of all my favorite fighters for the next 15 years or so.
That said, I really don't think Jones has sent a spy overseas to watch Rampage box up his sparring partners. We all know how Rampage fights now; I don't think Jones needs to resort to cheating to win his fights (outside of horrifically illegal elbows to deaf men.)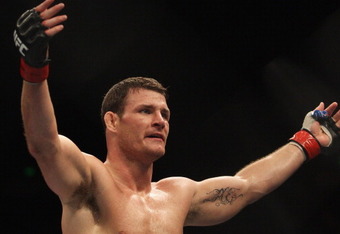 Mark Kolbe/Getty Images
Spike and TUF to Part Ways
We've known this was coming for a while now, but the way Spike chose to announce TUF 14 as the last season to be shown on Spike TV was a little puzzling to me.
"The Ultimate Fighter" season 14 in September will be our last. We are increasing our commitment to distinctive, original series that we own such as 'Auction Hunters' and 'Bar Rescue' which are delivering on our goal to reach a broader audience."
So let me guess this straight—instead of relying on the millions of fans watching real MMA, Spike TV has decided to put all their eggs into the painfully-artificial reality show bucket?
No wonder women have like five channels on cable and men only have one. The programming director at Spike TV is unbelievably out of touch with their fanbase, and if you don't agree, try watching 1,000 Ways to Die. Try it.
Velasquez and Two Saints Headline UFC on Fox
If you didn't literally crap yourself when you first read that Cain Velasquez would be defending his UFC Heavyweight Title against Junior Dos Santos on the promotion's first ever FOX broadcast, I don't want you reading my articles anymore. Have a good life.
The rest of us NORMIES are going to get boozed up and take in the Ali-Frazier of MMA in the comfort of our own homes. Even my cat's not going to miss this one for the world.
Thanks for reading! This is also the first article I'm posting on Joe Show Radio so check them out, too.
Justin "The Juice" Orel