Oakland Raiders Defense: 5 Reasons the 3-5-3 Scheme Can Solve the Passing Woes
September 8, 2011
In an NFL that has transformed into a passing league, defensive coordinators are coming up with complex blitzing and coverage schemes, and NFL front offices are scrambling for shutdown cornerbacks, which are a rarity.
The better offensive coordinators in the NFL have made their bones by scheming against the 4-3, 3-4, nickel, and dime packages, which has led defensive coordinators to be more inventive. With four- and five-receiver sets, QBs are taking advantage of the lack of cover corners in the NFL.
QBs like Peyton Manning, Tom Brady, Drew Brees, Aaron Rodgers and Philip Rivers might be on their way to the Hall of Fame because of the innovative passing schemes (Manning would go regardless). But quasi-good to great QBs are having tremendous success as well with the innovative passing schemes. Matt Shaub, Kevin Kolb and Matt Cassel, I believe, are mediocre at best, but with great schemes and four targets to throw to are becoming Pro Bowl caliber QBs.
In this article, I will discuss the reasons the 3-5-3 defense can elevate the Oakland Raiders' sluggish pass defense into a playoff caliber pass defense.
In the 3-5-3 scheme, nearly any defensive front can be created while showing the same pre-snap look—every play. Quarterbacks get an eight-men-in-the-box look, but the defense can transform to a more 4-3, 5-3, or 3-8 look after the snap, which gives QBs no idea what to audible to. And it leaves offensive coordinators scratching their heads. In addition, the defensive backs can play man or zone in this scheme.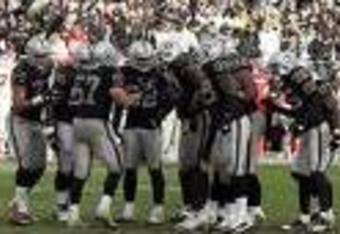 The New York Jets used a similar package in their win over the New England Patriots in the 2010 AFL playoffs. If the scheme can work against Tom Brady, I believe it can be effective against any quarterback in the NFL.
Defensive guru Gregg Williams of the New Orleans Saints used a similar scheme against Peyton Manning in the Super Bowl two years ago, which confused Manning time after time. Williams knew his defensive backs were outmatched, so he used strategy and athleticism to defeat a Goliath-type opponent.
Reason 1: Jerome Boyd, a hybrid defensive back/linebacker can cover the tight end, which could be useful against Antonio Gates of the Chargers, and the Patriots' double-headed tight end package. Boyd has the size to compete against big tight ends and the coverage skills that most linebackers lack.
Reason 2: Against dink and dunk passing attacks the 3-5-3 package is excellent for stopping short passes and screen plays. In 2011, Oakland will go against three of the top 10 NFL QBs with the lowest YPC (yards per completion): Matt Shaub, Tom Brady and Matt Cassel—all with less than eight yards per completion.
Reason 3: In the 3-5-3 package, it's impossible for QBs and offensive linemen to predict who is going to blitz. Deception and indecisiveness are a quarterback's worst enemies. In a league with complex passing schemes, vanilla defenses are not enough to stop them.
Reason 4: Kamerion Wimbley can pick his spots on blitzes, and better his nine sacks of 2010.
Reason 5: The 3-5-3 scheme plays more on athleticism than anything else. And Oakland is one of the most athletic teams in the NFL. Ideally, I would put Matt Shaughnessy and Richard Seymour on the ends, and Tommy Kelly at the nose.
Reason 6: There aren't many tackles in the NFL who can stop Shaughnessy or Seymour so teams will have to double-team them on the outsides which would open blitz lanes for linebackers.