Cleveland Browns' 2011 Success Begins in the Trenches
September 9, 2011
Jim McIsaac/Getty Images
At the conclusion of the 2010 season, Browns President Mike Holmgren decided he wanted to go in a different direction. Out went defensive-minded head coach Eric Mangini, who was replaced with offensive guru Pat Shurmur from St. Louis.
Under Shurmur's tutelage, Browns quarterback Colt McCoy seems primed for a breakout season. McCoy, who broke numerous records during a fine college career at Texas, has some big name options to help him along.
Madden video game cover boy and Browns running back Peyton Hillis is perhaps the biggest star on offense. Two time pro bowl special teams ace Josh Cribbs will look to break out at wide receiver and the star of camp, wide receiver Greg Little has shown flashes of greatness.
These are the names that sell jerseys and the guys that will appear on SportsCenter. If the Browns are to make a run at the AFC North they will need production from the guys that lack name recognition and whose stats you rarely see.
Due to an overall lack of depth at all positions, today I'm going to focus on the offensive and defensive lines. If you can control the line of scrimmage, then you control the game.
There are two big names on the offensive side of the ball: four-time Pro Bowl left tackle Joe Thomas and Pro Bowl center Alex Mack. Both of them should only get better as they hit the prime of their careers. Once you get past them, there are some big question marks.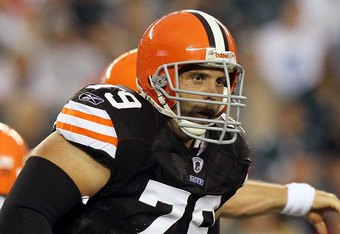 Jim McIsaac/Getty Images
Tony Pashos is a ninth-year pro at right tackle. He was originally drafted by division foe Baltimore in the fifth round of the 2003 draft. In 2010, Pashos was brought in by the Browns with the hope of solidifying the right tackle position.
Injuries were a problem and he managed to play in only six games last season with three starts. Health issues are not new to Pashos. He has not played a full 16-game season since 2008, when he was a member of the Jacksonville Jaguars.
Next to Pashos is second-year right guard Shawn Lauvau. Drafted by the Browns in the third round of the 2010 NFL draft, he has shown great promise in the past two training camps. Injuries and a coach that favored veterans sunk his 2010 campaign, but there are high hopes for 2011. The right side of the line must hold up their end of the bargain if this upstart offense is to have success.
The one question on the left side is rookie guard Jason Pinkston. He entered training camp in a backup role, but all that changed when starting left guard Eric Steinbach was put on IR due to a back issue. This shouldn't be a huge issue, as Joe Thomas and Alex Mack should be able to help him long.
The Browns are set (barring injury) at the defensive tackle position. Defensive tackle Ahtyba Rubin had a breakout year in 2010 and he will be helped by rookie first round draft pick Phil Taylor. The bigger question marks are at the defensive end positions.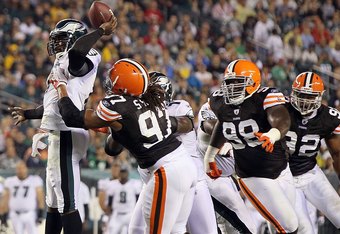 Jim McIsaac/Getty Images
Rookie defensive end Jabaal Sheard out of Pittsburgh is the most known among the group, but being a second round pick will do that. The truth of the matter is that he must learn the pro game in relative short order.
In addition to learning new techniques to rush the quarterback, he is also responsible to contain the running game. The Browns secondary is not the fastest group, so not getting sucked in on outside running plays is paramount.
Opposite Sheard is starting left defensive end Jayme Mitchell. He has perhaps the most unusual story. Acquired in a trade from Minnesota last season, Mitchell went on to see zero playing time the rest of the year.
He will have his opportunity to prove himself this year as he projects to start on opening day. That may be a tall order for a guy who has only played a total 29 games in four seasons while never starting.
If the Cleveland Browns jump out to a good start, it will be guys like McCoy and Hillis that receive all the fanfare. But it will be on the backs of those in the trenches that truly make it possible.