Atlanta Braves and Frank Wren in the Final Analysis
September 9, 2011
Mike Zarrilli/Getty Images
It has been a tumultuous couple of years for Frank Wren and the Braves. Last year, Bobby Cox managed his last season in Atlanta. Fredi Gonzalez was a pretty easy tab for the Braves, but it was the first managerial hire they had to make since 1990. Meanwhile, Chipper Jones had an ACL tear and possibly was forced into retirement.
Fortunately, he was able to return and probably will play another year before he hangs it up. Still, a team that built themselves around Greg Maddux, John Smoltz and Tom Glavine had to retool. They messed around for awhile, but eventually found themselves right back in familiar territory.

Key Statistics
Team Payroll: $87.0 million (15th)
Lineup: 12.0
Starting Rotation: 3.9
Bullpen: 5.8
Composite Ranking: 7.3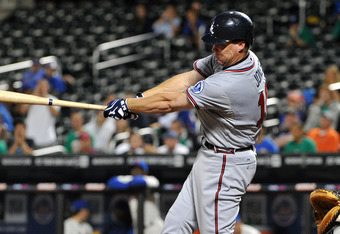 Christopher Pasatieri/Getty Images
Analysis Score: +7.7
Lineup
As much as things change, things always remain the same. The Braves built themselves around amazing starting pitching and some impressive power in the 1990s. In the 2010s, they've returned to that model. Jones is still around, but most of the faces have changed. Wren has stewarded the ship over a new generation of young Braves hitters.
Freddie Freeman and Jason Heyward are leading the next generation of Braves farmhands. Like most young players, they are a mixed bag. Freeman could be the favorite for Rookie of the Year in the National League while Heyward has experienced one of the worst sophomore slumps in recent memory. The two are surrounded by some impressive veterans like Jones, Dan Uggla, Brian McCann and Alex Gonzalez.

Starting Rotation
It's funny how some organizations, teams and schools get certain reputations. Penn State is known as linebacker university in terms of college football. Duke and North Carolina have provided the NBA with a pipeline of young talent in basketball. The Boston Red Sox have manned left field with a Hall of Famer since 1936, or so it seems. The Braves are known for great starting pitching.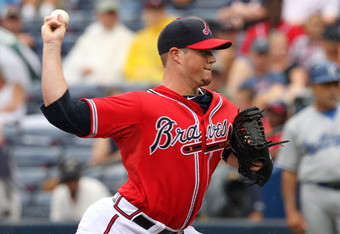 Joe Murphy/Getty Images
Youngsters Tommy Hansen, Jair Jurrjens and Brandon Beachy are flanked by veterans Derek Lowe and Tim Hudson to give the Braves one of the two or three best rotations in baseball. Youngster Mike Minor is right on the horizon as well. This doesn't even mention the stable of hot young prospects waiting in the wings. The Braves are stocked for the long haul on the mound.
Bullpen
In the days of the dominant Braves teams, this might have been their Achilles' heel. Mark Wohlers had some good seasons, but they usually did not have the deepest of bullpens. Those days are gone and have been replaced by a bullpen that is downright filthy. Craig Kimbrel, Jonny Venters and Eric O'Flaherty all have ERAs under two and the peripherals to match.
They signed veterans like George Sherill and Scott Linebrink to add depth, but neither havs been a huge factor this season. This isn't to say they performed poorly. They just didn't need them. Add in Cristhian Martinez to the big three and the Braves have a stable of young relievers to go along with their stable of young starters.

Response to Crisis
The only crisis Frank Wren had to speak of was his lack of outfield depth. This wasn't a crisis per se since he knew that going into the season. Martin Prado has been passable in left field, but he really belongs on the infield. Heyward's struggles have been a bit of a problem, but he is healthy and ready to go for the playoffs. The biggest hole was in center field where Nate McLouth failed miserably.
McLouth was acquired by Wren a few years earlier. McLouth set the world on fire in Pittsburgh, but he hasn't approached that level of play in Atlanta. Wren went out and acquired speedster Michael Bourn at the deadline for Jordan Schaefer and three young pitchers. They are good young pitchers, but they aren't great. Given the huge staple of pitchers he has in the minors, he could afford the price. Matt Diaz was added in August for depth, so the Braves are ready for battle in October.

Final Analysis Score: +7.7 (Sixth)
Analysis Overview: Officially, Frank Wren ranks seventh, but he will end up coming in higher than that. Of the 15 teams in the bottom half of the salary standings (16-30), 13 had positive scores. That leaves only four of the top 15 with positive scores. Not one of them came close to Wren's plus-7.7 rating. Sure, being the 15th highest payroll (as opposed to say the fifth) makes a difference, but there is a significant gap there. Wren will end up finishing in the top five before all is said and done.