Sidney Crosby's Look on Head Shots: Why the NHL Cannot Listen
September 10, 2011
Jamie Squire/Getty Images
First let me start with this: Sidney Crosby is one of the few integral parts of the NHL. While I may say so begrudgingly and am one of the first to start a Crys-by chant when I see him play, he is a transcendent talent and needs to be on the ice.
Also, this concussion business is serious. Ask Marc Savard or David Perron, both of whom are in danger of missing all of the upcoming season (in Savard's case it's assured). I have no issue with the NHL taking steps to limit the number of concussions. A culture that blatant and dirty head shots are not OK needs to be fostered.
But that's the key. Blatant and dirty. Not incidental. Not clean. Dirty is the key. 
Sidney Crosby, one of the games' ambassadors to the general sporting world, sat there and said there should be "zero-tolerance" for hits to the head during a game. Really Sid? And I know his opinion is shared by other notable players like Martin St. Louis and Brad Richards, but neither of those guys like getting hit period. 
Reading the recent Yahoo! Sports feature on Shane Doan showed me that there are still players, who I would actually think to be the majority of NHL players, that understand they're playing hockey. As Doan said "If you want to play shinny, go play shinny." I could not agree more.
The fact of the matter is the NHL, as stated by Doan in the article, is not a safe game. Being a hockey player isn't a "safe" job. You're going to get hit nightly. Sometimes you'll get hit really hard. Unfortunately, sometimes you'll get hurt. But that's the game. Take it or leave it.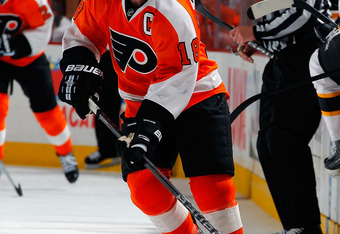 Paul Bereswill/Getty Images
The head shot debate started in earnest with the vicious hit by Mike Richards on David Booth of the Florida Panthers a few years ago. I say vicious, but I don't mean that in a negative way. It was a clean hit. He was not suspended, I don't even think he was penalized. Yes, Booth was injured, and badly, which is not something you want, but it was not due to Richards delivering a dirty hit. It was due to Booth skating across the ice checking to make sure his laces were still tied. It's the first rule you hear when you start hitting in pee-wees: Keep your head up. 
So according to Sidney, someone seeing him skate across the middle of the ice with his eyes on the biscuit and not on the guy coming to bundle him into next week shouldn't hit him? Because it's pretty well settled that if your head is down, it will be contacted when you get hit. I'm sorry Sid, that's ridiculous. 
The hit by Dave Steckel on Crosby during the Winter Classic this year, which is widely thought to be his first concussion, was not dirty in the least. Steckel was skating to get up ice with his wings and clipped him, yes in the head, but there was no deviation from when he started skating to when he hit Crosby. It was a completely incidental hit, but according to Sid he should be penalized and probably suspended for it. 
The Victor Hedman hit was a bit worse. It was from behind, which is bad. But his hands aren't on his head going into the boards. They're on his back, which, as I said, is not OK to begin with, but it wasn't a targeted head shot. It was a hit from behind. But it wasn't a vicious one. Similar hits happen every single game in the NHL as the defenseman is trying to squeeze the forward against the boards for a couple seconds in an attempt to disrupt the forecheck. It certainly wasn't a hit that warranted any sort of suspension.
The moral of the story? Yes, dirty, blatant head shots need to be policed and strict punishments enforced against them. But the hits that include the head that are in no way dirty and are just a part of playing hockey? Sorry Sid. If you're going to play scared because you're afraid someone is going to hit you, go play in a beer league. 
The argument comes back to what Shane Doan said: the NHL is a risky game. A part of that risk? Big hits. As I said, concussions are bad business, but unfortunately, as with the NFL and the NBA and MLB, they're a part of the game. You'll never be able to eliminate them from the game, and by making head shots zero-tolerance you change the way the players play so drastically I don't know if it's hockey anymore.