Is Serena Williams the Manny Ramirez of Tennis?
September 12, 2011
Matthew Stockman/Getty Images
I'll admit that I was openly cheering on Samantha Stosur during yesterday's U.S. Open Final. My fanhood is naturally attracted to underdog stories and Stosur was certainly that.
Not a single person on the planet, not even my mother who is the Samantha Stosur fan club treasurer, picked her to win. She did. Good for her.
Stosur's tale of rising to the occasion when few people thought she could is taking a backseat to popular Serena Williams-related topics once again.
The talk of Williams' behavior on the court is dominating the tennisphere.
After hitting a screaming return in the second set, Williams yelled "Come On!" before Stosur had a chance to return the ball.
In Williams' defense, she did hit a surefire winner and Stosur stood little chance to hit it back.
Williams' scream was in clear violation of a rule that stands in some capacity in most sports except baseketball: you're not allowed to scream at the top of your lungs while your opponent is trying to make a play on a live ball.
Pitchers aren't allowed to go "Oh Yeah!" when they realize that their curveball is going to be a perfect back-door third strike.
Kevin Garnett can't bellow "Donald Sterling is your boss!" at Blake Griffin right before he attempts a free throw.
Rory McIlroy is forbidden to yell "Rachel Uchitel!" when Tiger Woods is attempting to drive.
WIlliams broke a pretty obvious rule, deserved to lose the point, and her treatment of chair umpire Eva Asderaki for doing what she had to do was disrespectful.
"Aren't you the one who screwed me over the last time I was here," Williams asked. "You have it out for me? I promise you that's not cool. That's totally not cool."
She's right about that. It wasn't cool. It totally wasn't cool.
Given the gravity of the night and her declaration that her performance would be dedicated to those affected by the tragedy of 9/11, Williams was justifiably uncool.  
She continued to give Aseraki trouble during the ensuing changeover. She didn't even shake Aseraki's hand after the match.
Williams' on-court behavior can be described as several things: childish, egocentric, rife with a sense of entitlement, embarrassing and Manny-esque.
Manny Ramirez was one of my all-time favorite baseball players and he had a freakish amount of talent just like Serena does. He also was a head case.
Ramirez may have been more into himself than any other baseball player in recent memory. He was quite possibly the most aloof outfielder since Tris Speaker.
There were the little things like having a water bottle in his back pocket while out in left field (literally and figuratively) and big things like throwing then 64-year-old Red Sox secretary Jack McCormick to the ground for being unable to secure 16 tickets for his friends and family to attend a road game in Houston.
At least when Pedro Martinez threw an old dude to the ground, an argument could be made for self defense. Ramirez was just being a child.
Williams and Ramirez are similar in some ways. Both grew up in tough environments. Ramirez grew up in poverty in the Dominican Republic and eventually made it to Washington Heights in New York City where his mother worked for only $200 a week as a seamstress.  
Williams and her sister Venus grew up in Compton, California, an area infamous in American culture for being a poor and crime-ridden part of the country.
They both broke into the professional ranks of their respective sports at very young ages.
Ramirez was 19 when he started playing minor league baseball and was only 21 by the time he reached the big leagues.
Williams became a professional at 13 and was beating top 10 players by 15.
When Ramirez got to Cleveland, the stories started to appear. In 1994, he walked in to the Cleveland Indians clubhouse where he saw his teammates watching O.J. Simpson getting chased by the police on television.
When he asked a teammate what was going on, he was informed that O.J. was accused of killing his wife. He responded by saying, "Oh, not Ogea! I know his wife."
Ramirez thought his team was watching then Indian's pitcher Chad Ogea flee from the LAPD.
There was another instance where Ramirez was caught driving aimlessly around then Jacobs Field in a car with no license plates and illegally tinted windows.
When the cops pulled him over, they discovered that he was driving without a license and had two social security numbers.
He also once asked two sports writers for $60,000 so that he could buy a rare Harley-Davidson motorcycle.  That's like asking a teacher to pay for your honeymoon.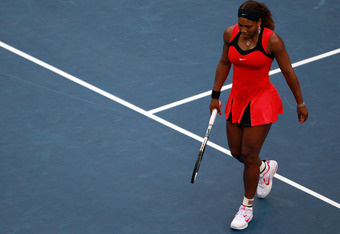 Nick Laham/Getty Images
The Red Sox's "Manny being Manny" stories are well documented. He did everything from allegedly going to the bathroom in the Green Monster (which doesn't have a bathroom) during a game to making a diving cut off of an infield bound throw from Johnny Damon.
Unfortunately, the story that ended up defining Ramirez would be his retirement from the game after failing a third test for performance-enhancing drugs.
Williams' early career was mostly about the rivalry she shared with her sister. Her combative nature didn't come to fruition until 2009, but she is already facing a similar fate.
While Ramirez's entire career was marked with instances of befuddlement, Williams' issues have came more recently but have been subject to just as much (if not more) scrutiny.
Surely, Williams is already one of the all-time best women's tennis players, but when she threatened to shove a tennis ball down a line judges bleepin' throat after calling a phantom foot fault, her image was forever tarnished.
It was a meltdown that cost her the U.S. Open title and her nearly sterling reputation in the public arena.
It was disturbing to watch, but I found something else related to that incident even more disturbing.
During the series of interviews that took place leading up to this year's U.S. Open, a reporter asked Serena to reflect on her 2009 incident. She basically said that she didn't even remember what happened.
"I don't know, I just remember I lost, and that was that. And then, I got really popular; a lot of people were telling me, 'Oh, it was super cool," [laughs] and that they'd never seen me so intense. So, yeah, it was awesome."
Yep, threatening people is radical. If you ever want to become popular, threaten to harm someone. It's worked for every "President for Life" in the history of the world, so it'll work for you too.
A reporter then asked Williams if she learned anything from that episode.
"Um, I don't know, I don't think about it. Are you still thinking about it? Oh my god, that was like, two years ago. This is like, two years later."
Sure, Williams wants to move on. For the most part, the media did too. She was asked a question pertinent to the situation at hand.
Williams was returning to the U.S. Open for the first time since that incident. A lot can change in two years. What did you learn Serena? Nothing. Okay. Thanks for respecting our intelligence.
After last night's incident, WIlliams was asked about what happened out there, and again, she chose to play the "I don't remember" card.
I'm willing to bet she hasn't watched it on YouTube at all. She could have saved us all a lot of time if she had just said "I plead the fifth" over and over again like a Wall Street banker.
Both tennis and baseball are games that are supposed to be, to some extent, classy. Williams has been a classy champion before, and Ramirez has been as well.
But they both have lied through their teeth, threatened older people and have behaved irrationally. They also both have big hair and apparently disrespect the media.
There are obviously big differences between the two athletes too. Williams has been more successful and is considered a legend. Ramirez is a legend of the steroid era.
Williams does a lot with the community and is a successful entrepreneur off the court. Manny wouldn't know the first thing about running a business.
But if things keep going at this rate, "Serena being Serena" will become a part of our vernacular.