New England Patriots Kick off Season on Monday Night Football
September 12, 2011
Donald Miralle/Getty Images
Like a kid waiting for desert after supper, I've been waiting for the Patriots first regular season game before I started shooting off my mouth.
Some of you might know me on this site as the New England Patriots' biggest cheerleader. As most cheerleaders do, I've been sitting the sidelines all through preseason.
I could spit statistics at you like other writers as I'm an engineer by trade and the math does not escape me.
But on game day my math only involves adding points in one, two, three and six point increments. Any other math that involves trigonometry, calculus or the area under the curve doesn't mix well with my beer.
As an editorialist and humorist you get what I wear on my sleeve and usually that will have something to do with how great the New England Patriots are.
This year's prognosticators have the Patriots back up near the top; a playoff contender…again.
I had the luxury of being able to predict winning seasons for the Patriots for a decade now. In this run, we the fans have been treated to eight AFC East crowns, four conference titles and three Super Bowl wins.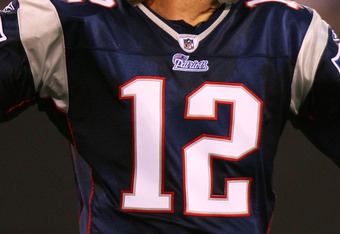 Andrew Burton/Getty Images
These reasons alone sum up the motives for my pennant-waving and pom-pom shaking. I've watched the Patriots win ugly and win convincingly and the whole time, seldom watched them lose.
If there was ever a reason to trade in one of the other 31 NFL teams jersey for a Patriot one, the time is now.
This year's 2011 Patriots team is a team of giant proportions, from owner Robert Kraft to the coaching genius of Bill Belichick and steady super producer Tom Brady.
But the true value of the team is beyond the bigger than life personalities of the team.
Some of us can point to the players who are short in stature but big in heart, players like Wes Welker, Danny Woodhead, Deion Branch and Julian Edelman.
Others can more readily relate to the truer giants on the field like Vince Wilfork or the Gronkowski brothers Dan and Rob.
Even relatively newcomers Albert Haynesworth and Nate Solder are welcomed with big bear hugs.
I could name drop from the bottom of this year's roster to the top, but that would keep me writing up to or beyond opening kickoff for this Monday night's game.
I couldn't be more pleased that the NFL owners and players were able to come to an agreement which saved this season from ruin.
An end to the lockout ensures that my prediction of another Patriot winning season continues uninterrupted.
We've all seen a lot of week one regular season football already.
Today, Patriot fans get to see what we have all been waiting for. It's Monday, I've been stocking up on brew and the family has been warned that short of a hurricane, tsunami or thermonuclear war, there is nothing stopping me from watching every second of tonight's game.