Devin Setoguchi: Minnesota Wild's New No. 1 Forward
September 12, 2011
Ezra Shaw/Getty Images
After a few offseason trades, the Minnesota Wild have landed young forward Devin Setoguchi who is poised to land his first role as the No. 1 offensive star.
The Minnesota Wild have been an intriguing team to watch over the last two seasons as the team has had to cope with the loss of the franchise's only goal scorer, Marian Gaborik, departed to the New York Rangers and offered his talents, when he is not injured, to help lead the Rangers back into the deep playoff mix.
It is no secret that the Wild have always been an anemic team on offense, but when Gaborik left, Minnesota was left will little to no offensive firepower.
When the Wild signed  Martin Havlat as a free agent from the Chicago Blackhawks in 2009, it was thought after his great 2008-09 season, where he put up 77 points and was a +29, that he  would help the Wild finally have an offensive threat and keep the opposing defense on their heels.
Not only did that not happen, it never started. In the 2009-10 season, Havlat managed only 54 points, took 80 fewer shots and was a minus-19. His game seemed to change as his attack towards the middle of the ice shifted to the perimeter around the offensive zone.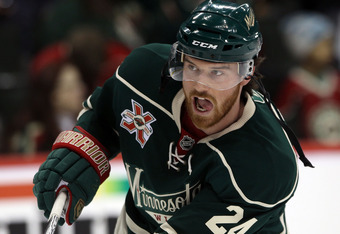 Bruce Bennett/Getty Images
In the two seasons with Minnesota, it looked like Martin Havlat never really felt comfortable, and it showed on the ice.
The 2010-11 season wasn't much better as Havlat managed 62 points in a season that collapsed near the end where the Wild at one point in the season was in a position for the playoffs.
This summer, Wild general manager Chuck Fletcher once again used the NHL entry draft to add in more first and second round draft picks, but to also acquire immediate impacts to the team.
In a somewhat stunning move, before the Minnesota Wild drafted Jonas Brodin for the 10th overall pick, NHL commissioner Gary Bettman announced that the Wild had traded cornerstone defenseman Brent Burns to San Jose for the 28th overall pick in the 2011 entry draft and Devin Setoguchi.
With the arrival of Setoguchi, Minnesota has added an immediate scoring threat, a hard accurate shot and hard work ethic to a team that desperately needs all three of those qualities.
Although he managed only 41 points (22-19=41), two seasons ago he managed a 65 point season (31-34=) and at only 24 years old, Setoguchi is in the prime of his career.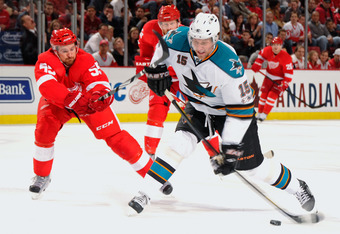 Jamie Sabau/Getty Images
He proved especially viable in the playoffs last season where he exploded for seven goals including a hat trick against the Red Wings in Detroit in 18 playoff games.
The best part about Setoguchi is the fact that he loves to shoot the puck.
He was on the Sharks' No. 1 powerplay unit and every time the puck landed on his stick he seemed to only do one thing, shoot it.
After watching film on Setoguchi, he seemed to have a remarkable resemblance to another former Wild player who loved to wind up and blast the puck past goaltenders, Brian Rolston.
Although Setoguchi is much more mobile and talented, the way he sets himself up in the offensive zone and creates space to open himself up for offensive opportunities makes him much more dangerous.
Luckily Minnesota has two of the better set-up men in the NHL on their roster in Pierre Marc-Bouchard and Mikko Koivu.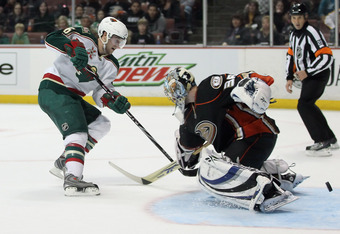 Jeff Gross/Getty Images
I believe these three forwards will make up the new top line for the Minnesota Wild.
Contrary to Miko Yeo putting Heatley and Setoguchi together on the same line, they were not paired together in San Jose and I believe that it would be a much better fit for chemistry for Bouchard and Koivu to be with Setoguchi.
Let us not forget that Pierre Marc-Bouchard had his best offensive numbers when he was able to find Rolston to tee-up the puck and I believe some of that chemistry will be found during training camp.
As far as Heatley goes, he will be a second line winger with Guillaume Latendresse and Kyle Brodziak.
Heatley has become more of a player that resembles more of an Andrew Brunette but with a front of the net presence, something the Wild have also been missing.
The good thing about Heatley though is that he can pass the puck and he can still snipe the corners, so he is still respected in the league by every defensive group, and you have to or he will make you pay either with his shot or a crisp accurate pass.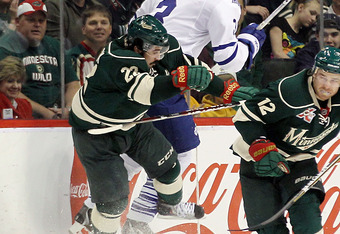 Bruce Bennett/Getty Images
With this mentality this will open up room for Latendresse to have another stellar offensive year, who can also crash the net and offers a big body the Wild missed last season from his injuries.
With Brodziak at center, who has had prior good chemistry with Latendresse this line has much potential as the first line at have potent goal scoring ability.
The third line will consist of Matt Cullen, Cal Clutterbuck and Colton Gillies.
In this instance, a veteran center with speed with a pair of young legs in Gillies with a physical presence in Cal Clutterbuck who became a scoring threat last year with a career-high 19 goals, will be a line with balance and speed.
The fourth line of Nystrom Powe and Staubitz will be the fourth and grinder line. Nystrom was the most consistent player on the Wild roster last year. Every time he hit the ice the fans knew what to expect out of him, which was a hard-working puck hungry player.
Darroll Powe, signed as a free agent over the summer, will add more of physical presence and help wear the opponent's defense down and Staubitz will help do the same thing.
The way the roster is shaping up, it wouldn't surprise me if this team can work its way into a playoff spot for the first time in four years after missing the last three seasons.
The keys for this team will be to find early chemistry with Setoguchi and Heatley and to stay healthy. Minnesota lost close to 300 man games due to injury last season, and they will need to avoid that if they are to contend for the playoffs this season.