Boston University Basketball Star John Holland to Play in France
September 13, 2011
Ronald Martinez/Getty Images
For John Holland, leading Boston University to its first NCAA Tournament berth in nearly a decade was just the beginning. He's now headed overseas where he will join former NBA player Ricky Davis to play for Chorale de Roanne in France. The soft-spoken star is determined to use his winning mentality and team-first attitude to find success on the professional level.
*** *** ***
Growing up in the basketball mecca that is New York City, John Holland was exposed to the game from an early age. As a teenager, he attended Fordham Preparatory Academy in the Bronx, excelling at both basketball and baseball. However, at the conclusion of his senior year, he found himself with no Division I scholarship offers and an uncertain future.
Nonetheless, Holland remained convinced of his ability to compete at the highest collegiate level and became determined to prove his worth on the court, using a post-graduate year at St. Benedict's Prep in Newark, N.J., to hone his basketball skills. Holland's tenacity and faith in his abilities paid great dividends, as he was recruited by several Division I programs during his PG year, ultimately deciding to attend Boston University.
"Choosing BU was really easy because I liked the academics along with the environment," says Holland. "It just felt right."
Little did Holland know just how right his experience on the BU basketball team would be. The 6'5" guard rapidly became the top player on his team, concluding his college career as the second leading scorer in Terriers history. This past season, he led the America East with 19.2 points and 1.4 steals per game, and was honored as the Conference Player of the Year and a 2011 Associated Press All-America Honorable Mention.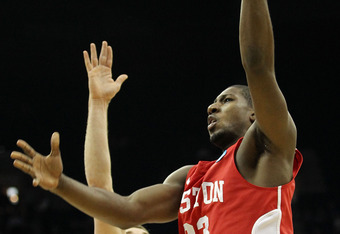 Ronald Martinez/Getty Images
More importantly however, Holland single-handedly willed his team to its first NCAA Tournament berth in nine years, with 27 hard-fought points and two clutch free throws with just seconds left on the clock in the America East championship game.
"(Reaching the NCAA Tournament) was great, probably one of the best basketball experiences of my life," says Holland. "It was unbelievable to be a part of that, something I'll never forget. Just the intensity and how hard you really have to work to achieve that goal. Everybody put in the hours and the hard work and it all paid off."
Although Holland and his team remained competitive with Kansas in the first half of their opening-round game, BU could not pull off the upset and eventually bowed out to the Jayhawks. Nonetheless, Holland maintained that playing against such a talented team helped him develop as a player and appreciate the difficulty of competing at the highest level.
Holland believes that his versatility and willingness to adapt to the needs of his team will make him an asset to any future squad. Along with a commitment to defense and a solid stroke from multiple spots on the floor, he describes himself as "the type of guy that is willing to do anything to win and get the team better, whether it's in the locker room on the court."
Even his Terriers coach Patrick Chambers, who is now the head coach at Penn State, highlights Holland's humble and altruistic demeanor, both on and off the court.
"John has left a legacy that Terrier fans will remember for a long time," says Chambers. "He became a leader, a great teammate, and a man of high character—attributes that our young guys looked up to and will try to emulate throughout their careers."
Although Holland hopes to one day earn a spot on an NBA roster, for the time being he remains optimistic and simply desires the opportunity to continue his improvement as a player.
"I am going to try and play for as long as possible wherever I can," he says. "I am basically there to do whatever the team needs, whether it's defending or scoring, whatever the team needs for me to do I'm willing to do it."
Holland's humility and team-first attitude is painfully rare among his college peers, and hopefully an NBA team will one day give him the chance to once again prove he belongs on the same court with basketball's elite.