Dallas Cowboys: 4 Reasons the Cowboys Will Rebound and Make the Playoffs
September 14, 2011
Elsa/Getty Images
On the 10th anniversary of 9/11 on Sunday Night, the Cowboys started on fire against the New York Jets. On the opening play, Romo found Felix Jones for a first down. A couple of plays later, Romo connected with Dez Bryant for 42 yards.
Nine plays and 74 yards later, Romo connected with Bryant for a touchdown. The Cowboys defense started just as hot, with Demarcus Ware sacking Mark Sanchez on the opening play. The Cowboys would force the Jets to punt on their first four drives, and took a 10-7 lead into the half.
The fourth quarter; however, would prove to be the Cowboys downfall. Romo fumbled at the one-yard line, Matt McBriar had a punt blocked and returned for a touchdown and Romo threw an interception in the closing minutes leading to the game winning field goal for the Jets.  
The Cowboys, for the second straight year, lost the season opener in heartbreaking fashion.
"It was a draining game," Ryan said. "I am just so proud we were able to pull this thing out, for the town, as well. I probably even feel better about that than I do for our football team."
After another heartbreaking loss, many Cowboys fans are left to wonder, will the Cowboys recover to make the playoffs and will Tony Romo ever come through in the clutch?
Do not worry Cowboys fans. The Cowboys will recover and make the playoffs, Here are four reasons why I believe that the worries will be short lived. 
1. Tony Romo is an elite Quarterback.
I know what you are thinking, Romo just cost the Cowboys the game, just as he has so many other times. This is also the same Tony Romo who threw for 345 yards and two touchdowns against the No. 1 defense in the NFL. If I recall correctly, the same people who said that Dirk Nowitzki could never come through in the Clutch, and was too soft to lead the Mavericks to a championship are the same people who say the same about Romo, and we all saw how that turned out for Dirk.
Count your blessings Cowboys fans, Romo is not Quincy Carter, Chad Hutchinson, Vinny Testeverde, Ryan Leaf or even Anthony Wright. No one, I mean NO ONE, would ever want them to be their quarterback.
I mean it could be worse. You could be like my friend who is a Colts fan, and have to watch Kerry Collins for 16 weeks. Ouch
2. Dez Bryant
Need I say more... Did you watch the opening two drives? He abused Antonio Cromartie (So did Miles Austin for that matter) and even took a trip to Revis Island for a play. When 100 percent, Bryant is the most talented WR in the league in my opinion.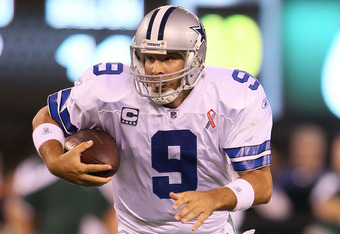 Elsa/Getty Images
3. Demarcus Ware, Sean Lee, and Rob Ryan's Defense
A sack by Ware on the opening play, punts on the first four drives, only seven points at the half, 17 total, an interception by Lee, and a strip sack by Danny McCray are just some of the things the defense did in this game. T
he Jets are no slouch offensively. Three Pro Bowl receivers, One of the greatest running backs of all time, and a very athletic tight end, and the Cowboys made them look bad for three quarters.
Keep in mind, all of this took place with the fourth and fifth string cornerbacks playing. The Cowboys defense will be a force to reckon with this year.
4. Jason Garrett is not Wade Phillips
Losing is not acceptable to Garrett. I never once in his time in Dallas took Wade Phillips seriously as a coach. Jason Garret has shown he means business since Day one as head coach.
This loss will not be acceptable to him and he will have the Boys ready for the 49ers next week.
So hold off on calling for Romo's head, Garrett's job or anything else of the sort.
Jeff Zelevansky/Getty Images
The Cowboys will be okay....
At least I sure hope so...
For questions regarding the article, please comment or send me an e-mail.
Paul Ferguson was an intern at Bleacher Report.
Follow him on twitter at: @paulwall5