PGA Tour: Top 10 Young Guns to Keep an Eye on at BMW
September 14, 2011
Jim Rogash/Getty Images
Kathy Bissell
This year the PGA Tour has been a surprise a minute, from Jonathan Byrd's playoff victory in January at Kapalua to Keegan Bradley at the PGA Championship and Webb Simpson at the Deutsche Bank. 
While there have been some veterans in the winners circle as well—Steve Stricker, Mark Wilson, Darren Clarke, Frederick Jacobson, David Toms and Harrison Frazer—the season has belonged mainly to newcomers.  Charl Schwatzel, Rory McIlroy and Keegan Bradley snagged major championships.  Young guys Bubba Watson, Nick Watney and Keegan Bradley won twice as did veteran Mark Wilson.   
But when it comes to predicting who will win this week, follow the money and follow the talent.  Here are ten to watch, their current points followed by the points for the top ten spots at the end of this week.  Remember, the top five in points at the end of this week have the best shot at winning the Fed Ex Cup whether they win the Tour Championship next week or not. 
1. Luke Donald  -- 2,875 points — Donald leads the European money list right now, and before Webb Simpson's victory 10 days ago, he was also leading the PGA Tour money list.  We don't believe anyone has captured both, but if anyone can, it's Donald.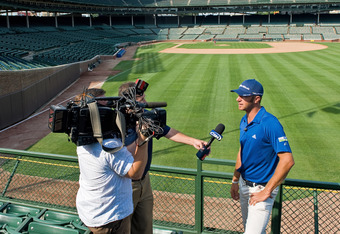 Timothy Hiatt/Getty Images
2. Dustin Johnson -- 3,814 points — Johnson just won the Barclays, but he indicated he has his eyes on the top spot.
3. Charl Schwartzel --1,428 points — Schwartzel is high enough in points that he skipped the first event, using the Jim Furyk strategy from last year, well, except for the broken alarm clock.  Whether or not it will backfire remains to be seen. 
4. Jason Day -- 2,357 points — Day has been close so many times, his friends probably call him Deuce—or if you are old enough to remember the rental car commercials—Avis.  He's very overdue for a victory.  Cog Hill is good to long hitters.  Remember, Dustin Johnson won last year.
5. Gary Woodland -- 1,966 points — Speaking of long, Gary Woodland probably needs a 9000 yard golf course to have it play like it would for a normal human.  He can reduce par fives—well not to par threes—but surely to short par fours.  This is his first trip around the PGA Tour stops.  Last year he was on the Nationwide Tour.
6. Rickie Fowler -- 1,208 points — Fowler has new outfits to show off, and what better way to do it than sliding into the winner's circle in Chicago?
7. Bill Haas -- 1,525 points — Haas has a different motivation than the rest of the field.  His dad, Jay Haas, an assistant to Fred Couples for the Presidents Cup, has to be rooting for Couples to pick his son for the final choice in the Presidents Cup.  Winning in Chicago would make it an easy choice.  
8. D.A. Points -- 1,055 points — Can a guy from Illinois who won with Bill Murray as his partner find happiness and another victory next door to Bill Murray's original home town?  If the John Belushi and Dan Akroyd statues in Midway airport have anything to say about it, he can.
9. Adam Scott -- 1,760 points — Ah, the irony of it all.  Adam Scott, with TW's former caddie, is already in the winner's circle once this season.  Can Scott capture the Fed Ex Cup title with another victory?   With a couple tops fives?  Well there are lot of mathematical possibilities, but the best way to win it all is to win a couple of the Playoff events.
10. Bubba Watson -- 1,842 points — He's been up.  He's been down.  In other words, it's been an ordinary year for Bubba Watson. From Golf Boys to two victories to contending in other events, Bubba's at least got a plan for the $10 million if he wins it:  Half goes to the government, he gets his debts paid (houses and that sort of thing) and then he gives a big fat chunk to charity, starting with his church.  How can you not hope he wins it all starting with the BMW?
You can do the math.  Below are the points for top ten places.  Lower than that is a drop in the bucket when it comes to gaining ground on the big prize at the Tour Championship in Atlanta.
PGA TOUR Playoffs Points Distribution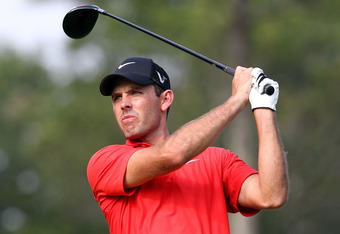 Jim Rogash/Getty Images
First Three Events
1.         2,500             
2.         1,500              
3.         1,000              
4.         750                 
5.         550                 
6.         500                 
7.         450
8.         425
9.         400
10.       375