Chad Ochocinco Deserves More Blindside Shots from Tedy Bruschi
September 14, 2011
Jim Rogash/Getty Images
After witnessing New England Patriots quarterback Tom Brady scorch the Miami Dolphins for 511 passing yards on Monday night, Chad Ochocinco ran to type into his Twitter account. For a wide receiver known for being an attention monger as much as a professional athlete, it was hardly a surprise.
Ochocinco said, "Just waking up after a late arrival, I've never seen a machine operate like that n person, to see video game numbers put up n person was WOW."
This caught the ire of Patriots legend Tedy Bruschi, a player known for his intensity and leadership. While Ochocinco made a spectacular catch along the sideline for 14 yards, it was his only reception in Brady's 32 completions that day.
There had already been rumors flying around the Patriots camp that Ochocinco was struggling to fit into the New England system. The 11-year veteran, who has gone to six Pro Bowls, was purported as to not being able to grasp the Patriots playbook.
Some thought the reason came from the fact Ochocinco is so driven to be recognized. He has always run his mouth to anyone holding a microphone or pencil, even hosting his own cable television show in 2010 while his team was struggling to a 4-12 record.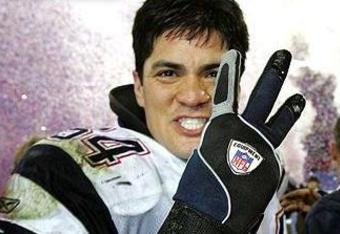 Critics were concerned about the wisdom in New England's trading for a wide receiver whose teams went 68-91 during his Cincinnati Bengals career. The Patriots have gone 121-39 since the diva joined the NFL in 2001, including three Super Bowl victories in four attempts.
Bruschi was there for most of those wins, having retired after the 2008 season after spending 13 seasons with New England. He was a hard working middle linebacker who went to one Pro Bowl and shared the 2005 NFL Comeback Player of the Year Award.
That 2005 season is one huge reason why Bruschi will always be a legend to all NFL fans. Months before training camp was to start, he suffered a mild stroke and even said he would not play that season. He refused to quit or retire despite suffering partial paralysis for a short time.
Yet Bruschi shocked everyone by outworking his prognosis and getting his body back into shape to play 11 games of professional football in that season. A fiery leader who knew exactly what head coach Bill Belichick wanted from his defense, the middle linebacker returned to be a solid player for three more seasons.
While Ochocinco has greatly reduced his role as clown, he still pops his head out on occasion to seek some spotlight. Bruschi bristled at his latest attempt with some choice words directed at the wide receiver.
"Drop the awe factor, OK, Ocho, Chad, drop the awe factor. You're not a fan, alright. You're not someone who's on another team or watching TV. You're not an analyst. You're a part of it . They want you to be a part of it. So get with the program because obviously you're not getting it.
"Stop tweeting and get in your playbook," Bruschi continued. "If you're in [play] and you know what you're doing and you execute out there, you don't think it's amazing. You know why? Because it's what you're supposed to do."
"All of a sudden it's second nature. 'I know I was supposed do that...because we're that good and that's what we're supposed to do and that's what I thought we were gonna do.' You are still in awe to be a member of the New England Patriots offense. Join the system, buddy."
Truer words could not have been spoken and the fact that it comes from a man whose leadership still casts a shadow in the organization today makes it more succinct. While Bruschi is a member of the media today, where it is his job to talk about football matters, he will always be a New England Patriot.
If Ochocinco heeds Bruschi's wisdom, it could be the first time he actually seems to learn from another in the NFL. This is a guy who once was accused by a former teammate of punching his head coach in the face for not getting enough passes thrown in his direction.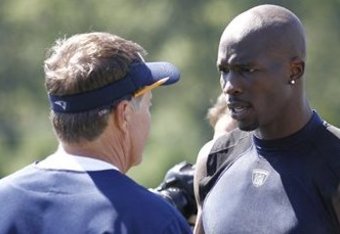 While the first week of the NFL has just completed, meaning many more months of football are ahead of us, it is a shame Ochocinco is back doing what he perhaps does best by causing unnecessary distractions. Belichick has no problems at adjusting his roster for the betterment of his team, even if it means jettisoning the veteran wide out.
One thing that has been consistent is the Patriots became one of the NFL's best run teams after Robert Kraft bought the team in 1994 and hired Belichick as head coach in 2000. The team has won while not having many players get in trouble off the field. Those who were found themselves waived soon after.
Many pundits expect the Patriots to do what they have done since 2001, which is challenge for a Super Bowl appearance. Ochocinco was brought in to provide veteran experience while catching a ton of passes from a future Hall of Fame quarterback, not to grin at cameras.
Perhaps Bruschi is right about a need for Ochocinco to study the Patriots playbook more, but he is correct that the diva needs to spend the 2011 season concentrating on football instead of trying to gratify his ego by seeking attention off the gridiron.
If Ochocinco has failed to hear the Patriots legend yet, Brushi should continue suiting up for his team and laying the wood of words upon the wide receiver until a jolt causes epiphany and gives the team an even better shot at winning their first Super Bowl since the 2004 season.