Seahawks vs. Steelers: Seattle Defense Should Learn from Dick LeBeau
September 16, 2011
Thearon W. Henderson/Getty Images
In Pete Carroll's quest to build an aggressive, disciplined, versatile and tough-minded defense, the Seahawks signed former CFL All-Pro cornerback Brandon Browner last January. Carroll thought, if placed in the right role, Browner was simply too rare and potential-laden to pass up; another unorthodox piece to a complicated defensive puzzle.
Week 2 presents the first major test for Browner and the Seahawks defense. The Steelers are the opposite of the run-oriented 49ers that Seattle faced in Week 1; Steelers quarterback Ben Roethlisberger presents a much tougher challenge than Alex Smith.
Seattle held the 49ers offense to 1-for-12 on third downs and 1-for-5 scoring touchdowns in the red zone. The Steelers' pass-oriented attack will test the Seahawks' backbone. How does Browner's unique size and coverage ability complement the size on the defensive line and the playmaking ability of the Seahawks' safeties? The major concern is if Seattle can manufacture a pass rush and contain the Steelers' passing attack.
Rushing the passer is a problem the Steelers don't have. Defensive coordinator Dick LeBeau was a Hall of Fame player for the Detroit Lions from 1959 to 1972 and has won two Super Bowls as a defensive coordinator in Pittsburgh—one of them against Seattle in February of 2006. Oddly, controversial Super Bowl XL referee Bill Leavy is refereeing this matchup as well.
The trip to "Blitzburgh" represents a unique opportunity to face a creative, aggressive defensive mind that has made a lasting impact on the NFL.
Furthermore, the Steelers offense provides the ultimate test for this young, unproven defense; a defense that Carroll is trying to put a hallmark on with unique acquisitions, unorthodox methods and an aggressive mentality.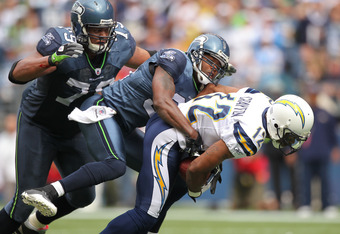 Otto Greule Jr/Getty Images
Re-enter the 6'4" Brandon Browner. Carroll was familiar with Browner because he recruited him to play at USC—Browner went to Oregon State. Carroll admitted he lost track of Browner during the transition to the CFL and can thank nearly a half dozen teams for passing on Browner before he made it to Seattle for the January workout.
A corner with Browner's skill set—a tough, long, press man corner that is a hard worker and savvy tackler—and athleticism is the type of player Carroll has coveted his entire football career, even though a 6'4" corner is almost unheard of. Carroll compared Browner's size to the great Mel Blount earlier this preseason.  
Carroll has been in Seattle for two years now and this is not his first experiment with a uncommon defensive player. Look no further than the Red Bryant experiment from last season.
The Red Bryant Experiment
When Carroll came to Seattle he began gushing about defensive tackle Red Bryant and his ability to play 5-technique end; the oddity was that Bryant had played 10 games and registered 16 tackles in two seasons, struggling to receive playing time.  
But Carroll saw something in Bryant that few saw—a unique combination of size, great feet, long arms and a nasty attitude that had Carroll thinking Bryant could be the centerpiece of the run defense. Some thought this was just crazy-Carroll doing his thing.
It was, but it worked. This was an adjustment that made sense as soon as the team began training camp; come Week 1 there was buzz about Bryant being the monster on the defensive line.
The run defense was ranked second in the league through six games before Bryant was injured; the team was 4-2 up until that point, 3-7 the rest of the way without him. The Seahawks lacked the depth behind Bryant for Carroll's 4-3 "under" scheme to keep working; they lacked discipline and had too many breakdowns.
The point here isn't to highlight failure, but rather that Carroll used a burst of "irrationality" in an attempt to change the defense and he had relative success.
Carroll had a vision the entire time; a vision that was successful until the core of the idea was broken. This year, adding Alan Branch as depth and moving Brandon Mebane to nose tackle presents the next step in Carroll's rebuilding of the run defense.
The point is that Carroll failed with the Red Bryant experiment. But he came back this year with a more rational plan by reflecting on his failures and adding Alan Branch—a Bryant-like player who can play the 3-technique and backup Bryant.
Carroll continued his plan for change.
An Intention for Change Creates a Unique Opportunity
Last year the Seahawks were 31st in 20-plus-yard pass plays allowed and in the bottom quarter for 40-plus-yard pass plays allowed. The Seahawks didn't have the length and athleticism needed to fit the type of aggressive defense Carroll wanted; specifically, they didn't have the personnel to play press-man coverage and be aggressive on the line of scrimmage. 
Just as Bryant was a unique player to re-tool the run defense—a stout run defense is the centerpiece of Carroll's defensive philosophy—Browner potentially serves a similar purpose for the pass defense.
The situation isn't quite the same because we didn't hear much about Browner—possibly because of the lockout and the Seahawks' inability to talk publicly about personnel.
Throughout training camp, bloggers and coaches raved about Browner; when the preseason was done, Carroll tabbed Browner as the story of training camp. Granted, Browner is a player I was intrigued by in February and the more I learned, the more I liked, but a lock to start opposite Marcus Trufant on Opening Day? No.  
As Carroll said in his presser on Monday, "Browner is an aggressive player that has a body on guys…and there are going to be questions about it. We have to work with his style; officials aren't accustomed to guys that big on receivers."
Carroll understands the limitations presented by Browner's unorthodox style, but realizes that it is a potential strength if Browner can adjust to the NFL; the coaches have to aid that process.
Carroll continues to be active, ignoring rational thought to an extent. Though Browner is constantly told he's either too big or too slow, Carroll believes he is perfect for this scheme.
Two years in a row, two attempts to defy realistic expectations with a unique personnel move.
Unique Equals Utopic
Carroll's idea of how to create change parallels an idea founded by Karl Mannheim, an early 20th century Hungarian sociologist, who developed a different understanding about the idea of a utopia, which is frequently understood as enjoying social or political perfection.
Mannheim's utopia is identified by bursts of thought that present an overwhelming desire and intention for change; these intentions are active in pushing through challenges and minimizing any limitations that may hinder success.
To further this idea, I'd like to circle back to after the Week 11 loss in New Orleans last season. The following is an excerpt from my postgame recap and will provide context for this idea, going forward. 
In what Hasselbeck called "one of the best team meetings he has been around," Coach Carroll looked past defeat and focused on the clear vision he sees for this team, focusing on how the growth displayed against the Saints is an encouraging sign for the team's success going forward. Pete Carroll's vision is explained as "just being uncommon to how things are done in the NFL," Hasselbeck said. "Things are done a certain way, and that is fine, but we want to be uncommon." Uncommon is usually a scary word for NFL players, but in the case of Carroll's program it holds a new meaning. Carroll's program displays additional characteristics of utopic practices: a willingness to embrace opportunities for improvement; looking at challenges as benchmarks for success, not reasons to fail; a desire to take principals or ideas that are commonly viewed as "irrational" or illogical and create new ways of understanding and applying those same ideas. But most importantly, instead of reflexively wondering what could have been, Utopia's look actively towards the future, an idea the Seahawks are fully embracing going forward.
The takeaway: Browner's addition to the Seahawks is simply another move in line with the philosophy that Carroll brought to the organization from day one. Utopic ideas don't always work. In fact, failed utopias often turn into ideologies. This happens when the utopic idea gets tweaked and re-implemented with a similar process, but hopefully different results.
The Bryant experiment is in year two; the Browner experiment is in year one. What remains consistent is Carroll's philosophy for how to create innovative change.
Why Is Week 2 a Telling Test?
LeBeau's utopic system has become the Steelers' defensive ideology; Carroll is trying to build a unique system in Seattle.
LeBeau has created one of the most convicted, driven, aggressive, unprecedented defenses in football. The zone-blitz scheme is designed to stop the run, force the pass and create turnovers—sounds similar to the type of defense Carroll is looking to create.
The Steelers have rushed five or more players at the eighth highest clip since 2008, the keys to success being that they have the right personnel, versatility and unpredictability.
Carroll on the Steelers: "They found the guys to fit their scheme and they continue to find guys that really complement. I think it's the commitment to his style of play that fits so well. It's become Pittsburgh and the Steelers and all that, which is really cool."
To take this one step further, Steelers Safety Troy Polamalu was a special player for Carroll at USC. The comparison of Seahawks safety Earl Thomas to Polamalu is rampant this week.
For Carroll, Polamalu's skill set created an "ideology" for what he wanted out of a premier safety; Carroll praised Thomas's speed, drive to succeed and limitless potential, saying he hoped in six to eight years Thomas could reach the level of Polamalu.
On Sunday, Browner, the Seahawks defense and Carroll's optimism face a tough test. The handsy Browner must prove he can cover the Steelers' slippery receivers, without too much contact, amongst the organized chaos that Ben Roethlisberger creates when the play breaks down.
Roethlisberger is among the most difficult quarterbacks to sack because of his size and mobility; he never gives up on a play, is always looking downfield and his receivers know how to find open spaces so he can get them the football.  
At times, Seattle is going to bring five, six or seven players against an offense that won't hesitate to go shotgun, empty the backfield or have three receivers bunched in the slot on 1st-and-10. They need to match the aggression of the Steelers offense and then share some of the ideology of the Steelers defense.
To make sure this is clear, I'm not saying the Seahawks defense will be as successful as LeBeau's defense. But given that Carroll is trying to implement his own complex scheme, LeBeau's success and system is the ultimate measuring stick.
Carroll's defense is in its infancy. This week, we'll learn a bit more as to whether or not the Red Bryant experiment is a long-term project; where Earl Thomas is on the path to potentially becoming Pete Carroll's next elite safety, with a unique ability to knife towards the football; and if Brandon Browner is just another part of Pete Carroll and John Schneider's roster churn or if he is a utopic experiment heading in the right direction.
In Pittsburgh, Seattle's defense and Pete Carroll will get the chance to study a mentor. Hopefully they will emulate a few of his lessons.