Green Bay Packers vs. Carolina Panthers: One Lonely Fan's Expectations
September 17, 2011
Matt Ludtke/Getty Images
Greetings from the Frozen Tundra, friends!
Welcome to Week 2 of the NFL season.  And what a wonderful past two weeks it has been!  The Packers kicked off the season against the New Orleans Saints during Week 1 with much fanfare and celebration. 
The only downfall of that week game?  The fact that it was held on a Thursday night, which meant the following Friday morning was really, really, ugly for a lot of fans who celebrated the Packers win just a wee bit too much the previous evening.
Kid Rock and the Packers, tearing up Green Bay.  Yup, I'm sure a good time was had by all.
In other Moen-Kadlec/Packers related news, Manpig and I celebrated the anniversary of me making Manpig an honest man.  While this is not usually Packers related, you must realize that when we were scheduling our wedding date, we had to pick a day that was before the start of football (for me) and before the start of bow hunting season (for Manpig). 
Yes, we compromised on our wedding date for football and hunting.
And the devotion is evident in the fact that I did not get sparkly jewelry for an anniversary gift. 
However, I did get an awesome Packers shirt that a friend has offered to Bedazzle, just in case I feel the need to rock out in a shiny Packers shirt.  While I thanked my little friend for the offer, I believe seeing a nearly six foot tall, furry Norwegian in a bedazzled Packers shirt would get me put on "What Not To Wear."  Additionally, it could scare small children.
You know that you live in Wisconsin when you can get Packers-related apparel for your anniversary and think it is the sweetest gesture known to mankind (or Manpig-kind, as it is).
Okay, the Packers are going south this week to face the Carolina Panthers.  And what does this fan expect from the Green Bay Packers?
Mayhem, I tell you!
Let's look at this from a fan's perspective, shall we? 
Here's what we know.  Cam Newton was drafted number one overall this year, right?  Leading up to the NFL draft, there was a lot of discussion about him.  Would he make the transition from college football to the NFL?  Could he perform at the highest level of football?  Would his ego get in the way?
Well, despite losing to the Arizona Cardinals last week, Newton threw for 422 yards, which set a record for most yards thrown by a rookie quarterback in his first NFL start. 
Impressive, Mr. Newton.  However, that game was against the Arizona Cardinals.
The Green Bay Packers (collectively known as "we" in Wisconsin) are not the Arizona Cardinals. 
Here's what I expect.  I expect that Dom Capers, who may be football's most elusive evil genius, is sitting in his "lair" right now with his defense.  Before him is his insane collection of highlighters and his master plan for football domination.  Behind him, a life-sized picture of a very confident (i.e. smug) smiling Cam Newton. 
Why, at this very moment, Dom Capers is probably rubbing his hands together with maniacal glee, just waiting for the opportunity to release his defense on Cam Newton.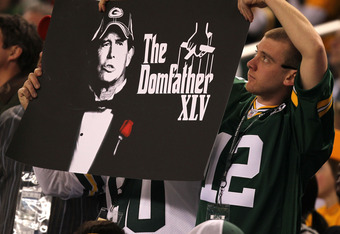 Mike Ehrmann/Getty Images
I expect that the defensive coaching staff has been feeding the defensive line Monster energy drinks and sly comments all this week in an effort to get them pumped up to take down Cam Newton.  I expect Clay Matthews, A.J. Hawk and Charles Woodson to take the field, exploding into the Panther's offense.  I expect the Packer defense to have a field day with interceptions.
Additionally, I expect the Packer's offensive line to keep our quarterback, Mr. Aaron Rodgers, in a vertical position. 
In simple terms, a horizontal quarterback does not throw touchdown passes, my friends.
I expect a win, and also for at least one play, a very stressed, freaked out Cam Newton fleeing out of the pocket as the Packers defense decides to welcome him to the NFL.
I am patiently waiting to see that.